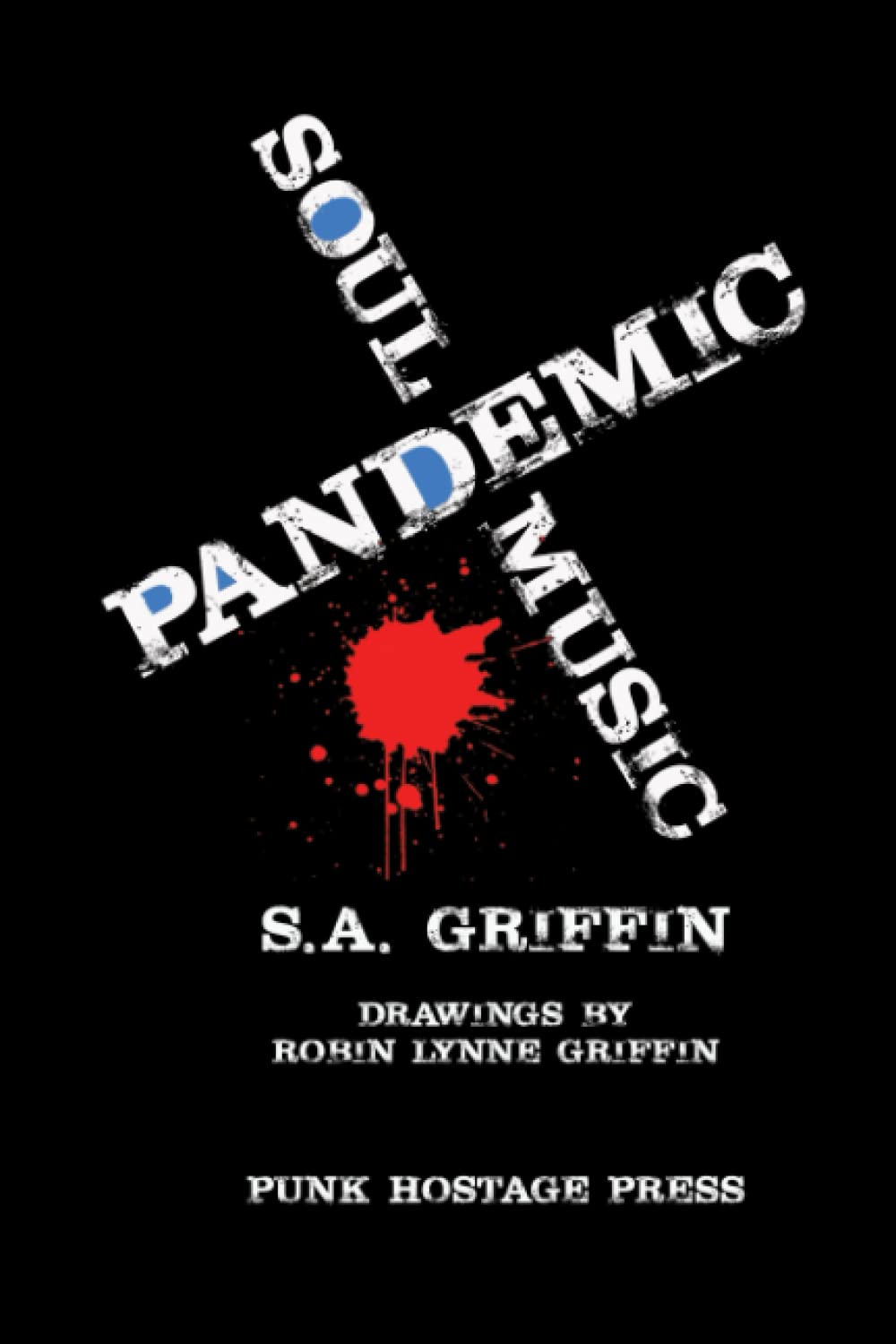 Eclectic Jukebox
by Daniel Yaryan
Pandemic Soul Music, S.A. Griffin, Drawings by Robin Lynne Griffin, Punk Hostage Press, Hollywood, California, 2022, 107 pages, $20.00 paperback, punkhostagepress.com.
S.A. GRIFFIN'S new book Pandemic Soul Music is an eclectic jukebox of cross-pollinating poetic hits that traverse many different genres. There's Venice West Beat Generation lineage, strong DADA DNA, and a foundation springboard from West Coast punk rock lyricism sent into the future via Jello Biafra era Dead Kennedys or the Los Angeles band X. Therein are words that jump out at you with the frenetic energy of a late mid-century coffeehouse denizen leaping up on the table unannounced, unapologetically, and with unrivaled determination to capture your ear. The words of these newly released poems carry substance, rebellion, and demand a neo-renaissance.
Moreover, Pandemic Soul Music communicates with the reader like an old friend revealing sacred, deep truths. This collection is Griffin's most personal work yet. It's wide-open, conveying multitudinous facets of his life. He doesn't shy away from heavy subject matter or horrific strife. The real magic, though, is this book's powerful counterbalance of beauty, insight, and enlightenment.
Griffin brilliantly tells his poetic tales, summoning many ghosts and creative wizards, either from his direct interactions or longtime influences. He heralds their legacies and communicates similar world views in his defiant, resounding voice. Griffin could be called an "insurgent artist" in the tradition of poet Lawrence Ferlinghetti, who wrote vivid verses in the defense of liberty and pursuit of egalitarianism. Griffin takes aim at present-day political figureheads in a style that would make Ferlinghetti proud with his no-holds-barred approach, particularly in his anti-fascist poem "Mein Trump." Here's an excerpt from that poem, where he holds America accountable for recent errors in judgement:
you have become a blue movie of yourself

an embarrassing pornography of riches

a sexist horse opera of reckless enthusiasm

a capitalist slumlord caught in the malignant spin

of an old realm splendor
There is genuine lament from this American poet, artist, and actor over this nation and its state of affairs. I would add to Griffin's description the title of "patriotic" poet, because he doesn't subscribe to the "love it or leave it" ideology, but rather "the love it and change it" perspective, as in his poem "Jesus Pizza Saves." Here's a taste of it:
America, waving behind your striped and starry mask

you cannot erase memory




I cannot recall the perfect body of your mind

or the perfect wisdom of your heart

and there's something heartbreaking about a harmonica

doing blue somersaults in your ear
In addition to love of country, there are other forms of love shining through this volume, including his home of Los Angeles; his family; plus extended family such as fellow poet/artists he was influenced by, many of them eulogized in Pandemic Soul Music: ruth weiss, Kell Robertson, Ferlinghetti, Danny Baker, Linda J. Albertano, and several others. Griffin memorializes his Carma Bums brothers: Scott Wannberg and the recently deceased Doug Knott. His sister Robin Lynne Griffin (who died in 2021) provided the Bukowski-like drawings that accompany S.A.'s poems as perfect visual intensifiers. There is death, grieving, and love for absent friends.
In an Irish toast to love, here's a glimpse of Griffin's "St. Patrick's Day 2020":
There is love.




Get it while you can,

save it on an empty shelf

somewhere in your heart.

Remember where you put it in case of emergency,

don't be afraid to break the glass.
Griffin also speaks out against oppressors and narcissists throughout his book.
In another one of Griffin's striking poems, there's amazing imagery that gives Griffin some "underground poet" street cred like the uncensored "underground cartoonist" Robert Crumb—both creating works of radical counterculture bravado while maintaining their outlier notoriety to the mainstream world. Here's an excerpt where Griffin lampoons prez number 45 in the poem "The Grand Old Party":
he has an executive hand over her mouth

while his other fat fingers climb up her garments

desperately attempting to find their way past her

port of entry and into her sunset gates, "C'mon, Liberty baby —

lemme smack that sweet huddled ass of yours

yearning to breathe free. You know you want it!"
While one recurring theme of the book may be democracy under fire, there is a more key theme to Pandemic Soul Music, and a pivotal poem central to this—in title and premise— "What Does Not Kill You." Here is a segment:
A few minutes later

an unexpected trembling rolls thru me

with a quickening jolt. Tears erupt.

Big tears, as childhood and old age

push up against one another

into a range of jagged memory.




What does not

kill you.




The red sun burns.
A working actor in Hollywood for over four decades, and as a long-standing, frequent host of hundreds of poetry shows, and coast-to-coast traveling performance poetry troupes, a creative warrior (or more fittingly General) of poetic action in Los Angeles for the majority of his life, Griffin infuses real-life drama into Pandemic Soul Music. His poem, "The Simple Practice of Acting," explains his theory of his devotion to art:
actors are flesh and blood messengers

of the bardic tradition

a face and a voice for art and commerce

words and action in the execution of the

narrative in process
I conclude this review with one of my favorite lines from Griffin's poem "DADA Is Dead, Rejoice!":
DADA without chaos is pity

the carnage of a purified humanity

rising like an astral flower of fertile spasms

magnified by pain out of mistrust for freedom.

Daniel Yaryan is the editor and publisher of the newly published Sparring with Beatnik Ghosts, OMNIBUS: Deluxe Edition, 600 pages of work by 265 poets, writers, photographers, and artists. For more information, visit www.sparringartists.com. He lives in Southern California.
— posted July 2023