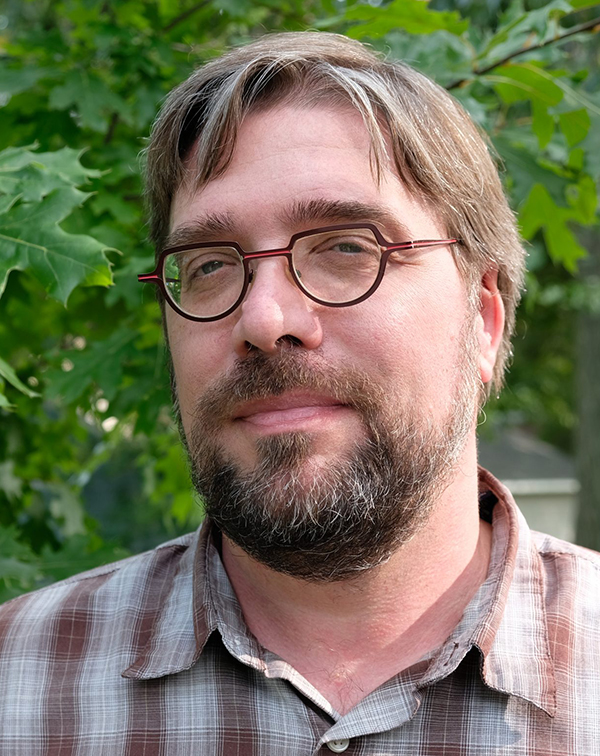 The Corporeal World
An Interview with Michael Walsh
by Denise Low
Michael Walsh, a 2022 Lambda Gay Poetry finalist, is the editor of Queer Nature: A Poetry Anthology, a 2023 Lambda Award finalist. His poetry books include Creep Love and The Dirt Riddles, winner of the Miller Williams Poetry Prize and Thom Gunn Award. He also published two chapbooks, Adam Walking the Garden and Sleepwalks. His poems and stories have appeared in Alaska Quarterly Review, The Chattahoochee Review, Cimarron Review, Crab Orchard Review, Great River Review, The Journal, North Dakota Quarterly, Prairie Schooner, Terrain, and elsewhere. After residing in Minneapolis for more than two decades, he now lives in a valley among coulees and springs in the Driftless region of southwest Wisconsin, where his eco-queer and literary works are taking shape. Visit michaeltwalsh.com for more.
Denise Low:Your prize-winning book The Dirt Riddles, caught my attention even before I met you, for the poems' intensity and depth. What did you learn writing that book? I ask this with humility—each book I write is a time to reflect and learn, and I assume for others also?
Michael Walsh:I learned how to set rules for myself about how to compose and structure a book. For The Dirt Riddles, I drew a circle around the farmland and fields, set a rule that the poems had to occur within the imagined boundary. Only a few exceptions were made to that rule. Within those boundaries, my imagination filled up everything that it touched.
DL:We both come from rural areas, but you actually grew up on a Minnesota dairy farm—with all that rich vocabulary. Your poem "Barn Clothes," from the The Dirt Riddles uses the farm-specific term "gutters": "Same size, my parents stained and tore / alike in the barn, their brown hair / ripe as cow after twelve hours of gutters." What is this use of "gutters" exactly? Are there other terms from raising livestock and farming that you relish?
MW:"Gutters" in this poem refers to the gutters of the cow barn, especially when full of manure and urine, as well as any rain that would wash into the gutters from outside the barn. In a dairy barn you have to step over, in, and around the gutters, and sometimes you step right into them, up to the knee. "AI" is another term from my farm boy days, except it doesn't mean a problematic artificial intelligence. Rather, it's the acronym for artificial insemination. On my farm, the most genderqueer thing I witnessed was my mom breeding the cows, which involved inserting her gloved arm into the cow's rectum as part of getting her cervix into place. I don't know if you can be heterosexual after witnessing that as a regular surprise in the barn; my sister and I certainly didn't turn out straight.
DL:What a vivid explanation of the word "gutters," which is so close to being a metaphor in its very existence, not at all contrived. And yes, I once lived across the street from an Artificial Insemination Unit, at Kansas State University. There were a couple bedraggled bulls tied up in front. You do not have to make this shit up.
In your new collection Creep Love, you have one of the most arresting accounts of rape I have ever read, "Monk of the Negative." The irrevocable, wounding moment in the poem is this, just past halfway in the poem:
You stay still: you spin

at the same time. For a day,




then a week, many weeks,

then months. Until he throws




the body you don't sense or know.

Your cheek scraped against




the floor returns, the rest of you

numb from neck to toe,




back to your weight

which must stand and say




I'm fine…
Its evocative power haunts me, especially the way you describe inner adaptations to outward trauma in, as this continues,
I'm fine. Now wherever you go,

your body moves parallel




to the double who meditates

motionless inside you…
Thank you for your courage to write that poem. You also write poignantly about the intergenerational cycle of sexual abuse, as in this one, which leaves a slow burn at the end:
Scratched-Out Name




In my aunt's house, at least my father got to hang,

the absent dad in a picture frame. Within minutes

on my first visit, she handed me his photo,




a generosity, a face I'd never seen. He looked

so proper, buttoned-up and trimmed

to a normal pop, not the nutjob




who preyed on my mother and aunt,

propositioned their little sisters too,

his daisy chain of perversion


incomplete until he tried each one.

Were there other girls? Was this story even real?

My aunt said she'd asked his family all kinds of questions




for years and only gotten the runaround—

everyone related to him was so tricky.

I swallowed all my questions like sins.
Sins of the fathers, indeed! The word "tricky" becomes so loaded, and the way the narrator wonders "Was this story even real?" shows a messy interaction between one truth and another truth arising from the inner experience. I admire your use of off-kilter tercet stanzas, the perfect form. Has that poem (and/or others like it) added to your techniques for writing layered structures?
MW:I've always been interested in the corporeal and the poetic, particularly because repeated physical traumas as a queer kid changed my senses. At one point, sunlight was so loud against my skin that I had to start writing those kinds of perceptions into poems, always changing them in little ways. In terms of what I learned from these particular poems, I figured out how to switch not only between the internal and external, but also the corporeal and incorporeal, in a way that looks and feels more effortless and liquid than in other poems I'd written on the subjects. These poems seem to have opened the corporeal world around me to similar poetic investigations.
DL:You have so much wisdom to share about healing and surviving wounds, which makes your writing so essential. Again, much gratitude. On a lighter note, we both experienced recent moves beyond our points of origin, our birth states. How is this influencing your writing?
MW:My imagination is still getting used to my new landscape: the ridges and hills everywhere around me, the springs flowing underneath me into the creek, and all the migrating birds, along with the resident eagles down the road. My poetry is becoming, on one hand, even more concerned with nature, while, on the other hand, it is only becoming stranger as I contemplate subjects such as weather systems, biomes, mycelia, swarms, flocks, and schools.
DL: When we spent time together on Mallard Island in the Minnesota boundary waters, during a writers' residency, you were working on poems that address the theme of "swarms" in nature. How is that project?
MW:I do everything slowly. This project, called "Swarm Country," is still gathering strength and shape. Before the pandemic, I thought it was nearly done. In particular, I had written about humans as biomes, migrations of insects and spider swarms in terrifying flight. However, the pandemic changed the location of my home and my poems in ways I'm still reconciling. For example, pre-pandemic, I was writing personal, corporeal poems about the viruses that live inside us (another kind of swarm) and elemental meditations about the viruses orbiting us in our atmosphere, always raining down on us. The swarms are happening in many layers and at different levels of forms: personal and planetary. Once I successfully write the poems that answer the question "where is Swarm Country," I expect the project to find its final shape quickly.
DL: You edited the poetry anthology Queer Nature for Autumn House Press, and it is getting great reviews. How did that project affect your own writing?
MW:I absorbed thousands of pages of amazing queer poetry, all of it rattling around in my electrical field. Now I spend my workdays in my library with everyone's books surrounding me. However, while Queer Nature shows many different approaches to the subject, my next book is probably going to show my eco-queer vision, separate from the anthology.
DL:What are your next writerly moves?
MW:I have at least two collections of poetry in my files. "Swarm Country" will escape first, and then, I think, the other will arrive. Queer Nature also got me writing essays (a new form for me).
DL:You and I have been exchanging poems about spiders—I hope we and all our house spiders prosper! Thank you for your words.

Denise Low, Ph.D., is a Kansas Poet Laureate emerita. Her essays about surviving COVID-19 are in Jigsaw Puzzling. She won the Red Mountain Press award for Shadow Light: Poems. Her other publications include the memoir, The Turtle's Beating Heart: One Family's Story of Lenape Survival; and Wing: Poems, a Hefner Heitz Award finalist. She has received four Kansas Notable Book Awards and grants from the National Endowment for the Humanities. She founded the Creative Writing Program at Haskell Indian Nations University. Her heritage includes Northern European and Lenape/Munsee (Delaware) heritage. She currently lives in Sonoma County, California.

— posted August 2023