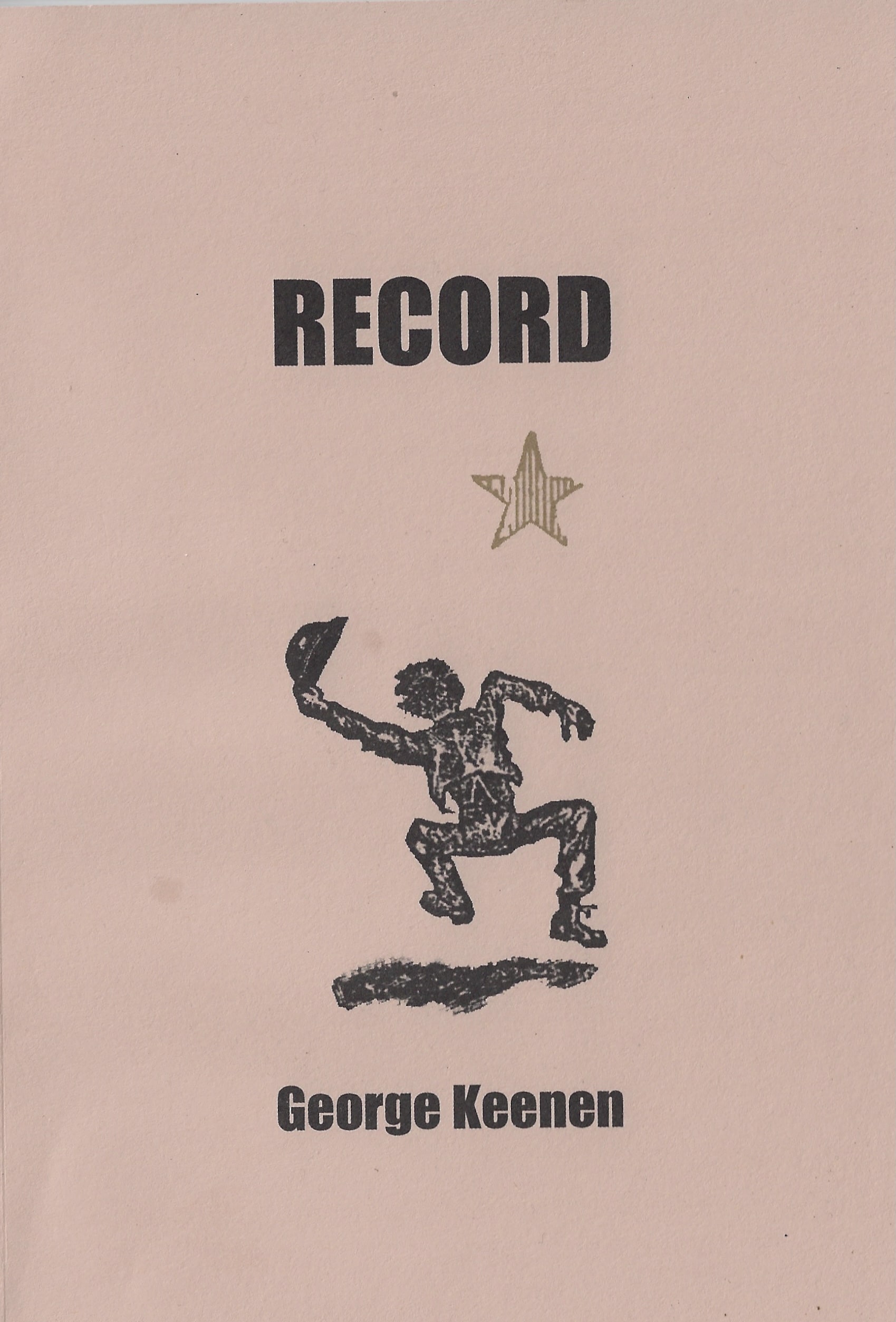 A Marvelous Ride
by Jack Foley
RECORD, George Keenen, Igneus Press, Bellingham, Washington, 2021, 76 pages, $15.00 paperback, www.igneuspress.com.
GEORGE KEENEN'S RECORD was written in a burst, in two nights in 1976, "with time off for coffee at Terminal Lunch in San Francisco." In its original form it was hand printed with rubber stamps. Each poem or stanza was on a separate page. Igneus Press editor Sophia Kidd declares that the book was "lost" until 2018. Three similar books by Keenen are still lost. RECORD is the only surviving indication of what must have been a remarkable experience. This series of short, capitalized, centered poems in boldface reminds you a little of Kerouac's Mexico City Blues and also of a sequence of haiku, though the author's individual consciousness is more in evidence than is generally the case in haiku.
These are the first five lines of the six-line opening poem:
ALL RIGHT

I'LL DO IT

BUT WHAT

IS IT YOU

WANT ME TO
The expected next word is "DO," but that isn't what Keenen writes. This is the complete poem:
ALL RIGHT

I'LL DO IT

BUT WHAT

IS IT YOU

WANT ME TO

RECORD
The concluding word is the title of the book, and suddenly we're off into an adventure which, to tell you the truth, I doubt that I understand. But this is a poem, not an essay or a philosophical thesis. It is not meant to be understood; it is meant to be experienced. "I HAVE BEEN," the author writes, "AM / IN THE GRIP / OF / SOMETHING," and adds, "I AM / COMPLETELY / HAD."
For two days, these are the words that rolled recklessly in the author's consciousness. I doubt that he understood them any more than I do. His stance is like that of Jack Spicer who, remembering Cocteau's film, Orphée, thought of the poet as a radio, a receiving instrument. What the poet "says" might as well be the speech of Martians: it doesn't come from "inside" the author; it comes from what Robin Blaser called "outside," from "the practice of outside." When Yeats asked his "spooks" (Spicer's term) why they had come to him, the spooks answered, "We have come to give you metaphors for poetry." In Keenen's case it is not so much metaphors but simply words—often words of a distinctly enigmatic nature. "That's beautiful, Jack," someone remarked to Spicer after a reading. Spicer answered, "I know it's beautiful, but what does it mean?" What indeed does this mean?
IN ONE

GENEROUS

SEASON

YET WAVES

GO

UNDRUNK
Or this:
THINGS

FLOAT

UP

UNGROWN

THE

SUN

MELTS
True, there are moments in the poem of what seems to be "autobiography," though these too are often rather problematical utterances:
I GREW OLD




I STILL

HOWEVER

DO NOT

KNOW

MY AGE

I CAN TELL

YOU THOUGH

PEOPLE

OFTEN




OFFER ME

THEIR

SEATS
This book is essentially about carrying the burden of these words that come from God knows where but which have the authority of bold print and insistence—not to mention centering. The word "inspiration" is from the Latin and means "to breathe in." These are the breaths of a man haunted and rent by words—words which seem to mean something but whose meaning is constantly escaping him as it escapes us. But that very fact brings us back to the book again and again. These poems, as Keats put it, tease us out of thought. They carry with them the fascination of obsession, of unknown voices pouring into our consciousness, demanding to be heard:
I HAVE

ON

OCCASION

BEEN

DESERTED

THAT

MAGIC

WENT




OUT OF

MY LIFE

AT THOSE

TIMES

HAVING NO

IDEA WHEN

THE MAGIC




MIGHT

RETURN

I

ABANDONED

MYSELF
It's a marvelous ride, and it seems to touch on something essential about poetry: that it comes from nowhere and returns to nowhere—that it is nothing but air and a sudden, obsessive, momentary awakening:
DANCE

LIKE

THE

ORANGE

TREE

RETURNING




SUN

FOR

SUN

THIS CAME

TO ME




FROM

AN APPLE

I HAVE

LEARNED

TO LISTEN






*




OCTOBER THOUGHT

for George Keenen




BOOKS

LIE AROUND ME

LIKE LEAVES

LIKE CONQUERED

SOLDIERS

WHO ATTACK

THE SOUL




•




EACH BOOK READ

IS

A VICTORY

OVER

TIME, CHAOS




•




EACH BOOK READ

IS THE RECORD

OF A CONSUMMATED

LOVE




•




SPEAK,

FRIEND,

IN OCTOBER

LIGHT

Jack Foley is a poet, critic, and host of KPFA FM's "Cover to Cover" book show. His new book of poetry is When Sleep Comes: Shillelagh Songs, poems ranging from traditional to experimental verse; and the companion volumes, The Light of Evening, a brief autobiography, and "A Backward Glance O'er Travel'd Roads," about the growth—the autobiography—of the octogenarian poet's mind. Jack Foley is a Poetry Flash contributing editor. He lives in Oakland, California.
— posted JANUARY 2022