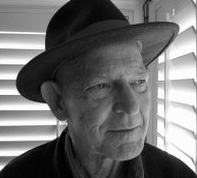 Bill Berkson
(1939-2016)
by Richard Silberg
POET BILL BERKSON, art critic, professor emeritus at the San Francisco Art Institute, died on June 16, 2016, in San Francisco. He was seventy-six.
Breezy, handsome, a New York School transplant, teacher and mentor, and man about town, Berkson was a beloved, influential avant-garde figure.
Born on August 30, 1939, he was the son of Seymour Berkson, publisher of the New York Journal-American, and Eleanor Lambert, creator of the International Best Dressed List and founder of New York Fashion Week. Their toney apartment on Fifth Avenue overlooking Central Park was the scene of frequent cocktail parties attended by such luminaries as Judy Garland, Cecil Beaton, and journalist Bob Considine.
After a brief stint at Brown, in 1959, Berkson took a workshop with Kenneth Koch at the New School for Social Research. He was already familiar with Kenneth Patchen and with Ferlinghetti and the Beats, but Koch introduced him to Frank O'Hara, who would became both something of a literary model for him and a close friend. When Koch left the New School in 1964, he turned the workshop over to Berkson who then mentored Patti Smith, Peter Schjeldahl, Charles North, and many other poets.
After another brief stay in academia, at Columbia, in 1960, he became an editorial associate with Art News, beginning the other strand of his career as an art critic and curator, writing also for Arts, Artforum, Modern Painters, Aperture, and becoming a corresponding editor for Art in America.

He moved to the West Coast in 1970. Here he edited and published magazines and books of poems under the Big Sky imprint. And he taught, first at California College of Arts and Crafts, as it was then known, and from 1984 until he retired in 2008 at the San Francisco Art Institute where he became Director of Letters and Science, taught Art History and Literature, and organized public lectures.
Berkson published almost twenty books of poems, including Portrait and Dream: New & Selected Poems, some fifty years of work, which won the Balcones Prize for Best Poetry Book of 2010. He also published many collaborations, among them one with O'Hara, one with Anne Waldman, one with Bernadette Mayer, and one with artist Philip Guston.
His last book of poems is Expect Delays, published in 2014. Here, for the admiring, affectionate flavor is Bernadette Mayer's short blurb: "I'd like to thank Bill Berkson for: epitomizing objectivity & subjectivity; amusedly living in the cerulean blue, alizarin crimson mixed with titanium white, & burnt sienna world we've got; & writing for us."
And here, touching on so much of the above, is a short poem from that book:
Dress Trope




Critics should wear

white jackets like

lab technicians;

curators, zoo

keepers' caps;

and art historians,

lead aprons

to protect them from

impending

radiant fact.

Richard Silberg is Associate Editor of Poetry Flash.
— posted July 2016