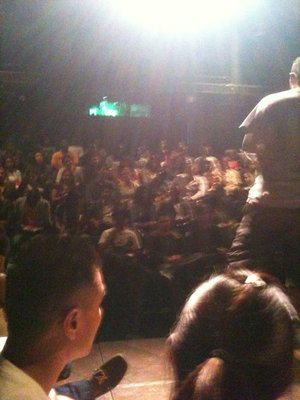 Saving Lives Through Poetry: Da Poetry Lounge as Family and Community
a feature by Javon Johnson
Da Poetry Lounge, 544 N. Fairfax (Greenway Court Theater), Los Angeles, is held every Tuesday night at 9:00 p.m. It is highly recommended that you get there early.
Da Poetry Lounge (DPL) is one of the largest open mic poetry venues in the world. Located on the boundaries of Los Angeles and West Hollywood, DPL is housed in Greenway Court Theater, and is currently celebrating their thirteenth year there (their fifteenth year overall). DPL attracts three to four hundred audience members every Tuesday night and has become so popular that due to fire codes and other legal restrictions the staff must frequently turn people away. In a world where many have lamented or bemoaned the death of poetry, and one where poetry venues regularly fail within a few months or a few years if lucky, the fact the DPL can amass such numbers is remarkable enough, but that they have done so for more than a decade is a testament to these brilliant artists and the power of the poetics.
In their love for art and poetry, Dante Basco (who played Rufio in Hook), Ron "Shihan" VanClief, Devan "Poetri" Smith and "Brutha" Gimmel Hooper created DPL, which is also my home poetry venue. Originally called Dante's Poetry Lounge, DPL began as a weekly poetry reading held in Dante's living room. Shortly after the realization that Dante would no longer be able to hold the readings in his home, the four brothers would meet to discuss the responsibilities of the increasingly popular venue. After moving from venue to venue within a span of two years they met with Pierson Bleatz, manager of the Greenway Court Theater on Fairfax and Melrose, and agreed to run the Lounge out of that location every Tuesday evening at nine o'clock. Since reaching their ten year anniversary in June 2008, DPL is one of the longest consistently running open mic venues in the nation, coming in a distant second to the Nuyorican Poets Café on New York's Lower East Side, founded in 1973, The World Stage in Leimert Park Village, L.A., founded in 1989, and the "Uptown Poetry Slam" at the Green Mill Jazz Club in Chicago, where the slam scene was founded in 1984*. All of these venues celebrate around three decades of existence.
Da Poetry Lounge serves as a hub for many poets and poetry lovers in Southern California. Not only does going there mean you will be immediately plugged into the local poetry scenes happening throughout Los Angeles, but DPL has sparked other venues. Lounge poet and family member Damon Rutledge birthed Green, the Los Angeles venue that produced the 2003 national champions. Besskep, who once frequented the Lounge, started Pomona's Mic and Dim Lights, while John Hensley's Flypoet Showcase (which is celebrating its own ten year anniversary with a sold out show at the Ford Ampitheatre) got a great deal of its popularity by featuring DPL's brightest talents. Furthermore, Shihan, Poetri and Dante argue that HBO's Def Poetry Jam got its start by Stan Lathan and Russell Simmons coming to DPL. While Stan Lathan did not confirm their story, he never denied it; rather, he told me, "We were thinking of doing a poetry show for a bit. We went to a few spots around the country. We definitely went to the Lounge and got some ideas."
The Lounge sparked everything from national champions and the Declare Yourself tour with Norman Lear, to multiple documentaries and television shows. DPL poet Omari Hardwick is an up-and-coming actor who, among other things, starred in Tyler Perry's adaptation of Ntozake Shange's For Colored Girls and Jerry Bruckhiemer's Dark Blue, while Adam "In-Q" Schmaholz writes for Rock Mafia and recently finished a brief run of his well-reviewed one-man spoken word show, Don't Believe Me. Even more, out of DPL have come hard working activists, a psychologist in Thea Monyee, and many teachers including Cory "BessKepp" Cofer, "Simply" Kat Magill, Natalie Patterson, and myself. I'm now teaching at the University of Southern California.
But more than this, DPL has created meaningful and lasting relationships for many people. Like family, Lounge poets have housed one another, refer to our friends' children as nieces and nephews, and often provide general support and critique like only family can. In fact, Lounge poets call one another brother, sister, and the larger group, lounge family. In addition, the Lounge has provided many people with viable means of supporting themselves and their families through touring and entertainment industry related jobs. Contemplating on the alchemy of this place, former gang member Darnell "Poetic" Davenport said, "The Lounge literally saved my life, and I'm not just saying that to say it. This poetry stuff really saved my life."
What makes the lounge such a special place, one that has thrived for fifteen years while attracting large numbers on a weekly basis, is precisely its ability to feel like home for so many young artists—that is, a familial environment that nurtures young writers of all kinds. In other words, it is an artistic space that saves lives by offering a performer-writer's community for poets to be challenged, nurtured, and supported in order that they might grow as artists. DPL is certainly not without its problems and my essay, "Manning Up: Race, Gender and Sexuality in the Los Angeles Slam Poetry Community" in Text & Performance Quarterly, is a testament to that statement. An essay that critically explores how masculinity functions in DPL, so as to call out the sexism and heterosexism that is under critiqued in the Lounge and other poetic spaces like DPL. Though it should be noted that since the publishing of "Manning Up," October 2010, DPL has been working hard to deal with its own exclusory politics by hosting open dialogues, hosting more women's nights, more LGBTQ nights, and by allowing straight women and our queer brothers and sisters to assume more public roles in DPL. Despite whatever issues Da Poetry Lounge is working through, it is a poetry venue that must and will be noted mostly for the lasting poetic community it has created, as well as the poets who call it home.

* The poetry slam began in 1984 at The Get Me High Lounge, then moved to Green Mill, its current location, two years later. Also, the term "poetry slam" entered into the national lexicon via Lynn Voedisch's Chicago Sun Times article, "Poetry Boosters Slam Snob Image," July 25, 1986
Javon Johnson is the First Annual Visions and Voices Postdoctoral Fellow at the University of Southern California. Housed in the Department of American Studies & Ethnicity, he teaches courses on race, gender, and pop culture. In addition, he is a poet and two time national slam poetry champion.