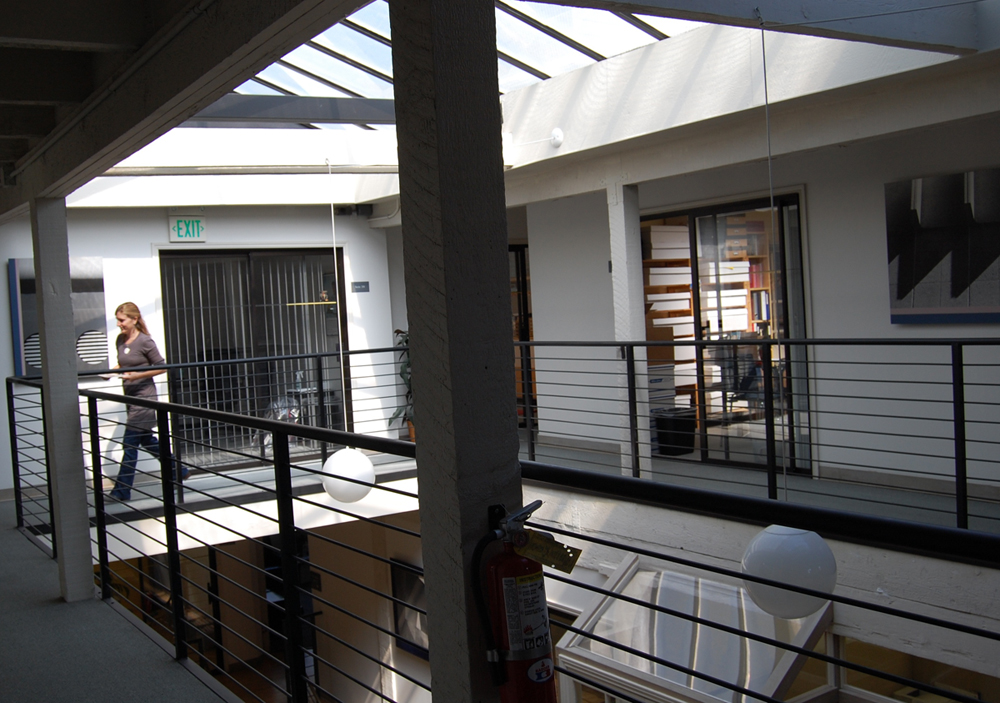 To Span Cultures & Place: A Visit to CAT Towers
a feature by Sharon Coleman
Center for the Art of Translation, 582 Market Street, Suite 700, San Francisco, CA 94104, (415) 512-8812, www.catranslation.org. [This profile is set in the old office on Stillman Street, San Francisco. Center for the Art of Translation moved into a new office in the historic Hobart Building, a registered national landmark, in downtown San Francisco on May 1, 2011.]
She strides gingerly, quickly along the walkway that links one CAT office with another and glances down into a small atrium. This SoMa warehouse turned into offices is bright and airy with brickwork painted white and tropical plants that now thrive inside. She holds the first issue of Two Lines, a journal of literary translation that has flourished for seventeen years, now just one of many projects of the Center for the Art of Translation.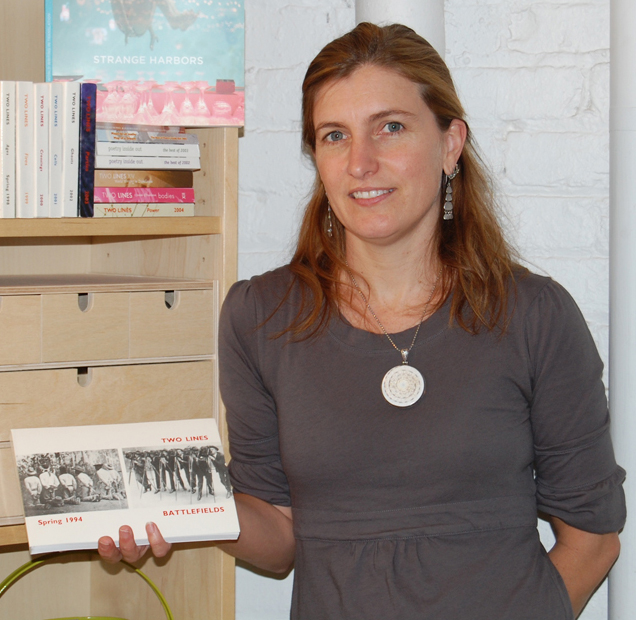 On the cover of the issue Olivia Sears holds are two vintage photographs that she and other editors wittingly paired up. On the left, a group of men hunched over, blindfolded, hands tied behind their backs—awaiting a volley of bullets. On the right, the would-be firing squad leans toward them. But instead of guns, their hands operate nineteenth century box cameras. Inside this first issue from 1994, whose titled theme appropriately is Battlefields, are a selection of poems and prose in the original languages and English that explore wars, both on declared, public battlefields and within personal lives. As Olivia Sears was a graduate student studying war narratives in Italian Renaissance writings by women, the theme is a natural.
What is remarkable is how, after so many years of publication, the journal has maintained a consistency inside and out. Unlike many literary journals publishing translations, Two Lines has always been committed to publishing the original in the original writing system or alphabet (at times phonetic transcription when the language is only oral). Poems are published with the entire original and its translation on facing pages. Due to space limitations, only the first page of the original prose appears with its translation. Issue IV, Strange Harbors, further includes the traditional handwritten cursive of Ladino (Judeo-Spanish) along with Judy Balach's translation of the folktale "The Girl Who Was Born from an Apple" by Matilda Koen-Sarano and Ester Navon Kamar. That issue also provides original visual sources by reprinting in black and white two paintings by Edward Hopper upon which Ernest Farrés wrote ekphrastic poems in Catalan, translated into English by Lawrence Venuti. The next issue, Wherever You Lie Is Your Bed, expands the multigenre/visual components by including Edward Gauvin's translation of a French bande dessinée by François Ayroles (known to most Americans as comic strips and to some as sequential art). In the current issue, Some Kind of Beautiful Signal, the visual component provides a historic dimension with the facsimile of an early medieval manuscript page of a Uyghur Buddhist drama composed in 767 CE.
Another facet of Two Lines since the first issue is that each translation is always preceded by the translator's introduction of the author, work, historical context as well as any challenges the translators faced in translating the piece. The idea, or ethics, is to open the reader not just to a single piece of literature or even a language but to an entire tradition or movement. These introductions are fascinating windows into world literary culture. They are usually just as captivating as the translations. Very occasionally, when only a very short poem or poetic excerpts follow, they are more interesting.
Including the original has been key to the Two Line's project. The first issue brought up the question of the fidelity of the layouts to the originals. The four editors that produced Battlefields had to decide what to do with a Chinese poem written in long beautiful lines; it was like a beach or horizon, says Sears. To break or wrap the line around would warp its intended effects, so they decided to turn the journal on its side, shifting the vertical orientation to a 8.5"x5.5" horizontal. It's like a car manual, many have remarked, a book that can fit in the glove department for nights on the highway when you check into a roadside hotel. It is a unique, quirky, and pleasurable object. Its horizontal orientation, however, has challenged booksellers on how to shelve or display it; Sears assures them, it stands on its own by the cash register—its long bottom balances it. Over the years, the shape has enabled Two Lines to publish poems as they were intended. The only exception is work by Japanese poets, like Kazuko Shiraishi, whose poetic lines, when translated into English, are often so long they can seem as lengthy as scrolls.
Sears jokes that people have come up to the Two Lines table at conferences and told her that world translation is truly a 'niche' market when in fact the breadth of the project extends world wide. Literature written in American English represents only a corner of the world. So to open the potential audience to the world beyond our borders (and sometimes to small worlds within our borders), Two Lines has also sought out writings in non-Western European languages and pocket languages. A short list of languages that have found their ways into the covers of Two Lines includes Albanian, Antha Athabaskan (Alaskan,) Bengali, Burhat Mongolian, Creole, Farsi, Finnish, Icelandic, Hmong, Latvian, Thai, Urdu, Uzbec, Vietnamese, and Zulu. In the second issue, Tracks, are traditional tales from Buru in Papua, New Guinea, transcribed phonetically by the translator because no written form of the language exists. In this case, Sears sees the journal's mission extending to preserving rare and endangered languages or texts. In Strange Harbors is a translation by Michael Henry Heim of an erotic story, "Paraíso," by Nicaraguan writer Claribel Alegría for which the original was lost. It is included to show the full breadth of Alegría's body of work.
Yet over its years of publication there have been changes, mostly in terms of organization and growth. Two Lines began as the Stanford Annual of Translation when Sears and other graduate students initiated it. Sears had gone to Stanford because she wanted to translate from Italian, and studying the language and literature seemed the best way to do it. But as the Italian department was particularly allergic to translation, she garnered interest among other scholars, particularly John Felstiner in the English department, and graduate students, particularly those in the Asian Languages department. The first meeting to organize an editorial staff drew in thirty people; the second meeting six. Four student editors completed the journal, and it only included work from Stanford-associated translators. As always with student publications, so much depends on who graduates and moves on and who stays and has time to carry the torch (or cup o' coffee). The second edition faced an even more drastically reduced staff. So Sears made one of the most important purchases in her life: for one dollar she bought the journal from the Asian Languages department and brought it to San Francisco—to a corner in her bedroom that she'd made into an office.
For the first five years, Sears did almost everything. Her only help was an accountant housemate and a very dedicated boyfriend who did layout and design. The journal thrived. One key factor is that Sears is very community-oriented. (Translating is a solitary activity, so those given to this work are not always suited to promote it.) She tapped into the Bay Area's rich literary community and sought advice from long-standing publishers like Malcolm Margolin of Heyday. She organized bilingual readings throughout the Bay Area, and even concerts of world music to complement the literature. She took the journal on the road: to conventions and universities. Soon it was growing beyond the scope of one full-time laborer, and something needed to be done. So Sears set out to make the journal into a nonprofit and to apply for funding. Acting on wise advice, she restructured it as an organization to promote translation with an educational component and a publication, Two Lines. Hence the Center for the Art of Translation was born (just as the California Arts Council was closing up shop and the National Endowment for the Arts was shifting funding prerogatives).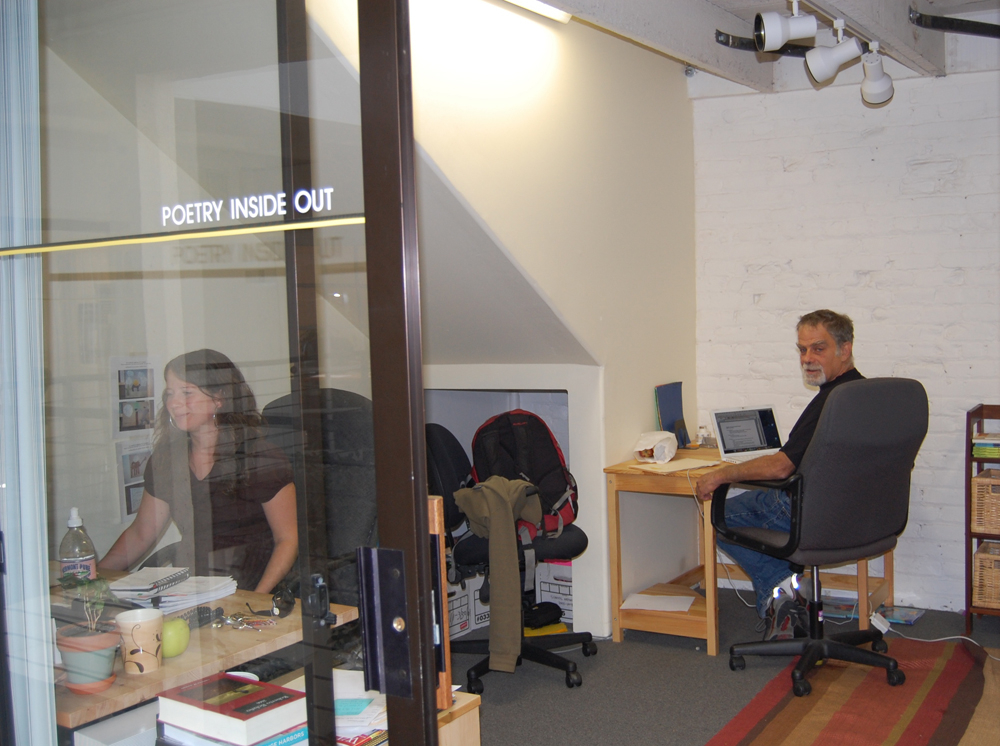 Turning points can be trying, full of questions and uncertainty. But it's like having a new baby, says Sears: when everything looks discouraging, all of a sudden the new child is so inspiring. Poetry Inside Out, CAT's educational component, became that new baby. It was originally proposed by Michael Ray, a long-time educator in primary and secondary schools, to introduce poetry to bilingual students and to encourage them to translate and eventually to write their own poetry. For students who often learn to view their bilingual or ESL status as a disadvantage, PIO shows them that their bilingual knowledge is an advantage. PIO also helps them to distinguish between the two languages and understand their different idioms and grammars. It develops intellectual agility in terms of problem solving and creativity. Most of all it reverses the all too common shame—shame about one's culture and language—into self-actualization. Every year the student translators/poets give a reading at the San Francisco Public library. Every year their work is published in the CAT anthology Poetry Inside Out. The confidence these students find through this program translates directly into higher grades in other areas like Science and History. Currently Berkeley poet and translator John Oliver Simon is the Artistic Director, and Marty Rutherford is the Program Director. It has found such success in the Bay Area that schools from many other places in the country are asking for the program. So PIO has developed a curriculum that can be shared nationally while retaining the original grassroots approach. Teachers & Writers recently adopted this curriculum and are teaching it in New York City classrooms.
Another addition to this CAT on the prowl includes the Lit & Lunch reading series in downtown San Francisco, created by translator and writer Zack Rogow, Two Lines Editor and Artistic Director from 2005–2007. He fashioned it after Robert Hass's Lunch Poems, a UC Berkeley reading series that Rogow worked with for years, hoping a noontime series would catch on in downtown San Francisco. Indeed it did: SF Weekly recognized it in their 2008 Best of San Francisco issue. Big name poets and translators like Robert Pinsky and W.S. Merwin draw big crowds. Emerging ones, writers or poets like Valzhyna Mort, give fabulous readings. Sometimes writers and their translators present side-by-side as José Manuel Prieto and Esther Allen did in their incisive and amusing discussions on translation. I've made the trek to the series from the East Bay many times, not knowing anything about the readers, but I always leave feeling I've learned a lot; the quality is outstanding. CAT sponsors many readings and occasionally world music events at different venues in the Bay Area, but Lit & Lunch gives the center a 'center' on that one Tuesday a month at a hip art gallery and bar on Minna Street.
With other babies, literal ones, now at home, Olivia Sears has also slowly changed her role to let this teenager, wise beyond her years, come into her own. In 2005, she passed the editing of Two Lines on to Zack Rogow for a few years. She now serves as President of the Board with CAT's Brent Sverdloff as the new Executive Director, whose plan for CAT will be to forge many partnerships with other Bay Area and national organizations. CAT's extended staff includes CJ Evans, Two Line's Managing Editor, and Scott Esposito, Marketing Coordinator. Recent news includes an expanded website with videos of readings and interviews and an online version of Two Lines as well as a move from the funky SoMo CAT Towers office to larger offices in the historic Hobart Building on Nob Hill—with the big cats.
Another very notable change for the last three issues of Two Lines has been guest editors who attract a wide array of contributors and who also compose a "regional focus" section in each issue. Strange Harbors's Prose Editor John Biguenet is a writer and translator from French. The Guest Poetry Editor, Sidney Wade, poet and translator from Turkish, compiled the regional focus on Turkish poetry. Poems by five contemporary poets—Murathan Mugan, Zeynep Uzunbay, Gülten Akin, Seyhan Erozçelik and Sami Baydar—are translated by various translators, both Turkish and American. The next issue, Wherever You Lie Is Your Bed, sparkles with prose chosen by Portuguese and Spanish translator Margaret Full Costa and poetry by award-winning poet and French translator Marilyn Hacker, who also chose poets for the regional focus on Palestinian Poetry. Their selection spans different generations and perspectives, from the well-known Mahmoud Darwish, to poets born in the 1970s like Ayman Ghbarieh and Nasser Rabah. The recently released issue, Some Kind of Beautiful Signal, has prose selected by journalist and Spanish translator Natasha Wimmer and poetry by poet, editor, and Chinese translator Jeffrey Yang. He collected an invaluable regional focus on not only the poetry of the Uyghur peoples but their history and current political situation (a few Uyghurs were prisoners in Guantanamo Bay). These are peoples who have lived between China and Russia, mostly along the Silk Route, for centuries. Today they are under Chinese rule as an autonomous region. Yang's focus includes translations of medieval poetry and philosophical fragments as well as the work of twentieth century poets like Abdurehim Ötkür, Abduhalik Uyghur, and the contemporary Dilber Keyim Kizi.
Grouping translations by region has become such a common request that CAT has begun a second publication series, now of regional anthologies: The Two Lines World Library showcases classic writers from a region or culture as well as those just beginning to be known in English translation. The one title published so far, New World/New Words: Recent Writing from the Americas, edited by Thomas Christensen, is a draw at book fairs and conferences. It provides an in-depth introduction to Latin American writing for the general reader, and as a bilingual book, it's an excellent tool for language learners. Many introductory-level college classes have adopted it. More titles are being planned with funding pending.
Sears notes CAT owes its longevity to the fact that she always knew it would go on. There was never any question in her mind that the journal was meant to happen. During trying times, there are particular joys that keep frustrations at bay. For Sears, this could be to hear from writers themselves. Sometimes a writer who has been through a lot and who lives a modest life, a much different life than the translator's, will send a message thanking Two Lines for bringing her or his words to San Francisco. Or this joy could come from sitting in on a Poetry Inside Out class in which children just ten years old discuss word choice and concepts of translation. Or this could happen at a Lit & Lunch reading such as the one given by John Biguenet, who reported for the New York Times on the state of his hometown, New Orleans, during the flood following the hurricanes. Beyond these intimate joys and enriching insights, there are also episodes of widespread recognition such as Palestinian poet Taha Muhammad Ali reading his poem "Revenge"—whose translation by Peter Cole, Yahya Hijazi and Gabriel Levin appears in the 2010 issue, XIV—at the 2007 Dodge Poetry Festival. The reading was so well received that thousands viewed a video of it posted on the web.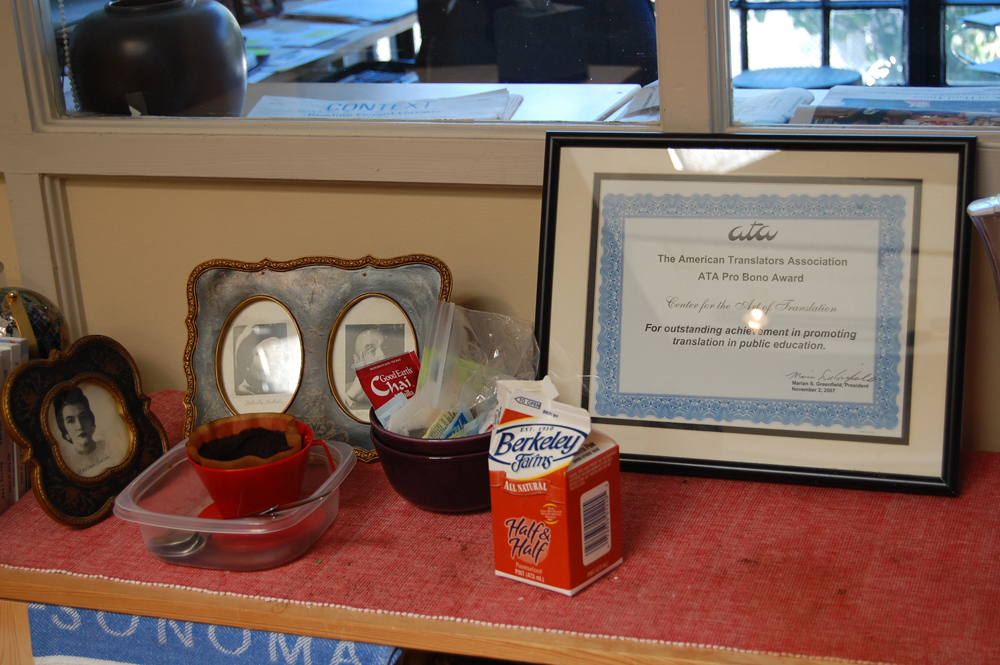 Perhaps it's the joy of creating a place of relative peace and respect where writers—through translators—can bring their stories to an American audience, that is the life force of CAT. It provides a poignant place into which you can step from a busy financial district street to hear translations of Iraqi poetry from Saadi Samawee, poetry by those who have recently lost their families to war, a gathering where Samawee can shed tears as he reads and know his won't be the only moist eyes. Hanging around CAT Towers (a name coined for the old Stillman Street office by John Oliver Simon), the strange juxtaposition of such a peaceful and light-filled environment with the often brutal reality that the translated literature recounts is eerie. The office space, with its walkway and atrium, becomes a metaphor for the act of translation itself: to go from walking fluidly along the catwalk of one's own language to the sudden need to step—ever so tentatively—along a tightrope to get from one language and culture, one world, to the next.

Sharon Coleman is a poet and contributing editor to Poetry Flash, and a member of the Northern California Book Reviewers. She teaches at Berkeley City College, where she is faculty advisor to their award-winning student literary and art magazine, Milvia Street. Her poems have been published in journals and magazines.