SUSAN KELLY-DEWITT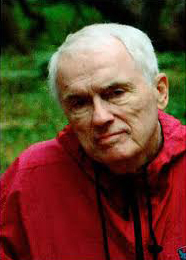 Dennis Schmitz
Elegy for a Beloved Poet

for Dennis Schmitz, 1937-2019


We gathered together in the night—
you with your tiger-eye; the night was
poetry. Your poems were skyscrapers—
the moon and stars shone down on them—
there was also a galaxy inside each window.
We stared up at the staggering grandeur,
a city at night, built of your words.
Some of us were dressed for the cold countries,
others had palm trees inside their hearts
but all of us were wearing the many-colored cloaks
of astonishment. Where are you now, poet
of the oceans, poet of the air,
poet whose words climbed the highest
mountains, dove into the deepest wells—
I will hold them to my heart. I will live
in your city of words until the breath
is stolen from me.

Gathered in the night
we saw the light inside you.

•
From the Sacramento Poetry Center:
IN AN OUTSTANDING career as a poet, Dennis Schmitz published nine collections of poetry, including his most recent collection, Animism (Field Editions, 2014).
He was the recipient of numerous awards and prizes, among them a Discovery Award (Poetry Center, New York), The Poetry Society of America's di Castagnola Award for best book-in-progress, a Guggenheim Fellowship, two Pushcart Awards (1988 and 1993), three National Endowment for the Arts Fellowship Awards, and The Poetry Society of America's Shelley Memorial Award for distinguished achievement. He taught poetry for thirty-three years at California State University, Sacramento, deeply influencing two generations of the region's poets, and was, with Viola Weinberg Spencer, Poet Laureate of Sacramento, 2000-2002.
His other collections include We Weep For Our Strangeness (Big Table/Follett, 1969, re-issued by Carnegie-Mellon University Press, 2008), Double Exposures (Triskelion Press, signed and numbered, 1971), Goodwill, Inc (Ecco Press, 1976), String (Ecco Press, 1976), Singing (Ecco Press, 1985), Eden (University of Illinois Press, 1989), About Night: New And Selected Poems (Field Editions, Oberlin College Press, 1993), and The Truth Squad (Copper Canyon Press, 2002). He co-edited, with Carol Muske-Dukes, the poetry section of the XXth volume of the Pushcart Prize Anthology.
He died peacefully in his sleep on September 12, 2019 in Oakland, California. He was in the process of completing a new volume of poetry.
"There is a radiant wisdom that has always infused the poetry of Dennis Schmitz, a remarkable light that is able to reflect precisely off even the most corrupted surfaces of our daily world. Since reading his very first collection, the astonishing We Weep for Our Strangeness, I have always thought of Schmitz's poems as the secular prayers of the sanest voice in an often insane world. Reverential of both the natural and human worlds, Dennis Schmitz is nevertheless unafraid to regard both with a sober eye and to record with a profound intimacy the simple wreckage—and the wild triumphs—he has found."
—David St. John

Susan Kelly-DeWitt is the author of Spider Season and The Fortunate Islands. Her poems have appeared in Poetry, Prairie Schooner, New Letters, and North American Review, and have been featured on Writer's Almanac and Verse Daily. She lives in Sacramento, California, where she is a contributing editor for Poetry Flash and a reviewer for Library Journal. She is also an exhibiting visual artist.
— posted November 2019