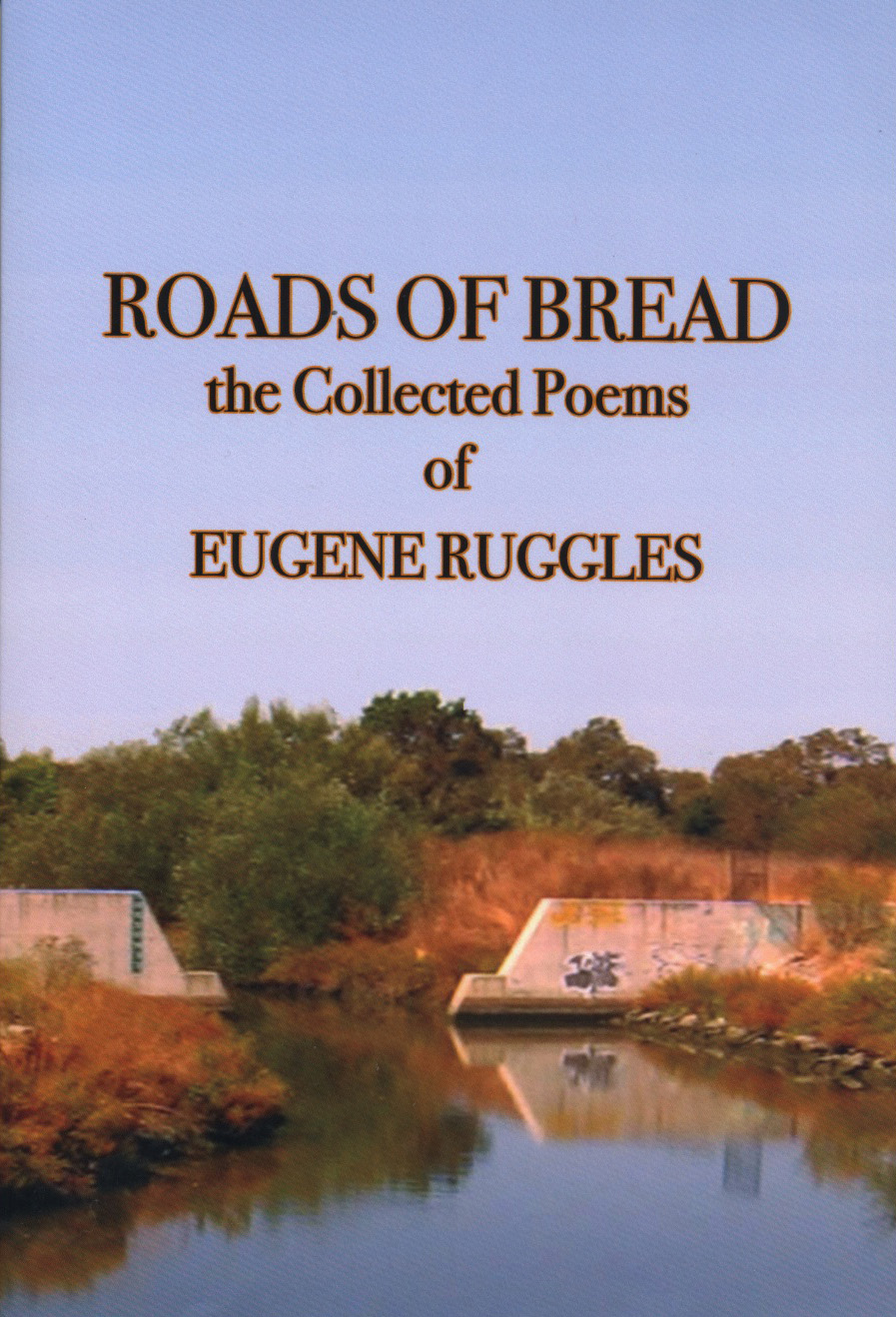 Shaman
by Richard Silberg
Roads of Bread, Petaluma River Press, P.O. Box 146, Bodega, CA 94922, 2009, 230 pages, $22.00 paperback; www.petalumariverpress.com.
Eugene Ruggles shines in singularity. The feel of his genius is rough-hewn, homemade. You could call him a cross between Dylan Thomas and Philip Levine, and that would be useful, clever, but nowhere near the full truth of his writing.
He published only one book in his lifetime, The Lifeguard in the Snow, and its title poem is probably his best known work; indeed it was the only one of his poems I could bring to my mind's eye before reading this collection
It seems the snow is falling deeper than God

as I walk through it along our end of the ice,

it drifts between my legs like it was breathing.

The sweat hits in my back as I start to climb

the first white dunes that save the trees from ice,

I open my coat and hear snow inhaling the lake.

There is the raft I couldn't reach it's still there

frozen in ice like the last scream in a mouth.

Watching those children all last summer

has folded this black sunburn through my chest—

a small girl water carved out of my arms forever.
That's the complete text of this powerful small poem that shows off many of the characteristics of his writing. Maybe the most obvious is what we could call his surrealism, the difficult, alogical quality of his imagery, here maybe less the raft "frozen in the ice like the last scream in a mouth"—because that image becomes 'logical' in association with the child's drowning—than that "black sunburn" "folded" through his chest. What a pure stroke that is, so strange and "god" like as it combines with the last line, the payoff that gives the poem its meaning. And we could think further there, too, about the moving alogic of water 'carving'. But Ruggles's imagery is never chosen purely for effect. It's not a portal to the 'marvelous', no spigot for the 'vesicles of the unconscious' as with Breton and the boys. Instead, his images are more like the deformations, the scars left by powerful emotion, and typically they look outward rather than inward, as here, the burn of grief for a little girl he couldn't save. Ruggles is a huge, open heart. It's the depth of his yearning, the reach of his embrace that give him his power and importance as a poet.
But in at least one way "The Lifeguard in the Snow" is atypical for Ruggles. I'm thinking of its finished, unified quality, the foreshadowing, for instance, as the snow 'breathes', 'saves' the trees, 'inhales' the lake, the 'frozen scream' of the raft, the subtle step up in tension as the "sweat hits" his back. "The Lifeguard in the Snow," we might snidely say, is workshop approveable. But Ruggles would have crashed around a Creative Writing course like a guttered bowling ball. His poems are heedless, passionate and headlong. Here, almost at random, is the complete small poem, "After Peace," from The Lifeguard in the Snow:
My country, here, take

this package of gates from me

and walk through them

singing

they say after this flood

only the tears will be seen floating,

tears that have been hacked in three parts

and sewn back together again

too many times,

tears that leave dents in the air

we call graves,

the black tears that just go on they never stop

pulling the light down

in their mouths

and the red tears that can only dry

on the crust of a heart

here, take…

for you are good at it,

my country,

my life.
There's a lot to question in that poem, a lot to cavil with. But—and this is true of his work as a whole—it's physical, kinetic. It's propelled by its thrusting verb, "take," at beginning and end, by the "tears" that act as an anaphora. And the drive of its rhythm is flawless. Look, especially, at the lineation and phrasing of its last four lines: "here, take… / for you are good at it, / my country, / my life." The poem has tremendous power, the raw joints of a jeremiad, and when it comes to its end it draws blood.
I'm using that word "jeremiad" advisedly, both because of the protest quality in his writing, above anti-war and later in the book for racial equality and about conditions of work and general living conditions, but also because of the prophetic, religious fervor of his poetry, maybe less Judeo-Christian than shamanic.
And like any good shaman, Ruggles had his 'falling sickness'; he was a serious drinker. There are a few traces of that in Roads of Bread, particularly the poem "Lines from an Alcoholic Ward," which gives us an opportunity to look at Ruggles in a mood of quiet interiority, of self-questioning to the brink of despair. This is the poem's ending:
A man comes this far without courage

until he opens himself

to find he's a door between two winds,

facing a space that's draining,

that he's come nowhere,

and unable to close.




Though I wrap myself thick

with more Roethke and Blake,

behind the pails of coffee

it's cold in sleep.

Now there's only the moon.

A full November moon. Nailed




in the corner of a barred window

and my hand a yard turning dark.
It's as if, perhaps, when he found himself removed from an outward caring, an outward striving, he was forced to look at an emptiness inside. Yet how strange and beautiful these lines and images are. A door between winds, "unable to close," and the final image of his hand as a 'darkening yard' is as alogical and unexpected as anything in his work; still, such an effective diminishing cadence to end on, lonely and blinking out. It's interesting, too, to see the names of poets he was reading, the only such names I can remember in the book, these writing brothers, Blake of visionary intensity, and the surreal flame voices of Roethke.
But, as I've said, quiet interiority is rare in his poems. His meditations, the motions of his soul, reach out to a world of lack and suffering. Here, still from The Lifeguard in the Snow, are lines from the title poem of this collected, "The Roads of Bread":
The bread I'm lifting to eat

already has a mouth

clinging to it.




Just a mouth with some bone

a tongue and lips,

nothing else.




I fold the bread over it

and bite into them,

and it is not bad

as we say.




I am very late in this place

yet I am always fed.

Why is this

my God




each day I am eating

the mouth of a man

with his bread

still in it…
Not 'dog eat dog' but man eat man. How quietly he says it, and how painfully—eating this other mouth—as in a ghastly dream, yet leavened with sardonic humor, "and it is not bad / as we say," which makes the pain more keen.
In addition to The Lifeguard in the Snow there are two unpublished manuscripts collected here, "From Spending the Sun" and "Enough," that he was working on when he died. A number of the poems in these manuscripts, especially "Enough," are written in a much less dreamy, more realistic, even reportorial style. They come at this man eat man theme from a daylight, social direction, labor poems, racial poems. Here's a slice from "The Unemployed Automobile Workers of Detroit Prepare to Spend Christmas Standing in Line":
A black man comes in to cash his unemployment check.

He's at my right elbow, looking down, signing his name.

He has four children to feed, today. He turns to ask

if I want to shoot pool. We flip a coin

to see who breaks. He wins. I was born around here,

forty-two years ago today, just before Pearl Harbor.

The last of five children from parents who never sang,

they broke their lives over each other until they ended.

The snow never stops looking for men in Detroit.

It spreads out through the suburbs and small towns

to the farms up north looking for men…
There's a wide-angle approach to that poem, a sense both of the everyday and of history, of working-class need and hunger and motion. Here, in a similar mode, is a quote from another poem in that same manuscript, "A Machine Shop Foreman":
…I opened the steel door and there he was.

A short man, about five feet six, and thick.

He extended his arm to me like a bar

of iron with a wrist and a hand missing

half a thumb, one forefinger, and the third

of another finger. This was the right hand.

I put my smaller one into it. The left hand

was in a dirty cast holding an oil can.

Can you start today; sure, Goddamn, my first job.
He gives a feel of his work at a press "as large as a freight elevator"; the workers are mostly black, the foreman Polish, "…All day Detroit exploded before me." That evening he quits, and the foreman takes him and two black workers out for beers.
When I left he shook my hand for a long time,

as though he wanted parts of it. But he didn't.

As I walked from the bar that night three white cops

were bending over in an alley playing soccer with a pair

of black testicles. In the dark young black women waited

for a john or the cops that came by every night, they could

either go downtown or go down on the cops

in the nearest alley. I watched as the cops drove them back

from the nearest alley. The women all had brothers and fathers

and uncles waiting at home. This was the early sixties. On one side

of the Detroit River, Newark was also waiting at home for her daughters,

and on the other side of the Detroit River, Watts was waiting for hers.

All the while beneath many other rivers young black women

were waiting to breathe.…
Again that sense of reach and empathy, of black and white, of men and women, workers, gathering towards some imagination of freedom, of justice. There are other similar poems in this manuscript, "You May Do That," for Rosa Parks, "Busing Justice Through Freedom Summer," "You and Rodney King."
Ruggles is a big poet, angular and awkward, who had grown unfashionable, who was mostly a quaint legend by the time of his death in 2004. But this is a major American writer, in his passion and yearning, the size of his heart and the force of his imagination. Anyone who reads Roads of Bread will see that.
He or she is likely, as well, to sense the sadness in Ruggles's life and something of paradox there. Here was a man empathetically wedded to humanity, a poet of work, a poet of human beauty—as he writes in "For a Young Vietnam War Widow in Toledo, Ohio": "oh night after night after every // night // her perfect breasts for all / breasts are perfect / have parted"—as he writes in "Last Note to My Children" at the end of "Enough": "the most sacred word / I can leave you is community." Yet there's a palpable solitude that runs as a deep harmonic through Roads of Bread, solitude, we might conjecture, of the shaman. Here, from "Enough," is the short poem "Amputee":
I feel strongest alone.

Removed, late at night.

The fire burning down

beneath my ankles,

touching nothing I've known.




I listen to the dark

healing between us.

When it has finished

covering the last opening,

where the skin belongs,




I empty into sleep,

into many. A crutch, the oar

of a pencil tied to my hand

with rope, growing back

toward all of you.
Ruggles was indeed a shaman, poetry his prayer, his spirit quest. Let's honor him and give him the final words here. Delia Moon, editor of Roads of Bread, took a poem, "Inscription for the Door," out of Lifeguard in the Snow and set it as a coda. These are its closing lines:
Why are those three strangers still kneeling

over their ashes? Invite them. Bring them in.

They can rest here beside the fire of meat.

Children sleep in the corners, taking notes.

A woman is dressing in the room overhead,

her footsteps are tablets I open to sleep.

The new wind is full of branches tonight,

leaving no holes in this darkness.

Around us, we can hear the dead sing.

Enter. I have no enemies left anymore,

only some friends who are late.

Richard Silberg is associate editor of Poetry Flash. His latest poetry is Deconstruction of the Blues. The Horses: New and Selected, is forthcoming in 2012. He won the Northern California Book Award in Translation for his co-translation of Korean poet Ko Un's The Three Way Tavern. He leads Poetry Flash's Workshop, The Dialogue of Poetry.