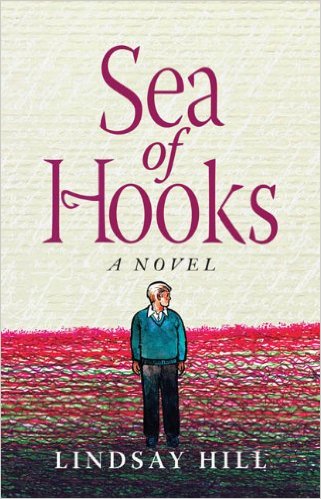 The Felt World
by Cynthia Kraman
Sea of Hooks, by Lindsay Hill, McPherson & Company, Kingston, New York, 2013, 351 pages, $25.00 hardcover, www.mcphersonco.com. Winner of the 2014 PEN Center USA Fiction Award.
Sea of Hooks, by Lindsay Hill, McPherson & Company, Kingston, New York, 2013, 351 pages, $25.00 hardcover, www.mcphersonco.com. Winner of the 2014 PEN Center USA Fiction Award.SEA OF HOOKS IS A GLEAMING debut novel by poet Lindsay Hill written from the perspective of Christopher Westall, a child not so much autistic or aphasic as living in a world with those dysfunctions. He does have problems reading and learning, yet they seem to arise not from within him but from outside forces and hauntings. In fact the entire book, as well as Christopher, might be said to have an old soul, a soul biding time with Jung's "archaic mind" where necessity eschews inner drives in favor of the power of outer phenomena. A literary shift away from the twentieth century psychological model has been underway for decades, from Roth's serial sexual filibustering of the real to Sebald's hiccupping relation of story to image, to recent extirpations of time and place documented by footnotes which "interrogate" (add rabbit ears to that list) the purely textual reality of any given "novel" (one can't stop). Nabokov perhaps succeeded in banishing Freud from the postmodern, and then the millennial novel—Sea of Hooks, one might say, goes similarly another route entirely, away from any of these predecessors while patiently re-sewing the psychic into the empty jacket's well-made seams.
Reality floats in on scraps and debris for young Christopher. He calls them Messengers—a torn receipt, a lipstick tube, bits of glass, a stub of a pencil. They bear the residue of Walter Benjamin's rausch—the life charge. The death drive holds it shoulders straight in Christopher's mother's afflictive objects of beauty: a Japanese fan, a Chinese altar, an American rosewood desk at which to compose excruciatingly perfect, unanswered letters. This outerworld includes San Francisco, but there's no flower in anyone's hair, no Haight highs, in fact no nod to recent upheavals or historical events except in Christopher's father's war-time letters (real letters from the author's father)—yet this is Westy's war—not Vietnam but World War II. And although Christopher travels to Bhutan and meditates in the East's real-life Shangri-La, the cliff-suspended Tiger's Nest at Paro, all familiar tinctures of the spiritual are sparsely sampled here. San Francisco in Sea of Hooks is mostly the fog-filled precincts of the Presidio; the Buddhism evoked has nothing to do with multicolored prayer flags floating off a monastery or, even as we speak, over every hedge fund manager's back garden in New York's West Village.
For Christopher Westall, the most consequential thing, as a child, is not to disturb his mother's sleep by using the bathroom a second time. This is pretty gruesome territory. Yet the book, for all its suffocations, including the literal one presented in its opening sentences describing his mother's literally airtight suicide, is a page-turner.
And what odd pages they are. Hall writes his novel in discrete paragraphs, each with a title. Some of these titles repeat immediately (because there is another necessary paragraph) or later on—those that repeat become visual/aural/conceptual motifs. From that first devastating paragraph, entitled Glass, one psychically holds one's hands up defensively before the beautifully delivered violence throughout. Subdued violence, the violence of losses lost to calculation, informs another paragraph some pages later in which Christopher must help his mother even after death:
Evelyn left a list with the names of two friends and their numbers and some instructions. And they were friends from long ago in her life, and there were no other names on the list, and he saw how long ago her life already was.
Their voices evoke, "a little inward-facing orchestra with a choir behind tin curtains—that kind of speaking; or a language where putting words in order was not the goal."
If this language seems rather gentle or poetic, or if rebuffs to history feel overly Wes Andersonian (as when Anderson replaces real life Nazis with cinema's generalized thugs) or Knausgaardian in its love of minutiae (a lengthy description of Evelyn making orange juice relies on the fact that the juicer and the glass fit perfectly together), I offer a weird reassurance: dead center of Sea of Hooks, lurking like the diving bell that lures Christopher as a child, waits a predatory relationship of fierce, unforgiven sexual abuse that serves as counterweight to the sometimes not-fully-explained suspended castles built here and there. It also roughs up things like the habit of calling apartments "flats," and the charisma-tinged retro-feel of Dr. Thorn as Christopher's guide and hero with his Zippo lighter, over-stuffed bookshelves and ashtrays full of spent Chesterfields.
But there is a lingering question aside from the matter of what is left in or out of a novel. Do the characters—Christopher, Evelyn, Westy, Dr. Thorn and a handful more—lack density because of the language-world in which they exist? To some extent the answer to that has to be yes, as Hill's San Francisco, too, remains a floating world. Should such reality formation be exemplary? Like Dr. Thorn's almost lazy pacifism and ethics-free zone of existence (he lets a family member get him out of Westy's war), the book leaves the deep American concern with values mostly to the side, but not at all unraised or ignored—the question of whether this is a good idea, or even possible, remains a riddle hovering amid the many Zen koan-like interactions Christopher and Dr. Thorn share that destabilize the moment provoking those narcotizing pleasures: contradiction, disconnection, doubt. Is a radically passive attitude towards the moral the very basis of the aesthetic experience, or its failing? And here's another American situation: can an American writer only suggest and disturb? Is that enough? Yes, if one is moved along, if one's consciousness is reformed, if one enters new ideas. As with our early forbears work, say the short stories of Hawthorne or Melville's novellas, enough of the felt and feeling world bleeds through the uncanny in Sea of Hooks to keep fueling a reader's strong and ongoing fascination.

Cynthia Kraman has published numerous books of poetry, Taking on the Local Color, Mexican Murals, and, most recently, The Touch. Her poems have been published in journals including The Paris Review, The Southern Review, HOW(ever), and Open City, and several anthologies. A former resident of Seattle, Los Angeles, and New York City, she now lives in New Platz, New York.
— posted July 2015