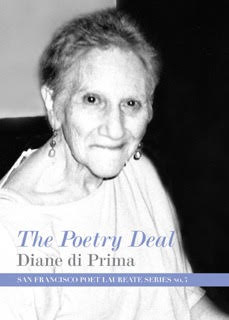 Long Line of Beginnings
a review by Bruce Isaacson
The Poetry Deal, by Diane di Prima, San Francisco Poet Laureate Series no. 5, City Lights Foundation, San Francisco, 2014, 109 pages, $11.95 paperback
"BEAT" IS PERHAPS the last acknowledged poetry movement to create a broad cultural impact on Western society—it's mores, politics, the ways we relate to one another, the ways we relate to ourselves in the mirror. Diane di Prima is one of a few seminal Beat poets. In her first new full-length book of poetry in decades, here is a major poet working at the peak of her powers. Now approaching the end of a writing life, di Prima is taking stock of her ideals, ambitions, of progress achieved and unachieved. Because of the way America adopted and followed the Beat movement in her era, in an important way, the book assumed a dimension of America looking back on itself.
Throughout, di Prima reflects on the idealism that brought her from New York, on the social movements of her times, and on the city she has loved and lived and, in her way, led for almost forty years. In this book you find the San Francisco where the young went to be reborn, where a newer-easier-better lifestyle took shape and took hold. For those idealists who have mused about "what happened to the Sixties?" di Prima has an answer. They're alive and well in this book, in di Prima's uncompromising insistence on a sentient future built on sustainable lifestyles. But it's more than that. In principle and in poetry, di Prima is all about people—loved ones, family, social observations of simple interactions that show larger truths.
The book is also emblematic of San Francisco in a more specific way, in that it's a publication celebrating her installment as Poet Laureate of San Francisco. The book opens with her Laureate lecture, and this reader's initial reaction illustrates the larger grace of her book and her vision. As a lecture, a discussion about poetry, it seems at first unrealistic as di Prima describes her impossibly high standards for poetry, for society, for all of us. In the lecture, I found myself even scoffing about the realism of these standards for ecology, social responsibility, economy. Then I got to the poems, which meet her idealistic standards in ways that are direct, clear, simple. Never vague or ungrounded, the poems are replete with specific touching examples and gentle persuasive images. Ideas spring from observations of the world, rather than words formed to fit concepts. The movement of the reader's mind in reacting to The Poetry Deal is important. What at first seems impossible, wrong, counterintuitive is on reflection seen as an elegant new way of understanding the observable world. This is the sort of movement of mind assocated with genius in science, art, and other disciplines. What at first seems impossible or implausible is subsequently revealed as the most descriptive and accurate vision. I felt that sort of transition in reading The Poetry Deal and so it seems to me that di Prima has produced a work of genius of the first order. Her vision of human empathy and respect is evolved well past that which dominates in society even today, fifty years after the wholesale adoption of so many Beat cultural mores and values. Much here that may seem heretical to both right and left, and near pathologically independent; one senses she relishes that outsider's view. Still, she manages to be relevant and insightful today in ways that work on the mind long after the book's pages have been closed.
Di Prima will not be buttonholed or reductively categorized. For example, in "Keep the Beat":
keep it!

was François Villon a Beat?

the Minnesingers?

what's a troubadour?




what about them guys

we call the

"Wandering Scholars" who

left the monastery

for the road?




it's not a "Generation"

dig—

it's a state of mind




a way of living

gone on

for centuries

a way of writing too




"Beat" poetry's older

than the grove of academe

older than

Apollo

or Pythagoras




it's one of the ways

that Dionysios plays

tongues of ecstasy




"Romantic" is another

how many more

don't know




but I know for sure

it's not a "Generation"

not once

one time / one country




throw in your lot

w/ the gals & guys on the streets

write like you talk

talk like you sing

sing like you dance

or love
Her vision is not of a generation or a self-conscious movement, but of a life in which art is followed as grail. For example, from her "First Draft: Poet Laureate Oath of Office":
It is the poem I serve

uminous, through time

that celebration

of human breath,of melos




it is and always has been

the museandrogynous and ruthless

as any angelscattering wordsthat need no

radio frequencyno broadband
Even in short poems such as "Linguistics" her commanding use of metaphor shows with breadth and depth the pervasive influence of language in our lives:
Wherever I set my feet I hear the rustle

of the passage of dialect & ancient form

& language like some great magnetic river

flows thru valleys & over the peaks of the world.
Di Prima's linkage of our selves to disappearing pieces of the natural world distinguishes her thoughts on ecology, such as the memorable "350," her ode on the milestone passage of 350-parts-per-million of carbon dioxide in the atmosphere. She can see:
the green ice flicker,shrink and disappear.

Wish you were here. I do so

wish dodo bird was here,wish orangutan

red man of alchemy was here to




stay, like our love,wish the taiga,

the Siberian tiger, Great Barrier reef and

all the rest of it would hang

around, like those brave desperate warriors of

New Zealand. What is to be done?




as Lenin asked. Image and body can

wake us up—as no number will.
Note the negative capability, the refusal to reach for easy answers or gestures, and the reliance on art as the great instigator of change. Yet it is the poem quoting her eight-year-old daughter that best encompasses that modern sense of fear about the natural world and the sense that its loss seems inevitable. Hence, it's this small poem, "Dominique," that works most effectively on the mind:
I'm really glad she said

I saw a rhinoceros

so I can tell my children

it wasn't a myth
In these poems, di Prima moves well beyond the speechifying frequently typical of words about such ideas and provides, instead, compelling images of human emotions. This leads to a natural truth and even authority in the poems that cannot be dismissed. Her poem on Obama's projected fears for change ("& About Obama") is so much stronger than all the rhetoric we hear constantly, pro and con. Her poem called "City Lights 1961" is there for those of us who weren't … "I've got books… like other people have mice." The knowledge and her cast of characters are encyclopedic, and yield fruit to research. Her vision of Memorial Day ("Memorial Day, 2003") is a list poem that identifies the heroes she'd like remembered. There are gentle love poems and touching elegies in the book, such as those for Bay Area poets Phillip Whalen and Kirby Doyle, and a philosophical discussion with someone called Zoron—a casualty of the AIDS epidemic. I have a system of marking a star on any poem which seems a career-level statement best exemplifying a poet's contribution and looked back to find three-fourths of this book so marked. There is also a memorable, brief poem for Buddhist teacher Chogyam Trungpa Rinpoche ("Three Dharma Poems"):
my faith—

what is it

but the ancient dreams




of wild ones

in the mountains?
The influence of Buddhist thought is strong in this book, but in the philosophical sense—and the sense of Beat as a lineage rather than a generation—the strength of The Poetry Deal is not some new philosophy or writing technique. Indeed, di Prima has mastered a wide swath of writing styles: realism, surrealism, haiku, metrical, free verse, projective verse, imagism, and she uses them all here. Rather, it is the intensity and purity of devotion to her muse, to the writing life, to the poem in all its wild beauty and unreasonable demand. This book shows the marks of scars and elevation lived wrestling with what one poet called the life "possessed by genius as kind as a hangman's noose."
Her devotion to a life lived for art is something di Prima expresses uniquely well. It is evident in her great prose memoir Recollections of My Life as a Woman, which expresses the appeal of the writing life among memoirs of her contemporaries, capturing its energy and delight, as she lived it in her native New York of the 1940s, '50s, and '60s. Let's hope readers get the second chapter of that great prose work someday soon, describing her life lived in San Francisco.
Here, the eponymous poem "The Poetry Deal" expresses the mutual accommodation she has found with her muse, the limits of what it means to be one human living to write and aspiring to approach the infinite. Di Prima has evolved through a full writing life, from the young beauty, to the tough-minded single Mom, always a teacher; one can see from the cover photo she's in a new phase now. She appears to be at the point of reflecting in sum on the devotions of her life—people, movements, ideas, and most of all poetry. She does this with both fierceness and tenderness, resolve and acceptance. She loves her revolutionary hopes for San Francisco of the 1960s and has since made refuge for them to grow, in poetry, art, music, in the eyes of friends and family. If you read this book, as I hope you will, it will stay with you in the mind and heart. It is not easily forgotten, a generous beginning of a future marked by a long line of beginnings, a lineage of love and literature. It is a reminder that those best hopes in all of us can, like the phoenix, touch the sky again.

Bruce Isaacson is a poet and publisher who grew up in Oakland. he currently acts as publisher for Zeitgeist Press, a literary collective that has published over sixty full-length poetry collections, many from the 1980s spoken word community around San Francisco's Cafe Babar. He earned degrees at Claremont McKenna, Dartmouth, and Brooklyn College where he submitted an MFA thesis to noted American poet Allen Ginsberg. His own full-length collections are Ghosts Among Neon and Dumbstruck at the Lights in the Sky. His latest book, Frayed, 2014, is available at www.zeitgeist-press.com. He has lived and traveled in New York, L.A., Leningrad, Michoacan, and currently lives in Las Vegas, where he was recently named Poet Laureate of Clark County, Nevada.
— posted November 2015