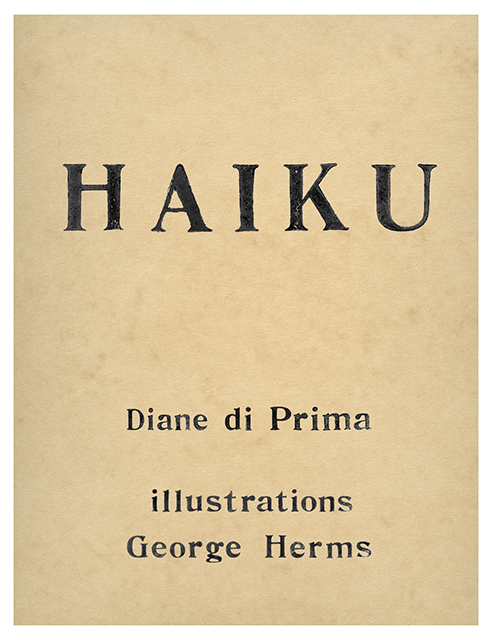 The Sign for Infinity
by Andy Brumer
HAIKU, Poems by Diane di Prima, Illustrated by George Herms, Essay by Sarah C. Bancroft, X Artists' Books, South Pasadena, California, 2019, 94 pages, $35.00 paperback, www.xartistsbooks.com.
A JAPANESE HAIKU contains three lines with a 5-7-5 syllabic sequence; it presents a juxtaposition of (usually) two ideas or feelings that join them together transcendentally without losing the individuality or tension between them. Traditionally haikus (officially named as such only in the late nineteenth century, though their literary ancestry stretches back to the seventeenth century in Japan) also present direct observations of nature, though as the form evolved images of domestic and city life entered them as well. Ezra Pound, at Amy Lowell's urging took an interest in haiku, which inspired both his 1913 landmark imagist poem (that led to Imagism as a movement) "In a Station of the Metro": "The apparition of these faces in the crowd;/ Petals on a wet, black bough.") Years later, Kerouac—who didn't believe the "syllabic" structure," as he put it, of Japanese translates well into English—defined an "American haiku" as one consisting of "three short lines that say a lot."
Yet it takes far more than a tally of spoken sounds to communicate the scope and depth Diane di Prima's achievements, both in her life and in her writing career. As Wikipedia fashions her, she's an "American poet, artist, prose writer, memoirist, playwright, publisher, editor, social justice activist, fat acceptance activist and teacher," is the author of more than forty books, and was named as San Francisco's Poet Laureate in 2009.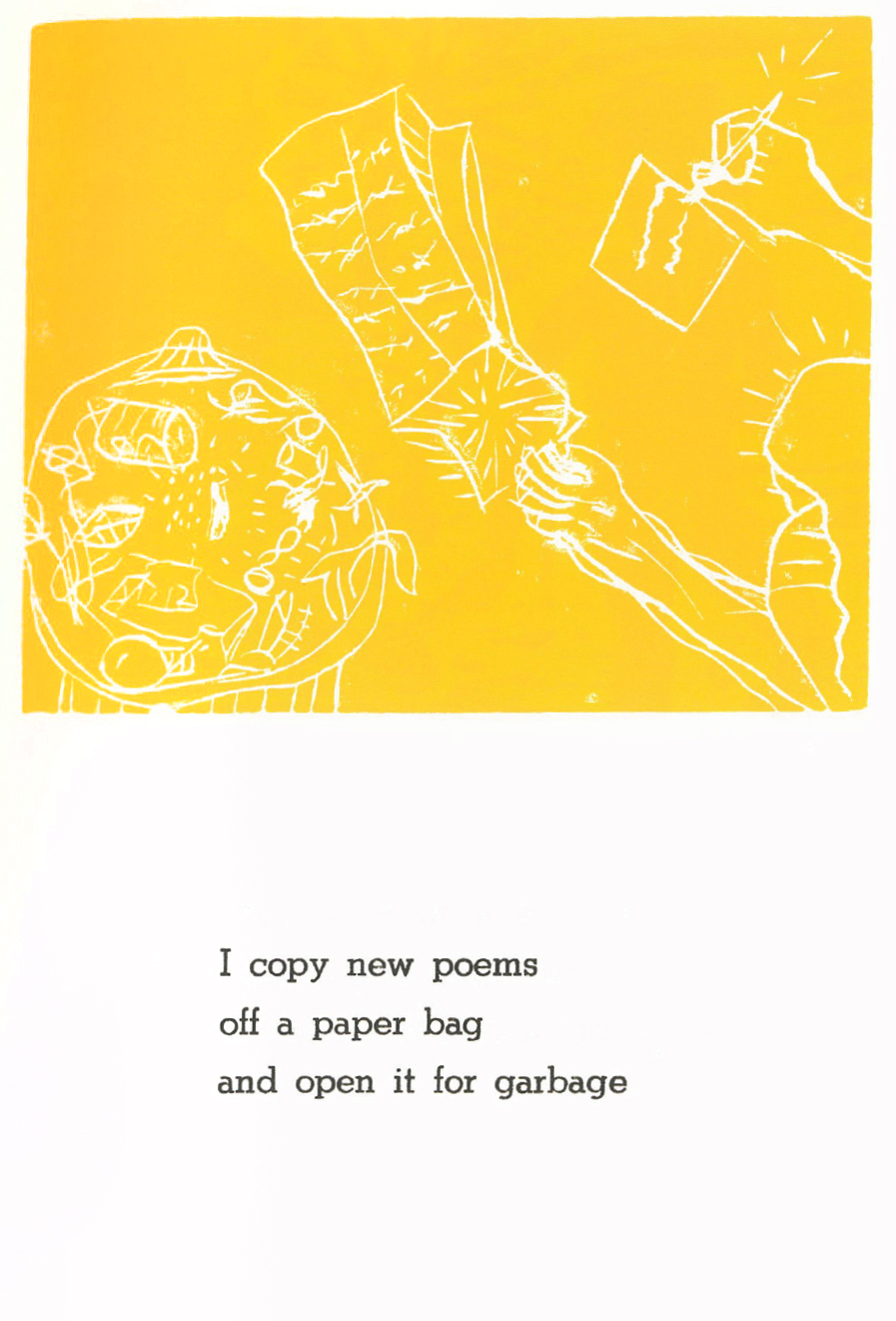 Indeed, readers familiar with her emotional, raw, earthy, feminist, sexual, and countercultural/political work know her as well as a Mantric force and seminal member of the Beat Generation, whose co-founders include Jack Kerouac, Allen Ginsberg, Gary Snyder, Michael McClure, amongst others. Originally from Brooklyn, New York, di Prima has lived in the San Francisco Bay Area for most of her adult life, and she remains strongly associated with it.
In HAIKU, a beautifully produced and historically important new book from L.A. area-based X Artists' Books, di Prima teams up with another Beat Generation legend, the assemblage/collage/found-funk art/ and also LA-based artist George Herms. Along with his friend and fellow Angelino, the artist Wallace Berman, Herms not only bolstered and complemented the Beats literary members with their visual art work and sensibility (Jay DeFeo and Bruce Conners did so as well), but along with artists such as Ed Kienholz, Ed Ruscha, Larry Bell, Ken Price, Robert Irwin, and others, nurtured into being L.A.'s burgeoning fine arts community and scene during the late 1950s and early 1960s.
[D]i Prima and Herms divide their book into four sections corresponding to the earth's seasons, with each part containing eight poems placed on individual pages. On each of them Herms responds to di Prima's haiku with a beautiful, colorful, compact, and lyrical woodblock print. Of course, the number 8 graphically represents a Lemniscate, a symbol of infinity and the geometric shape best corresponding to the most efficient way energy moves through the universe. It is also a fitting metaphor for this book, which progresses as if propelled by escort, shuttled with playfulness and vigor between the quotidian and spirit worlds.
The book also resembles aged wine, or any other cherished fermentation of a time-tested idea that has been 'made new', to paraphrase Pound's dictum to poets ("make it new"). Indeed, in a superb essay positioned at the end of the book, art historian and curator Sarah C. Bancroft does a wonderful job tracing and fleshing out the narrative threads, building blocks, and timeline of the project that ultimately coalesced into this present volume.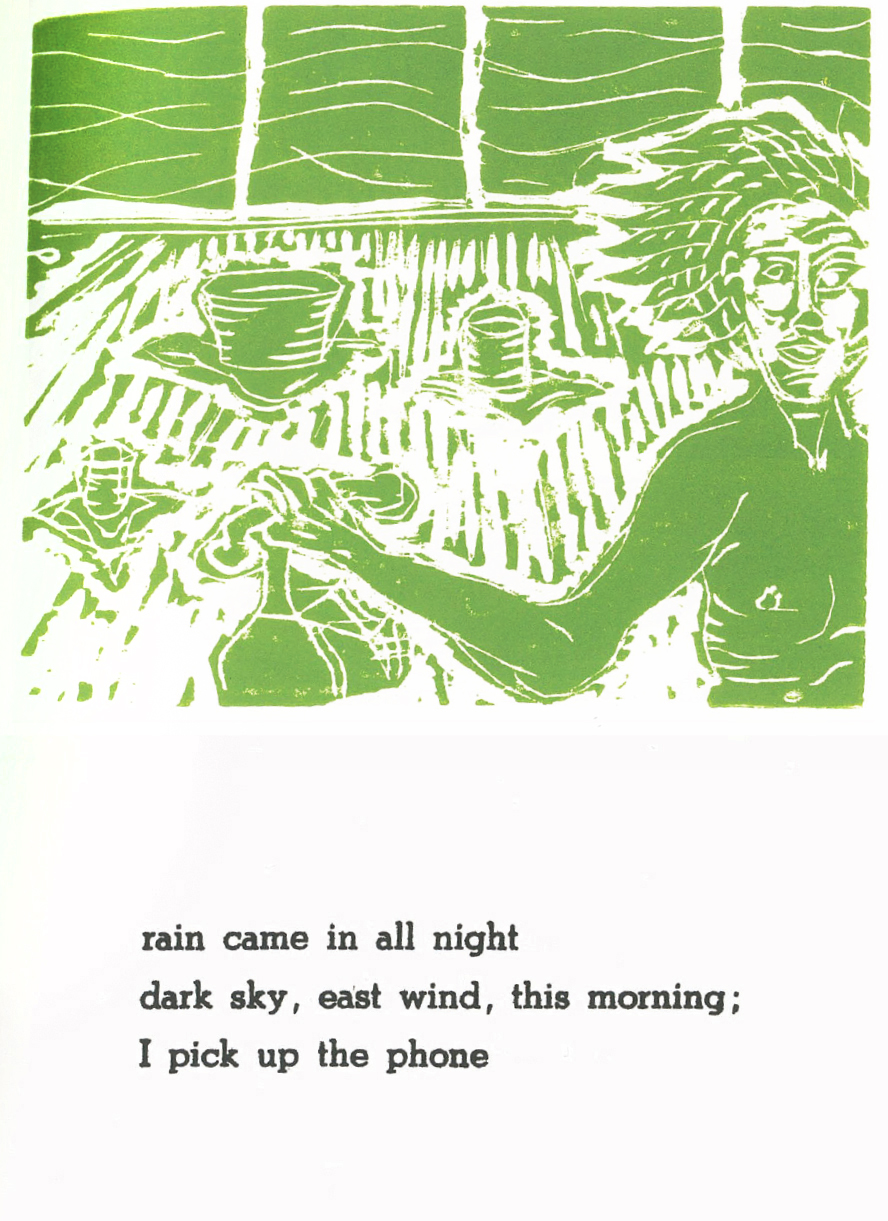 Readers learn, for instance, that in 1964, while she was in New York City working on a Michael McClure play, The Blossom or Billy the Kid, at the Poets Theater (which she co-founded), di Prima first asked Herms to create visual art for her manuscript of these thirty-two haikus. Herms had traveled from his Healdsburg, California home at her invitation to design sets for the play, though when he found himself with unexpected free time on his hands—authorities had (temporarily) halted the production for an obscenity lawsuit—he turned his attention to collaboration with di Prima.
Herms actually finished printing the woodblocks for HAIKU at his home in Topanga Canyon (L.A.), where he had moved with his family in 1965. As Bancroft tells it, Herms's wife Louise created hand-stitched leather envelopes (photographic images of which appear at the beginning and end of this book) into which the couple inserted in individual loose sheets di Prima's poems and Herms's woodblock prints. This newly published X Artists' Books volume, then, represents the first time the work has appeared in a bound book format.
Mid-sized and with an earthy sand-colored soft-cover, Stymie typeset and Mohawk Superfine Eggshell Ultra White paper, the book delights both sensually and intellectually in equal measures. Indeed, project directors Alexandra Grant (a principle in X Artists' Books) and David Mayes, the book's design and production team of Paula Berg and Typecraft, Inc., as well as editor Sue Henger have a lot to feel proud of here.
Though Herms creates woodblocks that correspond in a direct one-to-one fashion with di Prima poems, their pairings so finely and rhythmically mesh together that no literary ear or art-educated eye would in a pejorative connotation label them "illustrations." Rather as the prints' warmth and wide range of colorful ink sink cozily into absorbent paper, the prints and poems book forge two streams rushing with feeling.
Curiously the Summer section of the book (the volume begins with the Spring group) contains poems that least directly relate to their companion season. That said, and with some reflection, readers who know New York City (where di Prima sets all of the haikus in the book) will sympathize with its denizens, many of whom at least try to escape the city's summer's heat, humidity, and thunderstorms by remaining indoors as much as possible.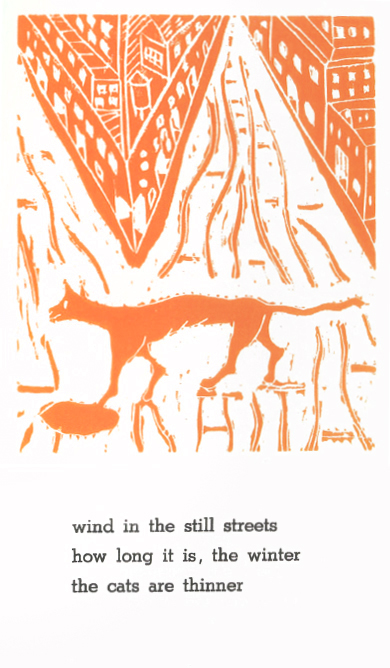 your coat upon mine

in the slingchair; and we talk

the room between us
and:
no roaches in it

and it's better than nothing

yesterday's coffee[.]
For the first haiku above, Herms fashions a Van Gogh-like woodblock, in green, of a small disproportionately compressed and slightly claustrophobic NYC apartment. The second poem receives a woodblock forged in brown of two large hands holding a coffee cup in which the drinker sees reflected not a roach, but his own somewhat hauntingly silent Edward Munch-like countenance.
By contrast the woodblocks for haikus in the book's winter section pair and fit together like a cold hand in a warm glove:
wind in the still streets

how long it is, the winter

the cats are thinner[.]
Here Herms stamps in brittle, not quite frigid orange an Ashcan School-like image of an apartment-lined New York City street across which a lonely, hungry, elongated cat slinks.
In Spring, the first section of the book, di Prima births a metaphor of nascent fertility: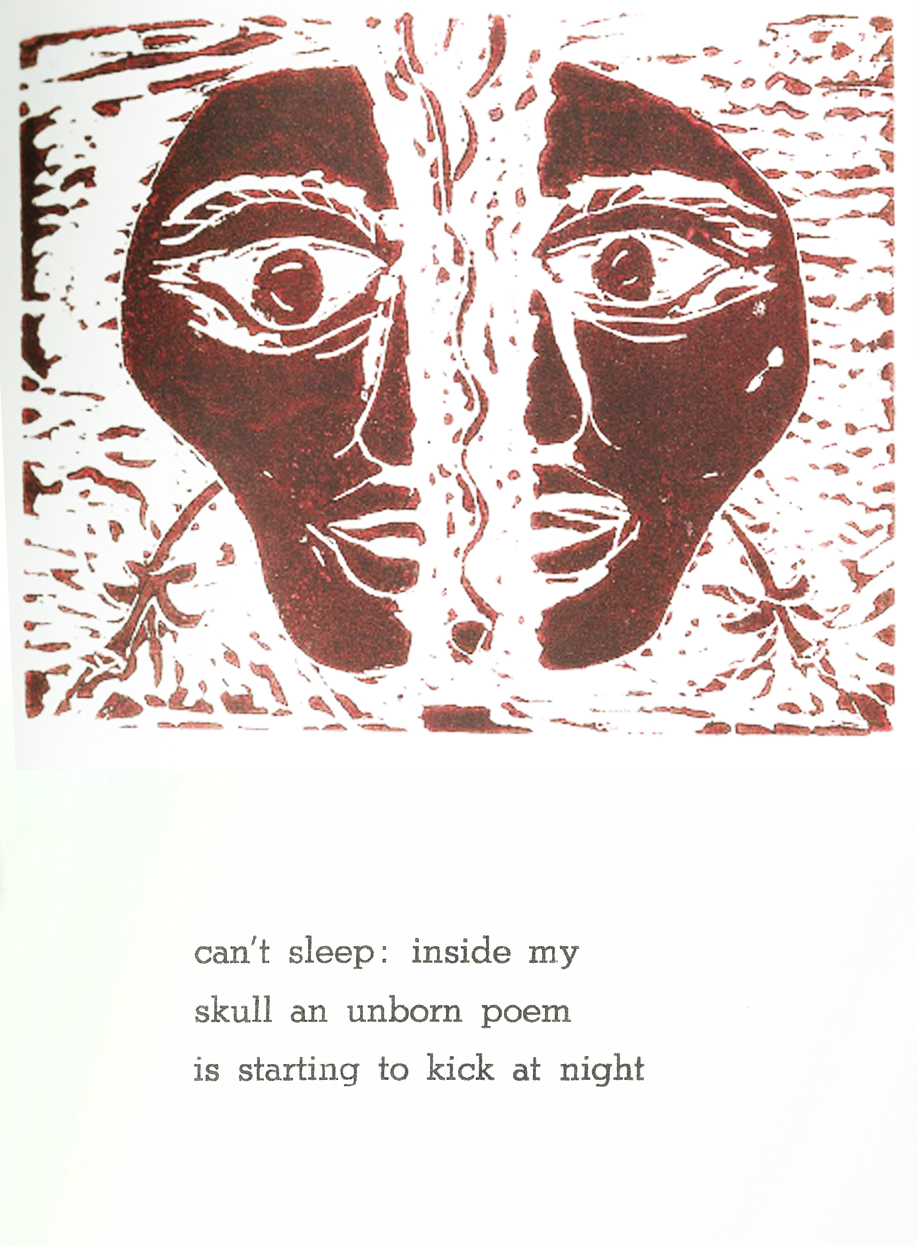 can't sleep: inside my

skull an unborn poem

is starting to kick at night[.]
Herms fulfills his visual part with a haunting sepia-toned woodblock of a face fractured into two Rorschach Test-like halves. Representing a kind of visual caesura, the image both augments the poem's and the season's birth pangs and its halting progress towards completion.
Herms and di Prima break into their most dynamic gear in the Autumn section of HAIKU, as if the meteorological forces segregated in each season now mix into one invigorated churning gust:
the north wind rises

and rhododendron leaves

drop on the tablecloth[.]
Readers can almost reach into the page and catch one of the three leaves Herms has fashioned in his companion woodcut as they swirl downward, simultaneously toward the earth and di Prima's haiku printed below.
This is a startling beautiful book, at once simple, sophisticated, light and dark, when appropriate, seasonally cold, but always warm-hearted. That it represents an important historical volume documenting the evolution of a prolonged collaboration between two major twentieth and twenty-first century artists will certainly add meaning and pleasure to those reading it for years to come.

Andy Brumer is a poet, book reviewer, art reviewer, and golf writer whose work has appeared in The New York Times Book Review, The San Francisco Chronicle, The Los Angeles Times, ArtWeek, and elsewhere. His books include Turtle, poetry, and The Poetics of Golf. His most recent book of poetry, Below Understanding, is a collaboration, with drawings for each poem by the acclaimed Berkeley artist Joseph Slusky. Andy Brumer lives in Pasadena, California.
— posted January 2020