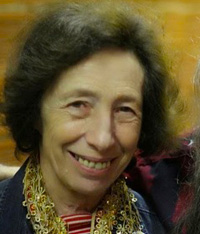 Adelle Foley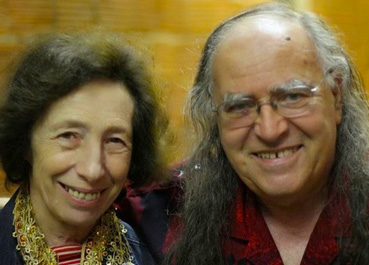 (1940-2016)
ADELLE JOAN FOLEY (August 15, 1940-June 27, 2016) was a poet, a social, neighborhood and arts activist, and, for the past twenty years, a member of the administration of AC Transit. She was, in addition, a devoted and loving mother to her son, Sean Foley, and a deep friend to her daughter-in-law, Kerry. She married poet Jack Foley on December 21, 1961 (the longest night of the year), and their marriage was a long and happy one. The Foleys were familiar and much-loved figures in the local poetry scene, performing duets of Jack's unique choral pieces and Adelle's haiku. Beat poet Michael McClure wrote, "Adelle Foley's haikus show us humanity. Their vitality and imagination shine from her compassion; from seeing things as they truly are." Jack writes of "Your presence next to me as we read poetry together…your voice rising to mine."
Adelle was born in New York City to a dentist father and a mother who was both a housewife and a social activist, believing in liberal causes and active in The New York Herald Tribune Fresh Air Fund, an organization that provides free summer vacations in the country to New York City children from low-income families. Adelle continued her mother's activism in Oakland as a member of many local organizations, assisting in neighborhood clean ups, neighborhood watch programs, and in revitalizing the Melrose Branch of the Oakland Library in East Oakland. "Could they ever guess/ that we'd be celebrating/ in 2016?" she wrote for the Melrose Branch's centennial. For these activities she was designated a "Local Hero." She was also a founding member of PEN Oakland and a long-time Board member of Poetry Flash. She was a familiar presence and much appreciated volunteer at the annual Watershed Environmental Poetry Festival in Berkeley and the Northern California Book Awards in San Francisco.
Adelle graduated Phi Beta Kappa from Goucher College in 1961 and earned an MA in Economics from Cornell University in 1962. In 1963, she and Jack crossed the country in their 1956 Oldsmobile to Northern California, where they lived for the rest of their lives, settling for the first year in Berkeley and then in Oakland. Jack entered the University of California, Berkeley, as a graduate student in English literature, and Adelle found employment at the Federal Reserve Bank of San Francisco. She left the Fed in the early 1990s to work for the City of San Francisco and then, after a period of uncertainty, transitioned to AC Transit, first as a temp employee in 1993 and then full time in 1995. She enjoyed her work there, spending her final years with the company as Retirement Administrator.
In 1989, she began to write poetry. Her chosen form was haiku, which she wrote in the traditional 5-7-5 syllables. One of her most memorable, "Learning to Shave: Father Teaching Son," concerned her son, Sean, born in 1974: "A nick on the jaw/ The razor's edge of manhood/ Along the bloodline." Her book, Along the Bloodline, appeared in 2003. In it she declared, "It's not that I write/ Because of what I see. I/ See because I write." A second book, "Fennel in the Rain" —a collaboration with Jack—appeared in 2007. A final collection, edited by Jack, is forthcoming in 2016. The 2007 anthology, For New Orleans, featured Adelle's contribution on its cover, and her long-running column in The MacArthur Metro always concluded with a haiku.
Adelle Foley is remembered for her great intelligence, her quick wit, her sudden lyricism, her social conscience, and her flashing smile. She wrote in a "selfie" haiku: "An infectious smile/ Tapping out daily Haiku/ Pretty good figure."
In 1960 she sang an ancient French song, "A la Claire Fontaine," to Jack. The refrain of the song is "Il y a longtemps que je t'aime/ Jamais je ne t'oublierai" ("I have loved you for a long time/ I will never forget you"). Over the years they often sang the song together. In 2016 Jack sang the song to Adelle as she lay dying in the hospital: "I have loved you for a long time/ I will never forget you."
Jack and Adelle Foley can be seen in many clips on YouTube.
The funeral will be held at Chapel of the Chimes, 4499 Piedmont Avenue, Oakland, CA 94611. Visitation (viewing) will be Saturday, July 16, Chimes Chapel, 6:00-8:00 p.m. Funeral service on Sunday, July 17, Chimes Chapel, 10:00 a.m. Family and friends are invited to speak at the service. A second memorial tribute to Adelle will be held in August (to be announced in the Poetry Flash calendar): her work will be featured along with special memories; again, everyone is invited.

Jack Foley is a poet, critic, and host of KPFA FM's "Cover to Cover" book show. He is a contributing editor to Poetry Flash.
— posted July 2016