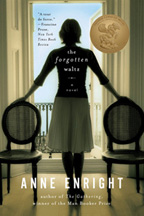 Redoubled
by Richard Silberg
The Forgotten Waltz, by Anne Enright, W.W. Norton & Co., New York, 2012, 266 pages, $15.95 paperback; winner of the Andrew Carnegie Medal for Excellence in Fiction, American Library Association.
This is Anne Enright's first novel since The Gathering, which won the Man Booker Prize in 2007, and like that previous book it's told in the first person. Gina Moynihan speaks The Forgotten Waltz—it feels very much as if she is speaking, to us and to herself—a young Irish woman on the cusp of middle age—she's thirty-two—living in Dublin near her family, her mother Joan, married sister Fiona, their father dead since they were schoolgirls; and she tells us an adulterous love story.
She, Gina, is the soul of this engrossing book. She's so witty, so wry and knowing, an intensely intuitive woman, and yet in no sense an intellectual, a young businesswoman of practical intelligence with a streak of the party-girl, open in that way, whatever her misgivings, to her passions, yet receptive in another way, as the storyteller, to the eerie, to the blank vibrations of fate. "If it hadn't been for the child then none of this might have happened, but the fact that a child was involved made everything that much harder to forgive." Those are the book's first words, from the two-page Preface. A paragraph down, she tells us, "I always thought Evie was a bit peculiar, I have to say: but also that she was special in the old-fashioned sense of the word. There was a funny, off-centre beauty to her. She went to an ordinary school, but there was, even at that stage, an amount of ambivalence about Evie, the sense of things unsaid." Evie is the daughter of Seán Vallely, Gina's fateful love interest, and the book will also circle round to end with her. In the course of the novel we learn of Evie's epilepsy, the childhood fits she seems to grow into and then grow out of, and these give Evie something of the air of a sibyl. But that's only true—to the extent that it is—in longshot, reflecting on the book in a critical way as I'm doing here. The book actually reads—as Gina 'actually' lives—in a worldly here and now, without clear reference to a 'beyond'. I want to come back to this in more detail later.
"I met him in my sister's garden in Enniskerry. That is where I saw him first. There was nothing fated about it, though I add in the late summer light and the view. I put him at the bottom of my sister's garden, in the afternoon, at the moment the day begins to turn. Half five maybe. It is half past five on a Wicklow summer Sunday when I see Seán for the first time. There he is, where the end of my sister's garden becomes uncertain. He is about to turn around—but he doesn't know this yet." (page 9) That's the beginning of the novel proper, suggestive, drenched in foreshadowing. And it's as 'literary' as Enright gets; I'm referring specifically to that last sentence, its self-reflexive positioning of the speaker as almost a puppeteer of her lover. Here, a little further on, in a scene on the beach, Gina and her husband Conor, Seán with his wife Aileen and Evie, Fiona with her children and husband Shay, a scene in which she is getting her first inklings of Seán, is Gina in her more characteristic voice:
Even in the strong sun, I was caught by the beauty of his eyes, which were larger than a man's eyes should be and more easily hurt. I saw the child in him that afternoon, it was easy to see: an eight-year-old charmer, full of mischief and swagger. But I don't know if I saw how tactical it all was. I don't think I saw the way he was threatened by his own desires, or how jealousy and desire ran so close in him he had to demean a little the thing he wanted. For example, me.

Or not me. It was hard to tell.

(page 36)
She is at this time just married to Conor, and she loves him, "What can I say? Sometimes it surprised me that the person I loved was so fantastically male, that the slabs of muscle were covered in slabs of solid fat and the whole of him—all five foot nine, God help us—was fizzed up with hair, so that he became blurred at the edges, when he undressed. No one had told me you could like that sort of thing. But I did." (page 17) Early in the book she details their relationship, buying a house, their deciding to marry, the wedding itself and its aftermath, "We had a great time. The seven hundred cousins from Youghal, and my uncle in from Brussels. We had, Conor and myself, enormous amounts of sex on the strength of it, and a holiday in Croatia (cheap after all that excess), and we woke up back in Clonskeagh one morning; hung over, giddy and unafraid." (page 23) That doesn't sound like a woman on the verge of an extra-marital affair, does it? But nothing in The Forgotten Waltz fits clichéd expectations. It's all quirky, impulsive, and as unpredictable as human beings usually are.
I'm not going to spend much time telling the book's story. Plot is very little of what it's about, anyway; Gina supplies the juice, her voice and perceptions, the rich panoply of people we see through her:
Our mother was a great beauty, in her day. Appearances were important to her. And because she was, in a way, too beautiful, she worked hard to keep the show on the road. She loved to be normal; to chat and to charm. When she was 'on', she lit up the room.

I used to be jealous of those strangers, who looked at my mother and loved her for half an hour at a time. Sometimes, it seemed as though we only got the downside: the despair in front of the open wardrobe door, the loneliness when there was no one there to admire. There were times, on the phone, when you could hear the drag in her voice; a loss of belief, as though there might be no one listening on the other end of the line.

(page 46)
Here's a quick sense of her father:
My father used to complain about my mouth, the way it gave me an insolent look. 'What's the puss about?' he said, or once, memorably, to one of his cronies, 'She didn't get that, sucking oranges through a tennis racket.'

But he said plenty of nice things, too. My father never treated us as children. If you hurt him, he would hurt you right back. If you made him laugh, he would bring the house down with delight. I don't remember people 'doing' children, the way Fiona 'does' hers in that tidy your toys and we'll have a nice hug sort of way. There was drama all day when my father was around, and it was all as big as it needed to be. He fought with my mother, he loved my mother. He went missing. He came home and was shaggy and large with us. I loved that about him, the wonderful air of danger and surprise.

(page 190)
Both of these parents die, the father in flashback, and her mother, Joan, in the weave of events. She sits down in the street next to a stranger's car and loses consciousness, her mobile phone on the pavement next to her, apparently in a failed attempt to make a call. And Joan's death, in a roundabout way, facilitates Gina's affair with Seán: they spend more than the second half of the book living together, illicitly, in Joan's house, the house where Gina and Fiona grew up, ostensibly because they fail in the continued attempt to sell it.
Again, what matters in The Forgotten Waltz is less the intricate details of the story—how Gina first sleeps with Seán in a drunken episode during a business conference in Montreux, then both pretend it hasn't happened, the New Year's party, long tingling subterranean game at the office where they both work, rekindling of the affair, breaking it off, and then the full, deep, ambiguous thing of it in Joan's house—or rather, these details matter intensely to the lovers, the families, the story; but they're so much dry kindling in a review. Enright's book lives page by page in Gina's voice, her perceptions, intuitions; virtually every page has the shock and charge of fine writing. The Forgotten Waltz is not, principally, a plotted book; it's a human world in which we live and meditate.
But it's not without structure. It moves in a series of circles back and then forward again in time. As was said, the Preface opens with Evie, and Evie commands the last extended scene in the book; in fact, she speaks the book's last words. Again, Seán opens the novel proper; we see him mysteriously gazing away from us into the setting sun, and Gina returns to this scene late in the book, puzzling back at it in the light of what she, and we, now know.
The day has been warm and I have had a lot of Chardonnay. I am recently back from Australia. I am in love and I am working really hard at the whole Enniskerry thing with the neighbours and the kids. So the man who is standing at the bottom of the garden is just a little rip in the fabric of my life. I can stitch it all up again, if he does not turn around.

(page 203)
She comes back at it once more some twenty pages later:
It was during this phase of their lives, the ketogenic phase, that I saw Seán for the first time, standing at the bottom of my sister's garden in Enniskerry. I do not know what he was thinking about. He might have been thinking about Evie, or about work, or about a woman at work. He might have been admiring the view, or wondering how much the houses were worth, between here and the sea. Perhaps he was pining for my sister Fiona, who is pretty and sad. Or he might have been thinking about nothing. The way men often claim to do.

(page 224-225)
With "the ketogenic phase" she's referring to Evie's first seizure and its immediate aftermath:
Seán watched her for many seconds before he even tried to make sense of what was happening. Under the table, Evie shook and rattled. Her eyes were open and fixed. She didn't look at him, but at the wall behind her head, and what disturbed Seán, in retrospect, was the gentle, thoughtful look he saw in her eyes, like someone examining the idea of pain.

(page 217)
There follow neurologists and medication, Aileen taking her off these because she 'wants her little girl back', a medical, "ketogenic" diet, etc. These return loops in time and their gleanings, this key move of the narrative in
The Forgotten Waltz
, is characteristic of all our meditations on our lives, how we make sense of them. And this brings me to my last main point about Enright. She tells her book in the first person of Gina Moynihan, Gina who so obsessively works to piece and weigh, as here in one of so many such moments in the book:
My mother is still dead.

The snow does not accuse, or not particularly. But I am alone and I do not know for how long. There is nothing on the internet. The TV rattles on. I sacked two people today, in Dundalk. I mean, I had to let them go. I sit at my laptop with my phone in my hand and wonder how the hell I got here. And where it all went wrong. If it did go wrong. Which it did not, of course. Nothing, as I am tired of saying, went wrong.

What was the last thing he said from Budapest?

'Goodnight, Gorgeous.'

'Goodnight.'

'Goodnight, my love,' whispering ourselves off the line.

'Night, night.'

Trailing our talk down to the fingertips.

'Night.'

And gone.

(page 179)
There is no third person, no 'omniscient voice'. The story begins and ends in motion; as it opens, she is happily with Conor, and as it ends she is happily, if much more nervously, with Seán. No one tells us how it will all work out, what any of it might mean. Gina is a bright, intensely vivid woman, but no philosopher. At several key moments she edges us right up to that blank lip. Here she and Seán teeter at the New Year's party:
But once we had begun, how were we supposed to stop? This sounds like a simple question, but I still don't know the answer to it. I mean that we had started something that could not be ended, except by happening.…

Our reflections rolled and flickered over the flawed old glass of the four long windows, with all the loveliness of Christmas past and for a moment it was as though everything had already happened. We had loved and died and left no trace. And what it wanted, what the whole world wanted, was to be made real.

(page 105)
Beautiful, but then in the next breath it makes us ask, what would that real world be like? In that probed and re-probed opening scene when she sees Seán in her sister's garden in Enniskerry she says, "There was nothing fated about it…"—but that very denial makes us wonder, wasn't it fated? Or, what do we mean by fate; how does it work in our lives? No answer. In Enright's first person writing we're brought up against our own mortal limitations; through her urgency and her wit she gives us back our vulnerability, our ignorance, but revivified, redoubled:
I don't know why I should worry about his infidelities to Aileen especially considering that I was one of them. I should take it as proof that he never loved her, though I think he really did love her once. Did he love my sister that day in Brittas? Or all of these women, all of the time? I don't care.

He loves me now. Or he loves me too.

Or.

I love him. And that is as much as any of us can know.

(page 229)

Richard Silberg is associate editor of Poetry Flash. His most recent collections are The Horses: New and Selected Poems and Deconstruction of the Blues. He received the Northern California Book Award in Translation for his co-translation of Korean poet Ko Un's The Three Way Tavern; his most recent co-translation is Ko Un's This Side of Time. He teaches "The Dialogue of Poetry" workshop at Poetry Flash.
— posted November 2013