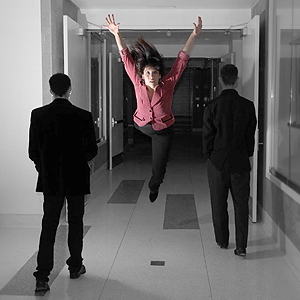 Secrets on the Way:
Dance Theatre inspired by Tranströmer's Poetry
by Sandra M. Gilbert
Secrets on the Way, a dance theater performance by choreographer and artistic director Kathryn Roszak's Danse Lumière, inspired by the work of Nobel Prize-winning Swedish poet Tomas Tranströmer, featured dancers Blythe Berg, Ramzi Jneid, Nitipat Pholchai, Lissa Resnick, and Linnea Snyderman, readings by actor Earll Kingston, April 27 and 28, 2013, Osher Studio, Berkeley Central, 2055 Center Street, Berkeley, www.dlkdance.com.
Photo credit: Matthew Poisey
In Secrets on the Way, Kathryn Roszak's accomplished and spirited Danse Lumière has suavely and powerfully formulated interpretations of poems by the great Tomas Tranströmer that beautifully capture the writer's lyric austerity, his severe vision. With a single poetry reader, the actor Earll Kingston, who moves like a dancer and reads like a dancer too, with solemnity and grace, and with Swedish language voice-overs, as well as precisely suited sound tracks, she redacts "Journey," Tranströmer's melancholy vision of a subway, its deaths and denials. This is followed in "The Couple" by a more romantic (though guardedly ironic) view of a sleeping couple whose "most secret thoughts begin to meet / like two colors that meet and run together…in a schoolboy's painting" —though they are walled in by houses packed with blank-faced people.
Liberation from urban constraints begins to gleam in "Five Stanzas to Thoreau," where Roszak's animated dancers (I almost want to say they are Tranströmer's, so true are they to his spirit) escape the city and seek to "vanish deep into your own greenwood, / crafty and hopeful." The beautifully cadenced concluding excerpt from "Schubertiana" traces the perils of life as the dancers brilliantly tight-rope-walk across the stage and learn to trust "the blind banister rail that finds its / way in the dark."
Secrets on the Way concludes in joy, as speaker, dancer, choreographer and music together celebrate "All the rolling wheels that contradict death!" Here Earll Kingston, the reader/dancer seems to muse, almost ministerial, on Tranströmer's wide horizons, his never-ending roads, as he repeats that last line again and again. And the dancers, their lithe bodies now stripped to black leotards, affirm the truth he speaks.
We have much to thank Kathryn Roszak for here. She has offered us a strong rendering in dance of a great poet's passionate interpretations of the world. Let's hope we can see this piece again and again, not just in Berkeley but in many other venues.

Sandra Gilbert is the co-author of a groundbreaking work of women's literary tradition, The Madwoman in the Attic, and co-editor of The Norton Anthology of Literature by Women. Her recent books are Rereading Women: Thirty Years of Exploring Our Literary Traditions and Aftermath, poems.
— posted June 2013