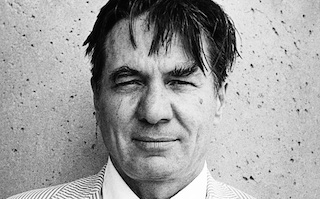 Galway Kinnell
(1927-2014)
Born on February 1, 1927 in Providence, R.I. to the immigrants James Kinnell, a carpenter from Scotland, and Elizabeth Mills Kinnell from Ireland, the great lyric poet Galway Kinnell died on October 28 of leukemia at the age of eighty-seven. His Selected Poems won both the Pulitzer Prize and the National Book Award in 1983.
Along with Robert Bly and James Wright, he reappropriated the idea of 'deep image' to move past Eliotic modernism and the New Critical poem to a more open, heartful lyricism in such poems as his breakthrough 1960 "The Avenue Bearing the Initial of Christ Into the New World" or "The Bear" and "The Porcupine."
In one of his more famous quotes he said, "To me, poetry is somebody standing up, so to speak, and saying, with as little concealment as possible, what it is for him or her to be on earth at this moment."
He supported the antiwar movement, freedom of expression in repressive countries, environmental causes, civil rights. He was thrown in jail in 1963 when he went to work for the Congress of Racial Equality, helping to register black voters in Louisiana, sharing his cell, as he later reported, with a car thief and a pimp.
His roommate as an undergraduate at Princeton was W. S. Merwin, who introduced him to the poetry of Villon, Rilke, and Yeats. Later in his career as a translator he published both The Poems of François Villon and The Essential Rilke. His children, with his wife, the Spanish translator Ines Delgado de Torres, were Fergus and Maud, both named for figures in Yeats.
His one novel, from his time living in Iran, is Black Light.
Hide-and-Seek 1933




Once when we were playing

hide-and-seek and it was time

to go home, the rest gave up

on the game before it was done

and forgot I was still hiding.

I remained hidden as a matter

of honor until the moon rose.
Photo Credit: Christopher Felver
— posted November 2014