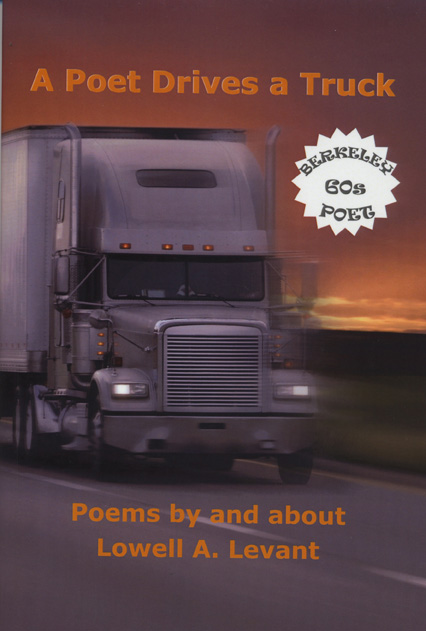 A Poet Drives a Truck: Remembering
Lowell Levant
by John Oliver Simon
A Poet Drives a Truck: Poems by and About Lowell A. Levant, Lowell Levant, Kenneth Irby, Will Staple, Doug Palmer, Gene Anderson, Preface by Gene Anderson, edited by Ronald F. Levant, Carol L. Levant, Caren E. Levant, Truck Stop Press, 750 Salisbury Way, Copley, Ohio 44321, 147 pages, $14.95 paperback. Available from Books Inc., Berkeley, California, and Amazon.com.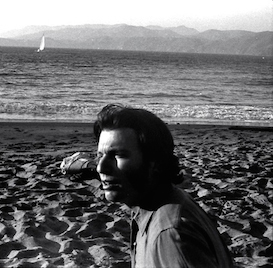 Lowell Levant, a beloved and superbly talented manchild who studied with Gary Snyder and led off the seminal anthology of the Berkeley Sixties, drove eighteen-wheelers for many years and millions of miles and passed away in 2010. His memory is cherished by a few survivors but has been mostly forgotten by the poetry community. A posthumous collection, A Poet Drives a Truck, will be celebrated in a gala memorial reading at Books Inc. on Fourth Street in Berkeley on Thursday, May 15, 2014, 7:00 p.m., with Al Young, John Oliver Simon, Luis Garcia, Will Staple, and Doug Palmer.
Lowell Levant was chosen, at twenty-two, by editors Doug Palmer (aka the street poet Facino) and Danish poet Tove Neville from among a constellation of glittering peers as the title poet of poems read in the spirit of PEACE & GLADNESS (Berkeley, 1966). Lowell opens the collection with imperatives that are full of the ethos of the times:
Respond to what I'm bound up with, consent

to love, so that it may be free.
Listen closer: the first line adds up to a weird tetrameter warped around natural speech by the anomalous cretic foot "bound up with." If you begin the second line with "consent," it resolves into smoothly flowing blank verse. This is true poet's ear working in ways that can't be taught.
"Peace and Gladness" is a three-page to-his-coy-mistress poem, collaged in part from fragments of remembered poems that he wrote for strangers on the street. Here he juxtaposed sharply observed shards ("furry purple balls with/ gold tipped strands") with affectionate portraits of the whole euphoric poetry crowd, "Facino's face lit up as he makes a poem," wives and children puffing to keep up, and, finally the elusive magnetic poetic girl, "distrustful of her power," putting a tiger frog to sleep.
Gary Snyder took his first academic teaching job in 1964, serving at the invitation of the legendary Thomas Parkinson as poet-in-residence at UC Berkeley, a venue about to epitomize the political rebellion of the decade. Brilliant and talented youngsters naturally flocked to the seminar of the poet of mountains and zazen. Lowell Levant, born in Minneapolis and raised in SoCal where he graduated from Fairfax High, transferred from UCLA to Cal Berkeley in time to sign up for Gary's class and shortly, thrilled by Mario Savio's stammering oratory and moved by the dark soprano of Joan Baez, got himself arrested along with 800 other students in the great Sproul Hall sit-in of the Free Speech Movement, December 2, 1964.
Gary's students, inspired and traumatized by immediate and ecstatic political drama, rapidly began enacting the full Sixties experience of sex, drugs and rock 'n roll, and on their way they wrote seriously impressive poetry. They hung around the Berkeley Poetry Conference in July 1965, where Charles Olson delusionally proclaimed himself President of the United States of Poetry, and Snyder's kids were granted their own Young Poets' Night to read in Dwinelle Hall. Some of the audio footage miraculously survives, including the voice of Lowell Levant reading his poems. So Lowell will be present at the reading at Books Inc.
Snyder moved on to Japan the following year, but his students kept the faith, organizing monthly readings at the I.W.W. Hall on Minna, and finally published a range of thirty-two poets in the beautifully presented Peace & Gladness anthology. A VIDA (Women in Literary Arts) count reveals that eight of the thirty-two are women, which isn't half bad for the times. A Controversy of Poets, the big 1965 national anthology pitting academic vs. anti, had a gender score of fifty-two to eight.
A few names to remember from Peace & Gladness: Mary Norbert Körte, then a Dominican nun in full habit who shortly escaped to teach California Poets In The Schools in the woods of Mendocino and, pushing eighty, was keynote speaker at the CPITS statewide symposium in 2012. Swedish-born poet and translator Lennart Bruce. Luis Garcia, who studied with Nicanor Parra in Chile and had mastered an impressive insouciance suggestive of Creeleyesque style. Sam Thomas, who was tripping in Facino's blue bathroom on the morning of Easter Sunday 1967 expecting immanent rapture, but disappointed, emerged from electroshock without poetic mind, and put a bullet through his brain before turning thirty. Jim Thurber, no relation to James, was the most elusive spirit as Doug Palmer remembers: "freight-hopper, far-strider, late-nighter, first-gone, least accounted for."
I was a late arrival on this scene, oblivious to Gary's class and barely aware of the Berkeley Poetry Festival. I met Facino/Doug writing street poetry by Sather Gate, showed him some poems, and was kindly included in Peace & Gladness. But of all of us Lowell Levant seemed to have the brightest aura, the most upside, the purest dedication as a poet, would have been voted most likely to be famous.
Lowell Levant had a knack for spreading mental nets; he was relaxed about what he included. As Lowell navigated a poem, he liked to "abandon myself/ to discovering the spontaneous shifts of interest/ I might possibly follow." Lowell's light-hearted transparency of process allows endless ephemera, "fly-buzzed/ bristling with perplexity." His long, flexible, melodic line accepts high and low with equal attention, "snatching that I grasp/ drat fidget goddam." However, "occasionally some junkyard or corner of the universe/ inspired him to great seriousness," and some eternal truth would float by almost unpremeditated, "indeed the earth can transmit an impulse that I don't distort at all." Will Staple writes that "Lowell's elaborate, pointless digressions best represent one's actual experience, free from rational or conceptual posturing, a self-aware consciousness working it out with an acute ear and an opened mind."
Not surprisingly for one who was drawn to Gary Snyder, Lowell's poetic exploration is one of wilderness, in this case the patchy wilderness at the edge of the Bay Area, down the Dipsea or up muddy game-trails in Strawberry Canyon where he could "do the dance of moving under scrub." Later he extended his range to the northern Sonoran Desert, especially the Havasupai reservation in the Grand Canyon, where his sweetness made deep friendships. Lowell's poetry is a natural history guide to the scrubby ecotones behind the city:
"Spiderwebs…vines…redwood twigs…laurel…chaparral…mud…nettles…slugs…lizard…deer…incense cedar…grass dried golden…bugs…lizard [crawling on his ass…cut glass…fog…horse flies…oil on water…gopher snake…herbs…jays, robins, towhees, sparrows, summer foothills…paintbrush, locoweed, vetch…red maids, blue-eyed grass, tidy tips…poppies, sunflowers…barn swallows…all sycamore because that sounds nice…lake in pine shado…gophers, buzzards, beavers,…ladybug…pollen…juniper…lichen…manzanita…coyotes…thunder…jabalis…rattlesnake."
At the same time, Lowell's poetic exploration of nature is deeply identified with capturing the natural mystery of woman. Here's first stanza of the poem immortally entitled "To a Fog-Covered Moist Carpet of Precarious Rivers, Pussy-Brambles, Eucalyptus, Moss and Cow Dung—Dead and Alive, Uneven and Unordered, Just East of Tilden, With a Fence Around It":
You move in the gazes that turn intent

from the side, toward me,

in the smile that pulls in smoke

and in the deliberate long puffs,

in the delicate exact turn of the breasts

with the hand to the chin

and to the back of the car seat

that served as a couch
Lowell was in love, as far as he could keep his mind on any one thing, with the prettiest girl poet in the scene, the same magical nymph we saw putting frogs to sleep. But he wasn't exactly commitment material. He wasn't on a settling-down trajectory; his gift demanded constant movement, and if not dancing under poison oak he was usually flogging a car—after all he had grown up in LA in the 1950s—better yet a truck, usually an old truck, always breaking down. Perhaps the single most accomplished piece of Lowell's writing is a prose sequence entitled "Transmission Linkage" which follows him down years of roads and jerry-rigged repairs:
Baling wire is handy for temporary measure. U-clamps can't be torqued too tightly. The straps that parts houses sell don't always fit. I had an IH Scout with sixteen inch tires that were really high off the ground. The expensive strap at the International parts house didn't fit, and neither did the universal. I tore the strap off at the rivet and bolted it to a piece of the original assembly to put it at the right angle. That gave me a lot of satisfaction.
Lowell read in an open mic organized by the late David Bromige at Sonoma State in 1972, and submitted a poetry manuscript that did not win the Joseph Henry Jackson award in 1978. That same year, with Will Staple and Gene Anderson, he published a collective chapbook, Coyote Run, the closest Lowell came in his lifetime to book format. As the dates on Lowell's poems deepen through the 1970s his texts turn casual and off-hand or by turns densely scribbled with observation and loose connection, but in either case he had given up any attention to revision and presentation.
Following Snyder's oft-repeated dictum that a poet ought to have a craft to sustain him or her beyond literature, Lowell followed his automotive skills to become a long-distance trucker. "When I chant from my belly to the same pitch as the six pistons slap, this venerable truck sounds as beautiful as a creek rapids." Lowell was a blue-collar guy for a sensitive college boy, and trucking offered delicious nonstop "marathon moonlight pilgrimages from Modesto to Ukiah."
No matter that the work was humble: Lowell "energetically participated in the common work/ and did not consider what was his share/ or whether the task be menial." Snyder, blurbing Lowell posthumously, focuses on the work poems, "Readers will notice the complex depth in his writing about work, machinery, trucks, equipment, repair and maintenance—all in a deceptively befuddled voice that masks the surprising competence of what is actually being done. These poems are a unique presence in the real world and have great confidence and firmness."
Perhaps Lowell's devotion to poetry was so pure that he recoiled at the dirty work of po-biz, the hustling, networking and self-promotion required by a poetry career. Refusing to prostitute himself to the infrastructure, he ended up not going back to the well, and did not work seriously at poetry for his last three decades. The geographical quest, the mystical wandering, the physical journey, moved from metaphor to substitute for writing, and finally it was just a life. Brilliant and darling, Lowell Levant finally did not put in the ten thousand hours necessary to become a master of poetry. Certainly he did put in that kind of time driving and fixing trucks.
Here's my final take on Lowell:
His gift was gab, was serial digression

through chaparral that was woman and women

who were azure flowers of ceanothus

sap of poison oak, creek too cold to drink from




modus momenti in either case a truck

always breaking down, dropping a muffler

on the dirt road to Supai and getting it

repaired with duct tape by an eagle shaman




rockin an eighteen-wheeler, king of the road

busted with last night's cannabis in his piss

all his elfin grace ripped off him like a cape




the poetry of his twenties in boxes

he managed to fake dull normal for awhile

before a stroke leapt from the dark and grabbed him.
***
Grouse Ridge Idyll
My lot to dawdle idly has been brought to crisis.

Usually there's something to find inside

when I get lost. I caught a glimmer of that

as I unnecessarily got myself immersed

in scratchy manzanita that just went on and on

up and over on the other side.

Alone I could only wander, climb a high branch

to look around, and catch spells as I lingered.

Loose shuffle of limbs,

tipped-back head, slouch pose.

Shamefacedly I struggle back the endless stretch

I'd already covered. Yet I was proud to realize

I could make that much headway were I a fugitive.
—Lowell Levant
Poetry Flash contributing editor John Oliver Simon is a poet and translator who received a National Endowment for the Arts Fellowship in Literary Translation. Caminante, a narrow road into the far south, is his most recent book of poems. Son Caminos, his selected poems in Spanish, was published in Mexico City. Former statewide director of California Poets in the Schools, he is Artistic Director of Poetry Inside Out, a poetry and translation program for children from the Center for the Art of Translation.
— posted May 2014