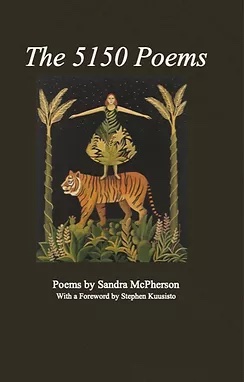 A Self, Lost and Found
by Lucille Lang Day
The 5150 Poems, Sandra McPherson, Foreword by Stephen Kuusisto, Nine Mile Books, La Fayette, New York, 2022, 70 pages, $16.00 paperback, www.ninemile.org.
THE 5150 POEMS, by Sandra McPherson, is a book about mental breakdown and recovery. Section 5150 of the California Welfare and Institutions Code, which went into full effect in 1972, authorizes police officers and medical professionals to involuntarily confine people with a suspected mental illness for 72 hours if they are considered a danger to themselves or others. The 5150 Poems documents McPherson's own breakdown, 5150 hold, hospitalization, and healing process.
Although McPherson's poems bring to mind the work of Robert Lowell, Anne Sexton, and Sylvia Plath on mental illness, her voice and approach to the material are unique, and her poems could not be slipped into a book by one of the earlier poets and fit right in. As McPherson herself says in the introduction, her style is "not what I'd call confessional."
The 5150 Poems is divided into four sections that I interpret as follows: the first, consisting of one long poem, "Glass Bead Notebook," documents McPherson's breakdown; the second, also containing one poem, "Commitment," describes the day she was committed to Sutter Center for Psychiatry on a 5150 hold; the third contains fourteen poems that capture various impressions of the hospital and its patients; and the fourth is a five-part poem, "Five Leaves Left," which reflects back on having been at the hospital as McPherson returns to her previous life.
A note at the back of the book explains that the structure of "Glass Bead Notebook" was influenced by Clifford Jordan's album Glass Bead Games, which in turn was inspired by Hermann Hesse's novel, The Glass Bead Game. In both the album and the poem, the goal is to create a multi-faceted but organically whole work in which the artist does not control the moment but instead is fully in it, which reflects Hesse's Bead Game, whose elusive rules seem to abstractly synthesize all of the arts and sciences.
"Glass Bead Notebook" is a series of fragmented thoughts in which, collectively, things like ruminations on death, reflections on music, observations of the changing seasons, and biblical references are interwoven. There is no linear logic, and yet the fragments hold together, brilliantly demonstrating the disintegration of logic and dissolution of self:
And don't we become ash?





and he must burn it on a wood fire; it must be

burned on the fatty ashpile.(Lev 4:12)





And after that, reincarnated as clay?

(page 22)
McPherson is saying, "Don't we all die?" The biblical quote is part of the instructions for making a burnt offering to atone for sins. If we atone, are we reincarnated? There is coherence here, without closure or rational argument.
The next poem/section is "Commitment," which begins, "We have a bed… // Who's we? / Oh why was it said?" In psychiatric parlance, "We have bed" means "We have a place for you at a mental facility." The fourth and final section of "Commitment" begins, "In my case, I had no choice— / they'd send the police." Someone had declared that she was a danger to herself or others. "Commitment" concludes with images from her first night at the hospital that remind us of the fire and ash images in "Glass Bead Notebook":
…My limbs

loosened, a crumbly log fire.

A thin gruel of a blanket

flowed over me.

Snug as a brothel's divan in Pompeii.




When I woke, fraught, I slippered to breakfast.

(from "Commitment," page 32)
The poems in the third section are radiant with empathy, suggesting that the process of recovering oneself also entails being able to see others and feel for them. There's "Henry, Praying," and "though he's starving, he / manages a stony / ascending trail of thank-goodness-for-this, thank-heaven-for-that." In "Women's Wing," McPherson says, "…we worry about Coral, / here because she set herself on fire." Another poem, "For Cindy, Who Cut Her Own Throat," also gives cause for worry, but McPherson believes Cindy has the strength to face reality without hiding her wounds: "You will not wear a turtleneck— / a paring knife of a ruffle / will always show."
In "Why I Won't Go Back to Hell," we learn that Hell is a mental breakdown: "Hell has no fine branchlike terminations of peripheral neurons. / It doesn't recognize my name, or remember it." In other words, Hell is the loss of self. As recovery begins, McPherson says, "…My anger's / Going away, away from its dangerous strangeness" ("Uncursing, a Benison"). Hearing a man singing under a bridge gives her a sense of possibility and hope: "I can be euphoric now. / I don't know what happened: / when Monk plays Till You / I sing along, though I never sing" ("Conduit Song II").
In the fourth and final section of the book, "Five Leaves Left," McPherson has left the hospital, and of course there is music:
where there's

a radio

for Bach to continue

without warning

full-tilt




O I like being

struck by

baroque

din

I like being.

(pages 61-62)
She reflects back on Joanne, her favorite roommate at Sutter Psych: "Cut unnecessary words, / we thought together, / not our wrist."
The 5150 Poems is a testament to mental healing, an enactment of moving past depression and suicidal ideation and recovering a lost self. It's an important and necessary book that says yes, there is a way out of the pit.
But finding that way out takes more than sheer will. It also takes the support of friends, family, and the entire mental healthcare system. The 5150 law authorizes an initial hold of 72 hours to protect a mentally ill person from committing suicide or homicide or taking a potentially lethal drug overdose. The trouble is that many (most?) people don't get the support and treatment they need after those 72 hours, and nobody permanently recovers from homicidal rage, suicidal despair, or drug addiction in 72 hours. It's a long process, but access to mental healthcare is distributed unequally in the United States, and government support for the mentally ill is minimal.
For some, 5150 holds are like a revolving door. To give just one example, someone might OD on opioids, be given an antidote, be held for 72 hours, and then be released. Without psychotherapy, drug counseling, and other support, they might OD again a few days later and repeat the whole process. This can happen many times until a day comes when they don't get the antidote in time and die.
The 5150 Poems cannot solve this problem, but in compassionate poems filled with original observations and unexpected turns of thought, the book calls attention to the issue of mental illness. By offering portraits, both moving and disturbing, of the patients in a psychiatric hospital and following of the trajectory of McPherson's own illness and recovery, The 5150 Poems raises questions and offers hope.

Lucille Lang Day has published six full-length poetry collections and four chapbooks. Her seventh collection, Birds of San Pancho and Other Poems of Place was published by Blue Light Press. She has co-edited two anthologies, Red Indian Road West: Native American Poetry from California and Fire and Rain: Ecopoetry of California, and is the author of two children's books. Her memoir, Married at Fourteen: A True Story, received a PEN Oakland/Josephine Miles Literary Award, and was a finalist for the Northern California Book Award in Creative Nonfiction.
— posted JULY 2022