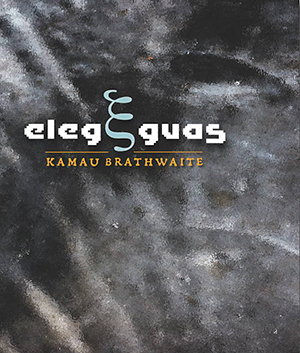 Reggae Riddim
by Zara Raab
Elegguas, by Kamau Brathwaite, The Driftless Series and Wesleyan University Press, Middletown, Connecticut, 2010, 136 pages, $22.95 cloth, also available as a Kindle Edition.
Now sit i down beside you in yr pool of blood

w/seven wailer demons in my head. poor fool

(page 75)
so wails the mad Défilée in Brathwaite's powerful elegy to Jean Jacques Desalines, the nineteenth century liberator of Haiti. Défilée, once Desalines's lover and now an old woman, has found him, the self-declared emperor of Haiti, in the road outside Port-au-Prince, hacked to pieces by assassins. The year is 1806. In Brathwaite's native Jamaican voice, the voice of the madwoman Défilée, even a brutal death of a political leader is seamed with beauty and an eerie loveliness:
po fou they cut you down before the morning crow

before the crowd that might have save you

gather on the road…




the meat they make of you i cannot sell

tho i sell sutler meat at Ogoum all my life

the fragments of yr body's dream i can but touch

O cruel piece by piece i can but gather




from the entrail entrance of the knife .

(page 76)
Jean Jacques Desalines is one of several of Brathwaite's dead, remembered in Elegguas, to come to a violent end. Walter Rodney, a prominent Guyanese historian and political activist assassinated in 1980, is also remembered—"blown into fragments. your flesh / like the islands that you love"—
be-

come the boulder rising in the bleed




the shoulder nourishing the gun

…




the well of flame drilling through your flesh




reduced to the time before green/bone

reduced to the time before ash/skull

reduced to the time before love/was born

(page 62)
In a similar vein, the poem "Stone" pays homage to the memory of one Mickey Smith, stoned to death on Stony Hill in Kingston on the birthday of the Jamaican Black nationalist Marcus Garvey. In poems of intense emotion, like "Stone," dropping the 'h' and the end consonants from certain words, substituting 'd' for the 'th' sound of Standard English, melding the sounds and rhythms of his native Jamaican with a kind of stream of consciousness, Brathwaite captures vividly what it might be like to be brutally stoned into unconsciousness—and death:
When the stone fall that morning out of the johncrow sky
it was not dark at first . that opening on to the red sea humming
but something in my mouth like feathers . blue like bubbles
carrying signals & planets & the sliding curve of the world…
…
to crack in i skull . and there was a loud boodoooooooooooooooooogs
like guns goin off . dem ole-time magnums . like a fireworks of dreadlocks
was on fire . and the gaps whe the river comin down inna the drei gully
where my teeth use to be smilin. …

(page 68)




it was like a heavy heavy riddim low down in i belly . bleedin dub . &
there was like this heavy heavy black dog tump. ing in i chest & pump. ing

(page 69)
Born in Barbados in 1930, Brathwaite attended Cambridge University on a scholarship. In a poem paradoxically called "Ancestors" from his 1967 volume The Arrivants: A New World Trilogy (Oxford University Press, 1967), Brathwaite—whose given name was still Edward, who had not yet taken passage to the heart of his African ancestry—described his grandfather in terms not unlike those used by Robert Lowell in Life Studies or For the Union Dead:
Six-foot-three and very neat: high collar,

winged, a grey cravat, a waistcoat, watch-

chain just above the belt, thin narrow-

bottomed trousers, and the shoes his wife

would polish every night. He drove the trap

himself: slap of the leather reins

along the horse's back and he'd be off

with a top-hearted homburg on his head:

black English country gentleman.

(from "Ancestors," by Robert Lowell)
Elegguas with its long, loping lines eschewing the formal cadences of iambic pentameter, with its Jamaican English and reggae rhythms, measures just how far Brathwaite has traveled in the years since Cambridge. In the one poem in Elegguas set in the tame English countryside, verse parallels landscape in rhythms and diction. Here is the Jamaican poet in Devizes, a market town in Wiltshire, England (a town famous for the rhyme, "There was a lady from Devizes…" to remind visitors that "Devizes" rhymes with "surprises"):
How green the air is

wrapped in wind shawls

how moth the cool is




how infant the sky is

blue egg along white wall

how cool the height is




how star the breeze is

twinkled with wood bird calls

how born the spring is

(from "Day at Devizes (2)")
While this poem gives the reader a sense of the unusual inflections of Brathwaite's verse, it is stiff, spare and oddly formal compared to Brathwaite's luscious rendering of Jamaican rural landscape elsewhere in Elegguas, as shown in this stanza from "Défilée":
cows on this dry pasture all my strife

provide me meat. goats. blackbelly sheep are here

hens. turncoat & turkeycocks jack rabbits rare

but sweet swift bones so wash-away w/life

(page 74)
* * *
Elegguas is structured in ten parts with from one to six poems in each part. The book opens with a poem addressed to Zea Mexican, the name Brathwaite gave his first wife, Doris, whom he met and married when he served as education officer in Ghana in the late 1950s. Name-giving rituals were the baptisms of the new postcolonial 'religion' of the 1960s in a tradition dating back at least to Abraham. Born in 1930 Lawson Edward Brathwaite in Barbados, the poet himself became Kamau after traveling to Kenya, where the grandmother of the novelist and playwright Ngugi wa Thiong'o gave him his new name. "Letter to Zea Mexican," one of three Zea letters in this collection, reaches back to 1986 when Doris, who became a significant presence in West Indian culture in her own right and an inspiration to her husband's poetry, lay dying of cancer.
The letter begins "Tomorrow afternoon I'll see yr face < / for the last time—see you for the lass / lass time I really cyaaan imagine th- / at yu know." The three Zea letters of this new book originally appeared in The Zea Mexican Diary, published by Wisconsin University Press in 1993. The letters are printed in a narrow band in the center of the page, with very wide margins. Opening Brathwaite's new book, one first notices an unusual boldface font, at times enlarged to 30 or 40 point size for emphasis, a font sometimes used in Brathwaite's earlier books, another expressive strategy for distinguishing the lively, vigorous nationalist from staid, imperialist ways.
In a second Zea letter, the poet wonders what it is like for his dead wife "across the water." Consumed with regret for his actions when she was alive, the poet muses:
What worries me (is too late now) is

that I don't know how/how far & dee

ply down it hit you hit you hurt you

…and if this cause the cancer…

(page 50)
By the third Zea letter, "The Crossing," some kind of resolution appears to be reached, as the poet returns to his wife's grave and finds her "in that / soft distance shining," (page 123).
As befits a book of elegies, this one is full of family and friends, as well as jazz singers, musicians, and freedom fighters. Brathwaite's intense musicality is everywhere in evidence. In "Circle(s)" music "curls like your hair around its alabama root . ripples / like fishwater" and finally "dynamites itself in chalky quarries // of deep bone . bringin our riddim home…it is that reggae reggae riddim that Xplodes the prison burns the clock" (page 13). It's hardly surprising the poet devotes a long poem sequence to Duke Ellington, playing "every Tricky Nantam book in town / black black Black Bottom Stomp" with his "alligator hands" (pages 23-24). The sequence includes tributes to the popular blues singer of the 1920s and '30s, Bessie Smith, who under Brathwaite's pen becomes the empress, not of blues, but of "our shattered blues" (page 18). Another poem in the sequence evokes the "Voice of Ellington," Ivie Anderson, whom Brathwaite calls Andersonnng. Sonny Greer, Ellington's drummer for many years, "come walk / ing down the sidewalk clickin sticks" (page 21), and clarinetist and composer Jimmy Hamilton makes an appearance "leading us out of the silence" (page 20).
Ellington, Smith, Anderson, Greer, Hamilton—all live on through their albums and music. But for Brathwaite, they live on in him, as well: "mixed with my sand and mortar / they walk in me with the world" and "the dead dust shines with us / in the completed silence" (page 27, "mesongs"). Echoing Whitman's "Song of Myself" in the "mesongs," Brathwaite also evokes Yeats's "Among Schoolchildren," a poem he surely knows, when he writes, "The dancer dance to death / but we only know the dancing." "mesongs" is a 29-part poem for the dead, and for Brathwaite's musings on death's meaning, where the poet eulogizes even his dog, not named, and thrown overboard in a sack "in the green jumping water." Daffodils mark the death of his friend Elizabeth Schepky: they "create their yellow sky / their green plantations in the water there" (page 29). In the art of daffodils is the art of death.
Brathwaite's characteristic style melds inner and outer worlds in a way both intriguing and original:
This was the day when i cut my finger

there was a tall man on bumbatuk stilts

and a ragged man glowing to drums

when the painful red wet running

went down the pink shells and the vivid sand




My eyes were filled with bright young worlds

and i could hardly see

the ragged man and the tall man on stilts




But the blood there blazed

and i hear(d) the rush of the white sea horses

till the air pulled tight as drums

over the ragged man and the sudden silence tall as stilts

(page 39)
In counterpoint to the intense, mournful lyrics of lost love of the Zea letters, other poems express a passion whose objects are very much alive, as in Parts 8 and 9. Addressing a woman in adoring terms, Part 8, called "fflute(s)" defines the, to me, curious word "fflute" as "the gurgle pigeon dream the ground dove coo / it is the sun approaching midday listening its splendour / it is your voice alight with echo // w/the birth of sound" (page 110). Part 9, another love poem, this one untitled, whose meaning eludes me, begins: "the writing of the sea shd not result / in its escarpment / she said / mmveene allu tuka xtbox . alongongono." Most powerfully, a poem called "Cherries" opens Section Five, beginning with something very like a verse from Proverbs 31 about the good wife, and ending with lines echoing Taming of the Shrew on the fury of the scorned woman.
a woman love a man

she will lick the sweat from his forehead




she will walk miles to see im

and wait for him by the corner




she will bear his children loudly
All good and well, but for a woman whose man "turns sour / on her. scowling. wiping her face with his anger / stiffening his spine beside her on the bed"—for such a woman,
the needle will grow rusty in the cloth .

pin. pinch of thread. thimble




it will make no silver track & tremble far into the night

no dress will take shape over my head

slipping down like water over my naked breasts
The woman of such a household will poison her fetus and carry the convulsing fetus to the man's doorstep: "these images of love i leave you / now i no longer need you // man . manwaart . manimal (page 59).
The three-part poem entitled "Tell me how close" of Part 7 seems to be an elegy to Brathwaite's own life and vitality that in old age is slipping from him on "the saddest day of the year in wrinkles" (page 106). Here the poet/persona seems to be writing to himself, the reader a voyeur on inner secrets:
…i failed you on those frozen sheets

i cdn't get it up i cdnt get it in .

until you had to turn away…

(page 105)
Brathwaite is a poet who lives in his language, mind, imagination, and music. Readers unfamiliar with the Caribbean world—a euphemism for "White," perhaps—will have difficulties understanding some of the patois of Brathwaite's text. Perhaps Brathwaite's understandably staunch nationalist politics lead him to omit the endnotes that would clarify his meaning and open the texts to understanding by those (like myself) whose ancestors may unfortunately have participated in oppressing his. For the most part, Brathwaite's powerful themes of passion, lost love, guilt, oppression, betrayal, and national pride—all the themes of the great texts of Western literature—carry his meaning, particularly in the poems of political struggle; in the historical poems of his people's leaders; in "Cherries," the poem of a woman's passion; and in "Tell me how close," the poem of a man's loss of vitality. I was sorry to find that, in a few places in other poems, I could not follow Brathwaite's meaning. But there can be no doubt that Brathwaite, the author of dozens of books and the deserved recipient of numerous awards, including the Griffin Poetry Prize in 2006 for Born to Slow Horses, is a major voice of the Caribbean, and a powerful voice in world literature, one that speaks to all who struggle for freedom and self-determination.

Zara Raab lives in Berkeley, but she grew up on the North Coast, where her ancestors farmed, raised cattle and harvested tan oak. Her poems appear in River Styx, Crab Orchard Review, Evansville Review, and elsewhere. Her most recent book is Swimming the Eel (David Robert Books, 2011).