Poetry Flash Reading Series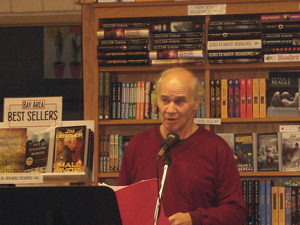 Poetry Flash readings take place at Moe's Books, Berkeley, and at Diesel, A Bookstore, Oakland. Over one hundred poets are introduced each year by our host, Poetry Flash Associate Editor Richard Silberg, with Editor Joyce Jenkins. The series is open to diverse poetics and provides a forum for poetry's best. Please help poetry thrive by shopping at these fine independent bookstores!
To find out more about the Poetry Flash Reading Series, please email editor@poetryflash.org or call (510) 525-5476, weekday afternoons. ASL interpreters for the deaf and hearing impaired may be provided for these events with at least one week's notice. To request, email mbb@poetryflash.org, or editor@poetryflash.org. Our reading series venues are wheelchair accessible.
Poetry Flash curates one of the West Coast's longest running and best known reading series. From 1982-2006, the series took place at Cody's Books on Telegraph Avenue, Berkeley, a legendary independent bookstore. (The series was started in the late sixties/early seventies by Walter Hall.) after Cody's on Telegraph closed in 2006, the series moved to Cody's Fourth Street, Cody's in downtown Berkeley, Black Oak Books in Berkeley, and at Berkeley City College. See below for more on the closing of Cody's, a great independent bookstore.
[For the complete list of Poetry Flash readings in 2012, see the 2012 Reading Series page.]
---
The last Poetry Flash at Cody's Telegraph reading was held on June 4, 2006. The last Poetry Flash at Cody's Downtown Berkeley reading was held on June 7, 2008. Poetry Flash readings continue to thrive at other locations!
BERKELEY'S TELEGRAPH AVENUE TO LOSE CODY'S BOOKS;
CODY'S REMAINS STRONG ON FOURTH STREET IN BERKELEY
AND ON STOCKTON STREET IN SAN FRANCISCO
May 10, 2006
Andy Ross, owner and president of Cody's Books, Inc., has announced that Cody's oldest store, on Telegraph Avenue near the University of California in Berkeley, will close its doors on July 10, 2006.
Cody's Books on Fourth Street in Berkeley and Cody's Stockton Street in San Francisco, as well as Cody's School and Book Fair division, remain open, healthy, and intent upon continuing to provide the best of independent bookselling.
Ross noted the fifteen-year sales decline in the south-of-campus area, resulting in Cody's Telegraph Avenue doing only one-third of the business it did in 1990. The company's attempt to keep this store open has caused a loss of over $1,000,000.
"It is with a heavy heart that I must announce that Cody's will be closing our doors at the Telegraph Avenue store for the last time on July 10. We will continue to operate our stores on Fourth Street in Berkeley and on Stockton Street in San Francisco.
The Telegraph store has been declining in sales for more than 15 years. We are now doing only 1/3 of the business that we did here in 1990. We have lost over $1,000,000 attempting to keep the store open. As a family business, we cannot continue to afford these ruinous losses.
The book business has changed over this period. Many of our customers have found other sources for their books. In particular, the Internet has taken quite a bite out of sales, particularly the scholarly and academic titles that have always been our specialty.
This is Cody's 50th year in business and our 43rd year at this location. During this period, Cody's has been engaged in the great issues of our time. As America increasingly turned to huge mass merchants and disembodied Internet retailers in their buying habits, Cody's always urged people to support stores in their communities.
During the 60's, Cody's was part of the great anti-war movement that began in Berkeley. In 1989, we were the first victim of international terrorism in the United States. We were bombed during the Rushdie Affair. After the bombing, Cody's staff voted unanimously to continue carrying The Satanic Verses, even in the face of threats to our lives. This was a great and heroic act of commitment to humanistic values by simple booksellers. It was truly our finest hour.
Throughout this period, we spoke of the dangers of economic concentration in bookselling on the part of chain stores. Sadly our warnings have come to pass. Stores like Cody's have become truly rare. The few that remain are cherished by their communities.
Cody's is an idea, not a building. That idea will endure in our other stores on Fourth Street and in San Francisco.
We leave Telegraph with great sadness, but with a sense of honor that we have served our customers and our community with such distinction; and that in our own way, we have changed the world for the better and will continue to do so.
Thank you, dear customers, for giving us that opportunity."
—Andy Ross