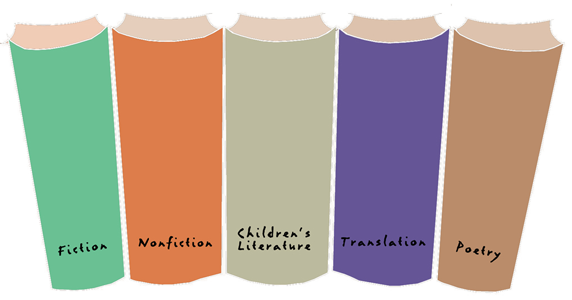 Northern California Book Awards
Recipients Since 1981
Celebrating books published by Northern California authors

CHILDREN'S LITERATURE
1984 Mavis Jukes
Like Jake and Me
1985 Yoshiko Uchida
The Happiest Ending
1986 Gayle Pearson &nbsp
Fish Friday
1987 Marilyn Sachs
Fran Ellen's House
1988 Beverly Cleary
A Girl From Yamhill: A Memoir
1989 Esther Blanc
Berchick
1990 Ellen Kindt McKenzie
Stargone John
1991 Allen Say
Tree of Cranes
1992 Joe Cottonwood
Danny Ain't
1993 Allen Say
Grandfather's Journey
s
1994 Karen Cushman
Catherine Called Birdy
1995 Peggy Rathmann
Officer Buckle and Gloria
1996 Nancy Farmer
A Girl Named Disaster
1997 Ji-Li Jiang
Red Scarf Girl: A Memoir of the Cultural Revolution
1998 Elizabeth Partridge
Restless Spirit: The Life and Work of Dorothea Lange
1999 Karen English
Francie
2000 Judd Winick
Pedro and Me: Friendship, Loss, And What I Learned
2001 An Na
A Step from Heaven
2002 Nancy Farmer
The House of the Scorpion
2003 Peggy Rathmann
The Day the Babies Crawled Away
2004 Gennifer Choldenko
Al Capone Does My Shirts
2005 Denys Cazet
The Perfect Pumpkin Pie
2006 Frank Portman
King Dork
2007 Elisa Kleven
The Apple Doll
2008 Pamela S. Turner
A Life in the Wild: George Schaller's Struggle to
Save the Last Great Beasts
2009 Nina LaCour
Hold Still
2010 Lewis Buzbee
The Haunting of Charles Dickens
2011 Young Adult: Kim Culbertson
Instructions for a Broken Heart
Younger Readers: Joan Dunning
Seabird in the Forest
2012 Young Adult: Lemony Snicket
"Who Could That Be at This Hour"
All the Wrong Questions series
Younger Readers: Ashley Wolff
Baby Bear Sees Blue
POETRY
1982 Thom Gunn
The Passages of Joy
1983 Jack Marshall
Arriving on the Playing Fields of Paradise
1984 Czeslaw Milosz
The Separate Notebooks
1985 August Kleinzahler
Storm Over Hackensack
1986 William Dickey
The King of the Golden River
1987 Edward Kleinschmidt
Magnetism
1988 Philip Levine
A Walk with Tom Jefferson
1989 Adrienne Rich
Time's Power
1990 Thomas Centolella
Terra Firma
1991 Czeslaw Milosz
Provinces: Poems 1987–1991
1992 Thom Gunn
The Man With Night Sweats
1993 Brenda Hillman
Bright Existence
1994 Jane Hirshfield
The October Palace
1995 Czeslaw Milosz
Facing the River
1996 William Dickey
The Education of Desire
1997 Diana O'Hehir
Spells For Not Dying Again
1998 Jacqueline Berger
The Mythologies of Danger
1999 Michael McClure
Touching the Edge
2000 Forrest Hamer
Middle Ear
2001 Jane Hirshfield
Given Sugar, Given Salt
2002 Jack Marshall
Gorgeous Chaos: New & Selected Poems 1965–2001
2003 Suji Kwock Kim
Notes from the Divided Country
2004 Lawrence Ferlinghetti
Americus I
2005 Brian Turner
Here, Bullet
2006 Nathaniel Mackey
Splay Anthem
2007 Robert Hass
Time and Materials: Poems 1997-2005
2008 Rusty Morrison
the true keeps calm biding its story
2009 D.A. Powell
Chronic
2010 Camille T. Dungy
Suck on the Marrow
2011 Michael Palmer
Thread
2012 D.A. Powell
Useless Landscape: A Guide for Boys
GENERAL NONFICTION
1981 J.S. Holloway
And the World Came Rushing In
1982 Diane Johnson
Terrorists and Novelists
1983 Bruno Bettelheim
Freud and Man's Soul
1984 Robert Hass
Twentieth Century Pleasures: Prose on Poetry
Orville Schell
Modern Meat
1985 Paul Robinson Carolyn Wakeman
Opera and Ideas
Yue Daiyun
To the Storm
1986 Alex Zwerdling
Virginia Woolf and the Real World
William Finnegan
Crossing the Line
1987 Randy Shilts
And the Band Played On
1988 Timothy Ferris
Coming of Age in the Milky Way
1989 Peter Nabokov, Robert Easton
Native American Architecture
Ronald Takaki
Strangers from a Different Shore
1990 Linda Neimann
Boomer—Railroad Memoirs
1991 Diane Wood Middlebrook
Anne Sexton, A Biography
Susan Faludi
Backlash: The Undeclared War Against American Women
1992 Susan Griffin
A Chorus of Stones
1993 Gerald Haslam, et al
The Central Valley, California's Heartland
1994 Stewart Brand
How Buildings Learn
1995 Joe Kane
Savages
1996 Victor Davis Hanson
Fields Without Dreams
1997 Ted Gioia
The History of Jazz
1998 &nbspAdam Hochshild
King Leopold's Ghost: A Story of Greed,
Terror, and Heroism in Colonial Africa
1999 Freeman House
Totem Salmon: Life Lessons From Another Species
2000 June Jordan
Soldier: A Poet's Childhood
2001 Robert M. Sapolsky
A Primate's Memoir
2002 Daniel Ellsberg
Secrets: A Memoir of Vietnam and the Pentagon Papers
Richard Rodriguez
Brown: The Last Discovery of America
2003 Rebecca Solnit
River of Shadows: Eadweard Muybridge
and the Technological Wild West
2004 Richard Steven Street
Beasts of the Field: A Narrative History
of California Farmworkers, 1769–1913
& Photographing Farmworkers in California
2005 Adam Hochschild
Bury the Chains:Prophets and Rebels
in the Fight to Free an Empire's Slaves
2006 Michael Pollan
The Omnivore's Dilemma: A NaturalHistory of Four Meals
2007 Lisa Margonelli
Oil on the Brain: Adventures from the Pump to the Pipeline
2008 Richard A. Muller
Physics for Future Presidents: The Science Behind the Headlines
2009 Tamim Ansary
Destiny Disrupted: A History of the World through Islamic Eyes
2010 Jacob S. Hacker and Paul Pierson
Winner-Take-All Politics:
How Washington Made the Rich Richer
—And Turned Its Back on the Middle Class
2011 Ian W. Toll
Pacific Crucible: War at Sea in the Pacific, 1941-1942
2012 Ozzie Zehner
Green Illusions: The Dirty Secrets of Clean Energy
and the Future of Environmentalism
CREATIVE NONFICTION
2008 John Adams
Hallelujah Junction: Composing an American Life
2009 Dave Eggers
Zeitoun
2010 Rebecca Solnit
Infinite City: A San Francisco Atlas
2011 Mary Jo McConahay
Maya Roads: One Woman's Journey
Among the People of the Rainforest
2012 Victoria Sweet
God's Hotel: A Doctor, a Hospital,
and a Pilgrimage to the Heart of Medicine
FICTION
1981 Alice Walker
You Can't Keep a Good Woman Down
1982 Gina Berriault
The Infinite Passion of Expectation
1983 Ron Loewinsohn
Magnetic Fields
1984 Harriet Doerr
Stones for Ibarra
1985 Molly Giles
Rough Translations
1986 Lynn Freed
Home Ground
1987 Herbert Wilner
The Quarterback Speaks to His God
1988 Alice Adams
Second Chances
Pete Dexter
Paris Trout
Ehud Havazelet
What is it Then Between Us?
1989 Amy Tan
The Joy Luck Club
1990 Ella Leffland
The Knight, Death and the Devil
1991 Ron Hansen
Mariette in Ecstasy
1992 Dorothy Allison
Bastard Out of Carolina
1993 Elizabeth Tallent
Honey: Stories
1994 Linda Raymond
Rocking the Babies
1995 Chitra Banerjee Divakaruni
Arranged Marriage
1996 Gina Berriault
Women in Their Beds
1997 Diane Johnson
Le Divorce
1998 Lan Samantha Chang
Hunger
1999 Alfredo Alfredo Véa
Gods Go Begging
2000 Michael Chabon
The Amazing Adventures of Kavalier & Clay
2001 Paul LaFarge
Haussmann, or the Distinction
2002 Roger King
A Girl from Zanzibar
(Novel)
Daniel Coshnear
Jobs & Other Preoccupations
(Short Fiction)
2003 Tobias Wolff
Old School
(Novel)
Julie Orringer
How to Breathe Underwater: Stories
(Short Fiction)
2004 Andrew Sean Greer
The Confessions of Max Tivoli
2005 William T. Vollmann
Europe Central
2006 James Janko
Buffalo Boy and Geronimo
2007 Cristina García
A Handbook to Luck
2008 Sylvia Brownrigg
The Delivery Room
2009 Catherine Brady
The Mechanics of Falling and Other Stories
2010 Michael Alenyikov
Ivan and Misha, stories
2011 Ernest J. Finney
Sequoia Gardens
2012 Jennifer DuBois
A Partial History of Lost Causes
TRANSLATION
Fiction
1985 Stephen Mitchell Rainier Maria Rilke's
The Passages of Joy
1986 Stephen Mitchell & Chana Bloch Yehuda Amichai's
Selected Poetry
Czeslaw Milosz & Robert Hass Czeslaw Milosz's
Unattainable Earth
Reginald Zeinick S.I. Kanatchikov's
A Radical Worker in Tsarist Russia
1993 Jim Powell
Sappho: A Garland, Poems and Fragments of Sappho
1995 Zack Rogow (co-translator) André Breton's
Earthlight
1996 Robert Alter
Genesis
2002 Margret Schaefer Arthur Schnitzler's
Night Games
2003 Anne Milano Appel Stefano Bortolussi's
Head Above Water
2004 Willis Barnstone Antonio Machado's
Border of a Dream: Selected Poems
2005 John Balcom
Indigenous Writers of Taiwan:
An Anthology of Stories, Essays, and Poems
2006 Brother Anthony, Young-Moo Kim, Gary Gach Ko Un's
Flowers of a Moment
Clare You & Richard Silberg Ko Un's
The Three Way Tavern
2007 Carol Cosman Albert Camus's
Exile and the Kingdom
2008 Katherine Silver Horacio Castellanos Moya's
Senselessness
2009 John Balcom Cao Naiquian's
There's Nothing I Can Do
When I Think of You Late at Night
2010 David Frick Jerzy Pilch's
A Thousand Peaceful Cities
2011 Anne O. Fisher Ilya Ilf and Evgeny Petrov's
The Twelve Chairs
2012 Anne Milano Appel Claudio Magris's
Blindly
Poetry
2009 Chana Bloch & Chana Kronfeld
Hovering at a Low Altitude:
The Collected Poetry of Dahlia Ravikovitch
2010 John Sakkis & Angelos Sakkis Demostenes Agrafiotis's
Maribor
2011 Andrea Lingenfelter Zhai Yongming's
The Changing Room
2012 Art Beck Luxorius's
Opera Omnia
NCBR RECOGNITION AWARD
1984 Sierra Club Books
1987 &nbspMedea Benjamin & the IFPD
Don't Be Afraid, Gringo
1989 Harriet Rohmer, Children's Book Press
1990 William Turnbull & Jack Shoemaker, North Point Press
1994 Carl Thelander, Malcolm Margolin, Michael Cronan
Living on the Edge
1997
Poetry Flash,
A Poetry Review & Literary Calendar for the West
1999
Overtime: Selected Poems
by Philip Whalen, Edited by Michael Rothenberg
2000 California Fiction Series, University of California Press: Charlene Woodcock, Editor
2001 Valerie Walley, Random House Book Representative
2001
Distinguished Contribution to Literature & Culture:
Czeslaw Milosz
2004 The Poetry Center & American Poetry Archives
2005
Directed by Desire: The Collected Poems of June Jordan
2006
Veterans of War, Veterans of Peace
edited by Maxine Hong Kingston
2007 River of Words International Environmental Poetry & Art Contest for children K-12
2008
Paintings in Proust: A Visual Companion to "In Search of Lost Time"
Eric Karpeles
2009
Black Nature: Four Centuries of African American Nature Poetry
Camille T. Dungy, ed.
2010
Indivisible: An Anthology of Contemporary South Asian American Poetry
edited by Neelanjana Banerjee, Summi Kaipa, Pireeni Sundaralingam
2011
Everything Is Its Own Reward, An All Over Coffee Collection,
Paul Madonna
2012
Al-Mutanabbi Street Starts Here:
Poets and Writers Respond to the March 5, 2007,
Bombing of Baghdad's "Street of the Booksellers"
edited by Beau Beausoleil & Deema Shehabi
2013
City Arts & Lectures
The Northern California Book Awards are presented and sponsored by Northern California Book Reviewers, Poetry Flash, Center for the Art of Translation, Red Room (redroom.com), PEN West, Mechanics' Institute, San Francisco Public Library, Friends of the San Francisco Public Library, and Readers Bookstore at the Main.
Winners will be announced at the Awards. Free admission; open to the public. For more information: Poetryflash.org, 510.525.5476, NCBR@poetryflash.org.