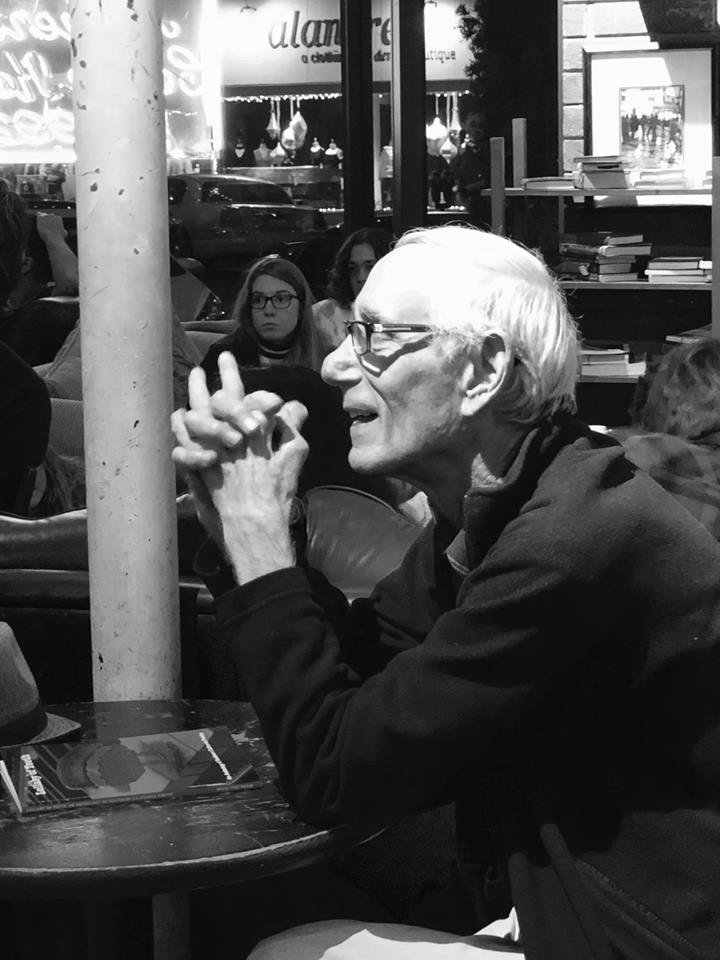 Poet Larry Colker (1947-2018), a Sweetheart of a Guy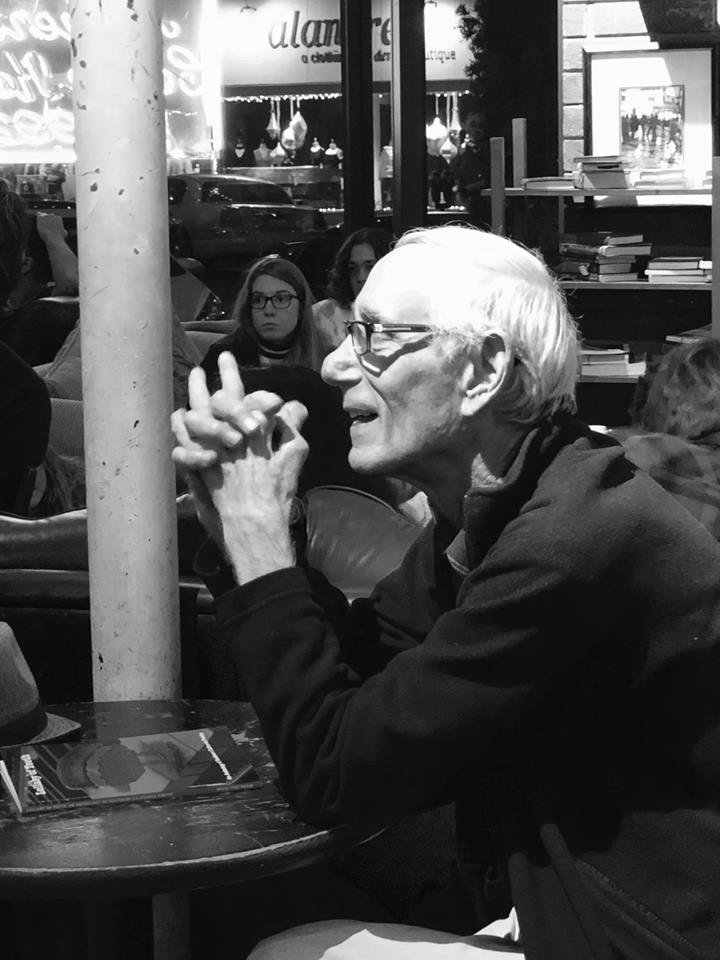 Photo by Alexis Rhone Fancher.
by Suzanne Lummis
WHEN CHARLES BUKOWSKI died in 1994, fans of his roughshod, hard-times poetry wept, followers from the West and East Coasts and throughout Europe. When Wanda Coleman died, The Los Angeles Times featured a front-page story on the internationally celebrated performing poet. Neither would've been surprised at the post-mortem attention. When Larry Colker died this fall, of lung cancer undiagnosed until its late stage, the news did not sweep through the larger literary world. No tribute appeared in The Los Angeles Times. But in the Los Angeles poetry monde he was deeply mourned—his picture and poems appearing everywhere across social media, his memorial at Beyond Baroque drawing poets from all around the region. And Larry would've been very surprised indeed. For there never was a more modest, un-self-serving man, who gave so much support and attention to others, but drew so little attention to himself, asked for so little. I say, "there never was a more…," but, of course, what I mean is no one who comes to my mind anyway.
Larry Colker, born in West Virginia, and lately re-settled near his remaining family in North Carolina—where he learned of his dire prognosis—was for twenty years the director and curator, together with Jim Doane, of the popular reading series, Coffee Cartel. [In early 2018, he co-edited and published an anthology of work from that series with Jim Doane: 1001 Nights: Twenty Years of Redondo Poets at Coffee Cartel.] Year after year he persuaded L.A.'s best poets to make that drive down the Pacific Coast Highway (or perhaps, less romantically, the 405). It's a sure thing the town of Redondo Beach would have precious little poetry without Larry's ministrations. In 2013, Tebot Bach published his first full-length book, Amnesia and Wings, (he had previously self-published What the Lizard Knows), and his poems appeared in some good spots, but thanks to Poets & Writers, Inc., and Charles Harper Webb, the judge that year, he had one big sterling success. He was the 2006 poetry winner of the triennial California Writers Exchange. This involved an all-expenses paid trip to New York to meet with editors and notable writers.
I remember when he revealed his manuscript had been selected for the honor, how he came up at a reading to tell me in confidence, so very happy, but quietly happy and a bit shy. It reminds me now of his closing line from his most memorable poem, "as if embarrassed by his riches."
Larry was terrifically smart—so smart he managed to keep secret how smart he was. He attended my home workshop for nearly a decade and later my UCLA Extension Writers' Program class, and after a time I noticed he was fluent in French. Things came up, and it became apparent. I didn't learn till after his death—and this from his close friend Danielle Grilli—that he also spoke other languages, German and Italian. And she told me that after he'd spent some time around her Norwegian husband he began to pick up Norwegian, using difficult words correctly. All these years—I didn't know that.
Maybe I knew he'd studied Humanities, Romance Languages and Literatures, Educational Research and Psychology, and Early Childhood Education, but it wasn't till his death I learned he had a Ph.D. I suppose it should've been obvious, but he never mentioned it, not even in his bios. Some people, soon as they get that upper degree they've gotta be Doctor, everywhere, forever more, even at in the Open-24-Hours joint. Doctor So-and-So, your table is ready. All who knew Larry understand that would be unthinkable coming from him. I can't recall an occasion when he ever said or did anything with the goal of making himself look important.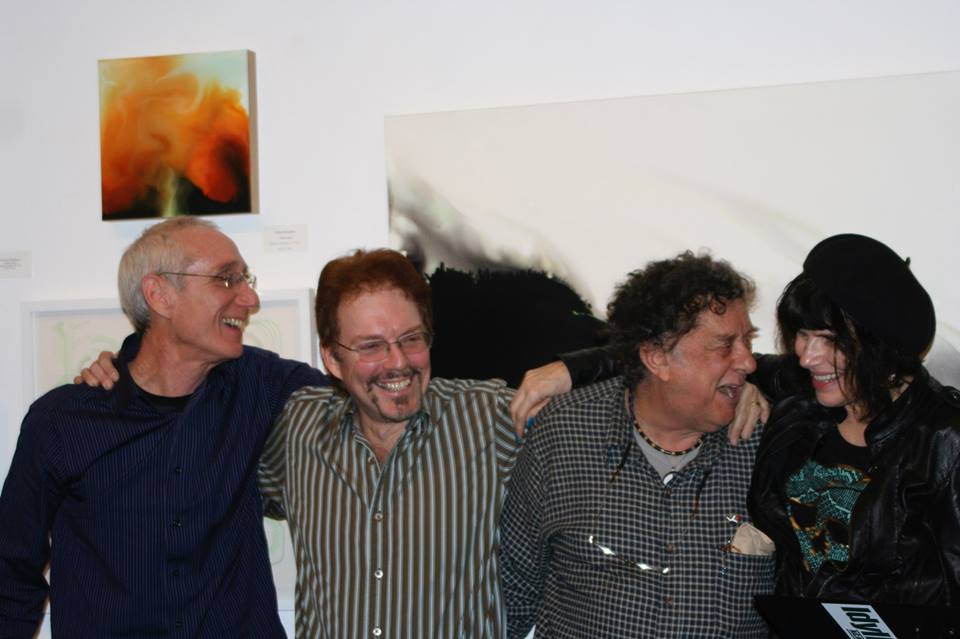 Back in the day with poets Larry Colker, Charles Harper Webb, Steve Kowit, and Suzanne Lummis at Pharmaka Art (now closed), Los Angeles
But he went everywhere—seemed sometimes to be everywhere at once—not a reading series in town he hadn't attended and supported with his presence, and many times. He studied with everyone, me, Brendan Constantine, Jack Grapes, Richard Garcia, Cecilia Woloch.…He worked on behalf of arts organizations, donating his time gratis, as an organizer or board member of Tebot Bach, The Los Angeles Poetry Festival, Beyond Baroque.
I have a friend, not herself a poet, who'd come out to hear me read here and there on a few occasions. In a course of a phone conversation I told her Larry Colker had died. The name didn't ring a bell and I don't think they'd ever met directly. But as we talked she went around to look at my Facebook page where Larry's picture appeared, and I heard her say, "Oh, oh! him!" Then her voice expressed genuine grief, "oh, him, oh no, oh no, so sorry, so sad.…"
Something about Larry's smile, his quietness together with the generosity of his presence, you didn't even have to meet him to know who he was. You didn't even have to talk to him to like him.
As a poet, Larry's work was mixed—as is the case with most poets. But he wrote some gems, some real keepers, and his finest poem is among the best to have risen from this city in the past fifteen years. It's not experimental, does nothing daring with the form, doesn't shatter the narrative, and doesn't speak to a fashionable issue of the day, and so perhaps lacks the credentials for certain strata of Poetry's upper ranks. Nor does it regale us with stories of a drunken brawl or rendezvous with hookers, as in the work of our famed Bukowski—no fun rough stuff for the self-proclaimed underground, or edgy, rebel, youth culture something-or-other.
"The Leap" achieves that thing that poetry does so well—if the poet can pull it off, that is. It captures a single, isolate moment, a moment of intense emotion, sudden, piercing knowledge, and holds it up to us—still and yet moving, the way a poem's always moving around in itself. The trace of loneliness that runs through "The Leap" recurs through much of his writing. The speaker seems to be in love with the young woman he describes who, of course, could never be his. But above and beyond that, it's about that longing for perfection, that moment when suddenly the whole world makes sense.
I understand the guy and girl at the center of "The Leap" broke up—someone mentioned this to me at Larry's memorial at Beyond Baroque. You see, it doesn't last, that perfection, that coalescence of everything good, that moment. And no one needs a reminder that life doesn't last—what came onto Larry snatched him away so fast we were left reeling. But his poem, anybody's poem that's really got the stuff? That poem's not goin' anywhere.

Suzanne Lummis' poems have appeared in The Hudson Review, Antioch Review, Ploughshares, Plume, The New Yorker, American Journal of Poetry, and New Ohio Review. Her most recent collection, Open 24 Hours, won the Blue Lynx Prize (Lynx House Press, 2014). She edited Wide Awake: Poets of Los Angeles and Beyond, noted in The Los Angeles Times as one of The Ten Best Books of 2015. Her new project is "They Write By Night," a series on noir poetry, exploring its connection to noir and neo-noir films and fiction on Poetry.LA's YouTube channel. See www.poetry.la/THEMED_SERIES.html. And it has just been announced that she is a 2019 recipient of the prestigious COLA (City of Los Angeles) Award.
— posted November 2018