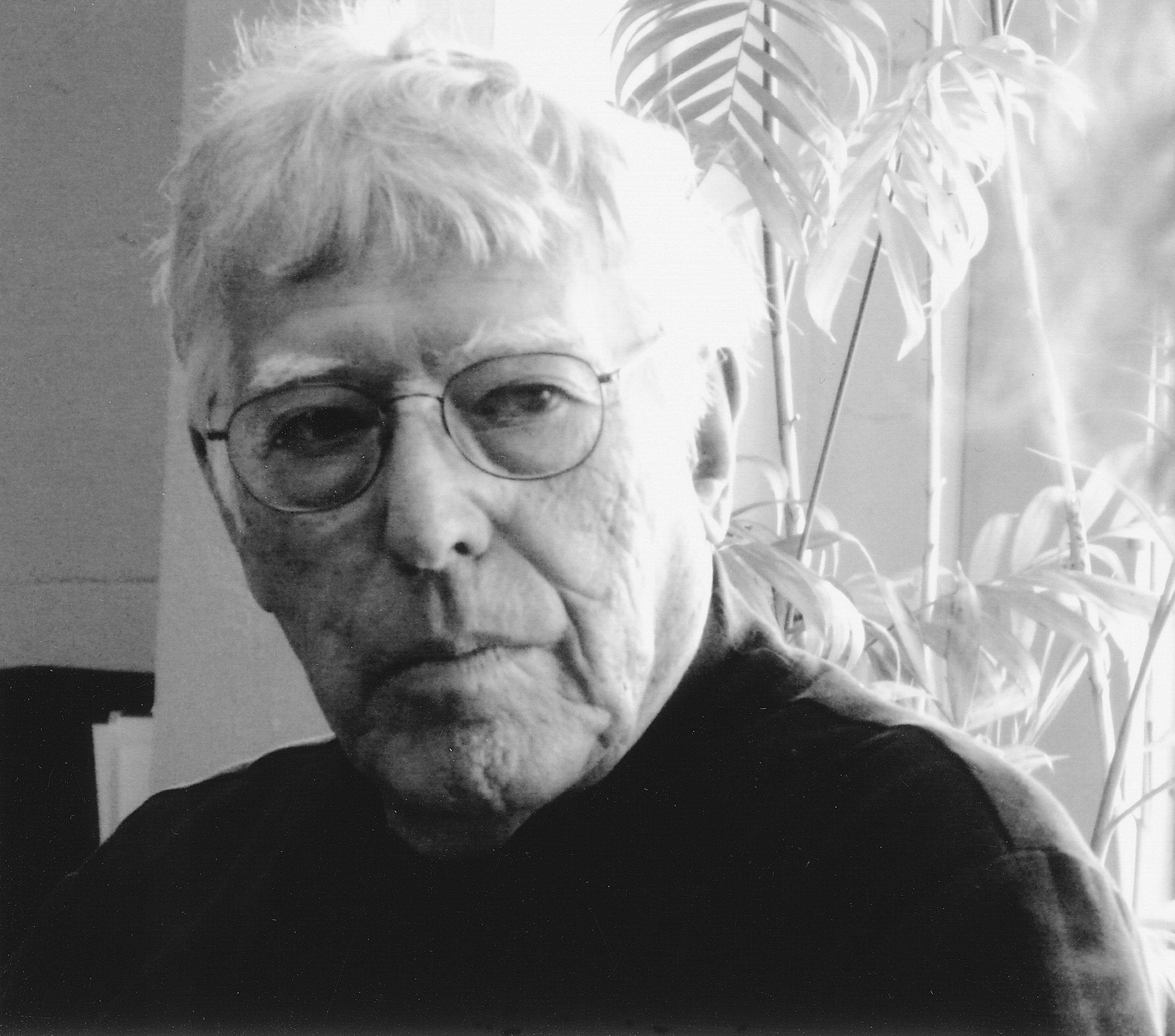 Golden Codger: The Odd Career of Richard O. Moore
by Stephen Kessler
There all the golden codgers lay,
There the silver dew… (W. B. Yeats)

The trouble with everything
is that it's true. (Richard O. Moore)

RICHARD O. MOORE, who died March 25, 2015, at ninety-five, had one of the strangest career arcs of any poet I've known. Born in Ohio in 1920, raised in insecure and itinerant circumstances during the Great Depression and orphaned in his teens, he came to the Bay Area in the late 1930s to attend UC Berkeley, gravitated in the 1940s to the circle of young poets and anarcho-pacifist intellectuals around the charismatic Kenneth Rexroth, and became a key figure in the San Francisco Renaissance, the watershed West Coast cultural awakening that preceded the more sensational Beat era and whose echoes resonate to this day. Like many of his peers at the time, Moore published his early poems in little magazines, but by the late 1940s he was fatefully involved—along with his wife Eleanor McKinney, media visionary Lewis Hill and others—in launching the first listener-sponsored public radio station in the United States, Berkeley's KPFA. Moore's deep, deliberately modulated voice introduced the first program (Anglo-American Folk Ballads) when the station went on the air in 1949, and he was instrumental in shaping its initial identity as a forum for free speech and culturally sophisticated programming (including Rexroth's legendary extemporaneous monologues on books).
Personal and political disagreements splintered the founding Pacifica collective, and Moore, with a young family to support, in 1954 took a job with fledgling public television station KQED in San Francisco. He never stopped considering himself a poet, but for most of the next four decades he worked as a producer, documentary filmmaker and executive in public television. By the early 1960s he was KQED's director of public affairs, and by the end of the decade, CEO. Moore's documentary films—more than forty in all—on politics, culture and literature were unique because he brought to them an angle of vision informed by his own practice and deep understanding of the arts (he had also been a ballet dancer). His series USA: Poetry included portraits of such diverse poets as Robert Duncan, Robert Lowell, Denise Levertov, Frank O'Hara, and Allen Ginsberg.
Moore left KQED to start his own production company, then in 1981 he left the Bay Area to run another PBS station, KTCA in Minneapolis-St. Paul. But as he told me later, he was never entirely comfortable in the corporate world, even the relatively progressive, "noncommercial" realm of public TV. At times he had to compromise his values by editing controversial content (as in his 1964 film about James Baldwin, Take This Hammer) deemed unsuitable for broadcast by those who were paying the bills. By the time he retired to the Mendocino Coast at the age of seventy in 1990 he was eager to resume his work as a poet, where his artistic instincts would be unencumbered by the demands of any marketplace, and where he could exercise his conscience and explore his restlessly complex consciousness with absolute liberty and labor-intensive engagement.
It was in 1992, when I moved to Gualala Ridge just a few miles from the home he had constructed with his builder sons (from his third marriage, to his wife Ruth, with whom he had four children), that I first made Richard's acquaintance. We must have met at a poetry reading—there was a series in a local coffeehouse—and gradually got to know each other, and over the next couple of decades became good friends, frequent dinner companions (especially after Ruth's death in 1997) and constant interlocutors on the subject of poets and poetry. Despite our generational differences (he was twenty-seven years my senior) and our different kinds of poetics (he was the more cerebral modernist and I the lyrical romantic), our personalities somehow clicked; we knew, or had known at different times, a lot of the same people; and we shared an irrational and irrepressible yet sober devotion to poetry.
I believe the intensity of Dick's commitment was in direct relation or reaction to the amount of time he had set aside his true vocation in order to be a responsible father to his half-dozen children from two marriages. Now that his kids were adults, and he had the time and money, he made poetry his priority, and over the twenty-three years I knew him he was working continuously, in a remarkable range of forms and modes, right up to the final days of his life. Most amazing of all, to me, despite the physical diminishments of old age, his writing just got better and better. I know of few others whose "late" careers have been so prolific and whose last poems have glowed with such authentic truth. Though at first I had found his somewhat oblique, opaque, fragmented, metalinguistic approach to the poem not entirely to my taste, I could sense in its very difficulty an intellectual seriousness I respected—he wasn't just playing around with language or trying to demonstrate a theory. At the end, as he went blind and the writing became more transparent while retaining its philosophical cast of mind, I was in awe of his accomplishment.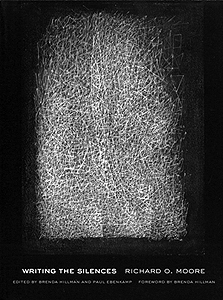 Though he knew important people in the publishing business, from James Laughlin of New Directions to Lawrence Ferlinghetti of City Lights, Richard's attempts in the 1990s to find a publisher for any of his several book manuscripts were unsuccessful. Then, in the early 2000s, he was discovered and befriended by Brenda Hillman, who worked with him (and her colleague Paul Ebenkamp) to assemble a selected survey of his work that was published in 2010 by California as Writing the Silences. So at ninety Richard had his first book (apart from privately printed chapbooks), and with his usual down-to-earth, matter-of-fact attitude, his habitual dignity, poise and modesty, he presented it in readings around the Bay Area to an enthusiastic reception by new readers who up to then had scarcely heard of him. With his rich baritone voice, his casual erudition, his low-key demeanor and consciously precise articulation—the timing, sound and taste of his lines practiced with a dancer's or musician's discipline—his readings had a compelling authority even when his poems, as he once put it, demanded the quality of attention a lawyer would give to a legal document. Most of his writing was not immediately "reader friendly," but if you listened or read carefully you could tell something serious was going on. For Richard, poetry was a tool of philosophical inquiry, the most rigorous instrument available for interrogating reality.
Because of this use of the poem as a vehicle for thinking, I would call him a "metaphysical" poet. In his Wittgensteinian inquiries into the nature of language and how it means, his writings are also metapoetical, a skeptical if earnest investigation of their own expression. Writing the Silences, in its very title, suggests not only his lengthy hiatus from poetry but that he is exploring a realm of perception and understanding beyond the reach of language. Such paradoxes are among his work's signature themes.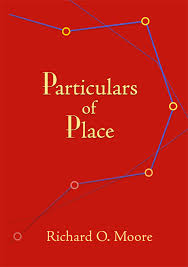 Thanks to the efforts of another younger enthusiast, poet and editor Garrett Caples of City Lights, in collaboration with co-editors Hillman and Ebenkamp and publisher Rusty Morrison, Richard's second collection of poems, Particulars of Place, was brought out by Omnidawn two days after his death. This too is a selection of his work, of mostly more recent vintage, including sonnets from a series he began composing with the loss of his eyesight in the last few years. As with the earlier love poems for Ruth, the sonnets read more like traditional lyrics, not strictly formal in the Petrarchan or Shakespearean sense but employing patterns of rhyme and metrics more easily recognizable and accessible to readers who might be befuddled by his more arcane experiments in "free" (though equally formal) verse, or his irony-rich, Beckett-cum-Joycean prose-poem sequence with the self-negating title d e l e t e.
The blindness sonnets, thirty of them collected in a privately printed chapbook titled Outcry, convey the poet's emotional and psychic devastation at the loss of sight, but typically for Moore, his personal feelings are objectified in rigorously formal and philosophical terms, so even the aggravations and humiliations of his increasing physical decrepitude are presented with grief for his losses but without self-pity. He is like a surgeon performing an operation on himself without anesthetic, so as to experience more vividly what he is suffering, and doing. He mourns the vital missing sense of sight while affirming his defiance of the disability (an especially crushing blow for a lifelong reader) through the soul-sustaining power of the poem. These sonnets, he implies, while not "transformative" in the sense of restoring or even compensating for his lost sight, do, in the fact and the act of their composition, create some solace and testify to an undefeated spirit.
How did he manage to write such poems in such otherwise demoralizing circumstances, living alone in a small apartment at The Redwoods, a retirement residence in Mill Valley? Luckily for Richard, and as evidence of his success as a paterfamilias, four of his six children live in Marin County (and the other two were available by telephone), and they organized with admirable efficiency what they called "the Poetry Collective" to assist their father in completing the poems he was working on all the way to the end. Dick would spend the day composing in his head and committing to memory the lines of work in progress, and every day a different family member (or neighbor John Boettiger) would come by or call to take dictation, transcribing the lines, reading them back to the author, and revising according to his direction. So in his otherwise grueling last months he had a dedicated team of collaborators to assist him in the completion of his life's work.
Even after the manuscript of Particulars of Place was finished, Richard kept on writing, understanding that his final task as a poet was to chronicle the process of his own dying. In a chapbook of fifteen poems titled In Passing, handed out to guests at his April 3 memorial gathering, Moore, in typically levelheaded, tough-minded, philosophical yet deeply personal terms, confronts the reality of his own imminent end. In texts ranging from haiku-like registrations of and reflections on sounds and sensations in his immediate surroundings, through brief formal lyrics and meditations, to five additional installments of the fifty-prose-poem sequence d e l e t e, the poet soberly assesses the physics and metaphysics of his demise. This final chapbook is, for me, perhaps his most astonishing and moving performance, a culmination of creative self-realization that most other poets could hardly conceive of much less achieve.
Richard Moore's determination and ability to fulfill this final obligation to himself—whoever might eventually be his readers—is testimony to the depth of his confidence in poetry as a life force, a force that at best both embodies the power of individual consciousness and projects it beyond the end of the individual. To write with such lucidity, wit and equanimity while the physical body is falling apart, while eyesight is long gone and one's internal organs are failing from the wear of nearly a century of living, to rise to the occasion of one's own death with such nonchalant aplomb, and some of the best writing you've ever done, is nothing short of heroic.
Dick himself would surely disclaim any such extravagant praise, laughing it off as the exaggeration of a friend temporarily deranged by his loss. As far as he was concerned he was just doing the thing he was always meant to do, even though he took a forty-year detour from doing it. Because he had denied himself a "career" in poetry—incidentally projecting via the medium of television many of his political, cultural and literary interests beyond the intelligentsia and into a much wider community—by the time he came back to poetry he could give it everything he had; and because diligent practice is the key to accomplishing anything, with twenty-five years of constant writing behind him, at the end of his days he was at the top of his game—still saying lines to be transcribed by his kids, reassuring them that death, even his own, is the most natural thing in the world—stepping up to the plate with cool grace and knocking the ball out of the park with shocking consistency.
So I think of Dick Moore not only as a great friend and no-nonsense partner in long-term conversation, and as a poet of total integrity and trueness to his vocation, but as a model of moral, ethical and existential conduct. (I haven't even touched on his political work, from his time as a draft resister and counselor through his work as a filmmaker to his role as a citizen of his retirement community.) Poetry for him was neither an ego trip nor a parlor game, a means to attain tenure nor to get laid, a ticket to popularity nor to Parnassus, but a matter of truth and consequence, literally of life and death. Such traditional principles of poetry may be compromised and endangered by many contemporary trends, but Richard Moore's poems—especially his last poems, on top of those in his two published books—will reveal themselves with exemplary authenticity whenever and by whomever they are read.

Stephen Kessler's most recent books include Where Was I? (prose poems, Greenhouse Review Press), Need I Say More? (essays, El León Literary Arts), and Forbidden Pleasures: New Selected Poems by Luis Cernuda (translation, Black Widow Press). He was for sixteen years the editor of The Redwood Coast Review and is a longtime contributing editor for Poetry Flash. Find out more at www.stephenkessler.com.
— posted June 2015