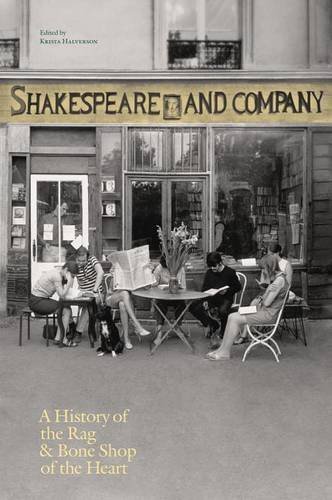 Kilometer Zero Paris: George Whitman's Shakespeare and Company
by Carl Landauer
Shakespeare and Company, Paris: A History of the Rag & Bone Shop of the Heart, edited by Krista Halverson, Foreword by Jeannette Winterson, Afterword by Sylvia Whitman, Shakespeare and Company Paris, 2016, 384 pages, $34.95 hardcover.
ONE OF MY TEACHERS, Austryn Wainhouse, the translator of De Sade (first under the pseudonym Pieralassandro Casavini in Paris but later as a staple of Grove Press), inspired me on my first trip to Paris to make a pilgrimage to Shakespeare and Company just across from Notre Dame. At the time, I was unaware of the difference between Sylvia Beach's interwar Shakespeare and Company on rue de l'Odéon, which had published Joyce's Ulysses and was second home (sometimes even the mailing address) for the lost generation of Hemingway, Fitzgerald, and Dos Passos, and George Whitman's postwar book store, first named Librairie le Mistral, only to be renamed Shakespeare and Company in 1964, reportedly with Sylvia Beach's blessing. But if Whitman's shop was not a hub of the epochal interwar anglophone avant-garde community in Paris, the world of Joyce and Pound, of transition and Ford Maddox Ford's Transatlantic Review, it became a hub of the English-speaking avant-garde in the middle of the postwar Paris of Existentialism, the nouveau roman of Robbe-Grillet, absurdist theater, the movies of the New Wave of Truffaut, Godard, and others, the twilight of Surrealism, and May '68. So the book published by Shakespeare and Company Paris edited by Krista Halverson—half narrative and half scrapbook—reminds us of the role Whitman's store played, particularly in the 1950s and 1960s. The scrapbook component is a little heavy with pages consisting of photographs and short statements that each of the typically young visitors staying a few nights at the store—"Tumbleweeds" as Whitman called them—were required to leave behind, and the book's narrative is a bit thin. But the documentary photographs (including of Allen Ginsberg and Gregory Corso in the store with Whitman as well as poetry-and-jazz performances) and documents, such as the cover of the first issue of The Paris Magazine, which Whitman started but never really got off the ground, bring us back into the world in which the store played such an important part.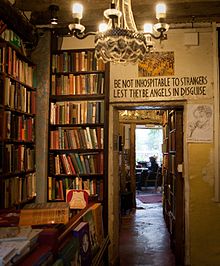 The best insight into the man who opened Librairie le Mistral in a former Algerian grocery at 37 rue de la Bûcherie is given by Halverson's long set of excerpts from his journals during what Whitman referred to as his "hobo adventure"—a several-year tour of hitchhiking and train hopping across the United States and Latin America, finally turning up in Paris. And it is in these journals that we gain insight into a man who would voraciously read books in libraries, including "newly issued books, especially Rabindranath Tagore's Collected Poems and Plays" in a library in the Panama Canal Zone—as well as everything from John Muir's A Thousand Mile Walk to the Gulf to The Golden Ass by Apuleius to G.D.H. Cole's article on "Capital" in the Encyclopedia Britannica. In the same entry he writes, "Today I was reading Beal's American South very attentively, but in the afternoon I became sidetracked by Langston Hughes's The Ways of White Folks." For the young Whitman, "There are so many great books in the world, all of them islands in the infinity of man's ignorance." Particularly amusing and evocative of Whitman is his encounter with the librarian in Carmel, who asked him: "Did you notice a tall, rather thin man in the library just now? If I had known you were here, I would have introduced you. It was Robinson Jeffers. I told him how you had slipped into the library yesterday and were reading from a Greek dictionary, a Russian grammar, and his poetry. He thought the combination was quite amusing."
We learn from this insatiable reader after he moved to Paris, enrolling at the Sorbonne on the GI Bill, that "I've begun running a lending library, the University City Book Counselors, from my room, number 117, in the United States House." So his bookstore began as a lending library, and he moved this apartment/lending library to the Hôtel de Suez, mentioning that one of the central figures of the postwar American presence in Paris, Richard Wright, lived nearby and he would often see him driving his car. And we learn about the first appearance of someone who would become a life-long friend, Lawrence Ferlinghetti, whose City Lights was modeled on Whitman's bookstore: "The other day, a tall, well-dressed young man walked in, saying he knew my sister at Columbia. His name is Lawrence Ferling. We got on well from the first, talking about writers and Paris. He comes by all the time now. If I'm not here, he just sits and reads." So we gather the image of a Lawrence Ferlinghetti not only in his damp, almost windowless apartment writing Her, a book much in the mode of Djuna Barnes's Nightwood, but also reading endlessly at Whitman's apartment.
After the lengthy journal entries, Halverson's book tells us of how Whitman found the perfect location to set up a real shop when he met an Algerian grocer trying to sell his store. Whitman is quoted as reminiscing, "I almost didn't take it when I learned that the building was condemned. But then I found out it had been condemned in 1870, so I decided to take a chance on its holding up for a few more decades." His shop would open on August 14, 1951. Since the bookstore began primarily as a lending library, Halverson wonderfully provides photographs of two early library cards, one of Peter Matthiessen, then the literary editor of the Paris Post, listing Erich Fromm's Escape from Freedom as one of the books he borrowed, and the other for Terry Southern, significantly showing Truman Capote's Other Voices, Other Rooms and Kafka's In the Penal Settlement. Just in the reproductions of those two cards, one begins to get a sense of the early emergence of Whitman's shop.
The founder of the earlier Shakespeare and Company, Sylvia Beach, would have made her place in the pantheon of modernism if all she did were to publish Ulysses, laboring with Joyce on edits to each page with his inserts in thick-pencil handwriting. Beach felt gratified that on Gertrude Stein's first visit to her store, she did not have the book Stein was trying to find but did have Stein's Tender Buttons in her storefront window. Her cast of frequent customers is itself renowned, and Halverson reminds us of the readings she held at her store for its members, including by Stephen Spender, T.S. Eliot, Paul Valéry, Ernest Hemingway, and André Malraux. Whitman's bookshop from the very beginning had tapped into the next generation's anglophone literary community in Paris and its avant-garde members. Robert Silvers, later one of the co-founders of The New York Review of Books, recalled:
At the Le Mistral, you'd bump into all sorts of people, writers who were living in Paris or passing through: Terry Southern or Peter Matthiessen or Donald Windham. There was our Paris Review group, and there were the editors of Merlin magazine, which was an important, radical literary journal edited by Alex Trocchi. The Paris Review published some work by Beckett—Merlin published more; they published Molloy first. Both journals published Genet.
James Campbell's book on postwar American writers in Paris quotes an anonymous contributor to the Times Literary Supplement, who characterized the "significance" of The Paris Review as "limited to those who will eventually fit into the suave pages of the New Yorker." Merlin was far more the politically engaged and experimental journal with its ties to Sartre, who agreed for it to print translations of articles from Les Temps modernes, and to Maurice Girodias, who published, together with Merlin under a "Collection Merlin" imprint Beckett's Watt, Christopher Logue's Wand & Quadrant, Wainhouse's Hedyphagetica, and a translation of Genet's The Thief's Journal (in addition to enlisting Trocchi and other Merlin stalwarts to rapidly fire out various dirty books or "dbs" for Girodias's Traveller's Companion imprint). The difference between the two journals did not stop Campbell from including a wonderful photograph of the Paris Review and Merlin crowds together in front of the Café de Tournon, a common destination not only for them but also for numerous African-American writers who often worked at the nearby news agencies. Nevertheless, it was Merlin that used Whitman's store as its own address for its early numbers, although it would move in its last issues to The English Bookshop. And it was clear that Le Mistral, having added evening seminars, was a vibrant hub, so that one of its 1950s flyers could quote Richard Wright, calling it "One of the Institutions of Paris," and Max Ernst, stating that the shop "Continues the Tradition of the Paris book-salon."
When Ginsberg, Corso, Orlovsky, and Burroughs lived in the "Beat Hotel" at 9 rue Git-le-Coeur, a dingy hotel at the lowest rank of Paris's 16-rank system, they frequented Le Mistral. Whitman took to the Beats. When Corso's Bomb was published by City Lights in 1957, Whitman's store-front window prominently displayed numerous copies of the book scattered among other books, such as Joyce's Ulysses, Orwell's Homage to Catalonia, and Kafka's The Trial. In April 1958, three years after the inaugural reading of "Howl" at the 6 Gallery in San Francisco, Ginsberg read from "Howl" at Le Mistral, having dispensed with his clothes, followed by musician Ramblin' Jack Elliott singing songs and reading from Kerouac's On the Road, and Burroughs giving what is assumed to be his first public reading of his then-unpublished Naked Lunch, a book that even Girodias rejected. This was the time of Harold Chapman's famous photograph of Ginsberg and Orlovsky sitting back-to-back on a park bench in Paris. Chapman, in fact, complained that he was unable to recover the copy he gave to Whitman for promoting the April 1958 reading and "since then the photograph has been published many times and has become iconic."
Whitman's store—having become Shakespeare and Company in 1964—flourished in the 1960s. Whitman tried his hand at publishing his magazine, The Paris Magazine, or at least a first issue in October 1967. The cover was adorned with an Easter Island-like bronze sculpture of a man with a hat by Kosa Alex. Next to the image, you see Whitman's world in the featured articles, including "Letters of Lawrence Durrell," a poem by Ginsberg, "Kansas City to Saint Louis," an article on "The Little Presses of England" by Edward Lucie-Smith, a "Lettre à André Malraux" by Whitman. His was a world very much caught up with the Vietnam War—this time with Americans rather than the French in Vietnam—so that there is a box on the cover reading, "Appeal from Vietnamese to American Students" with "an American Replies" written by the radical Stanford professor, H. Bruce Franklin. The cover also features "Pictures of Vietnam at War" with photographs by Roger Pic and text by Sartre. Halverson's book on Shakespeare and Company does not delve into the contents of that issue, but the cover and the table of contents she reproduces are indicative of Whitman's world—and only a few pages after them in her book is a photograph of two readers in the bookshop library with a poster above them, "End the War Now." So it is little surprise that when Whitman set up his so-called "Free University of Paris," consisting of talks, seminars, and readings in the store, he references alongside the table of contents of the Paris Magazine that the university includes everything from "debates on Vietnam to a seminar on great books" and drops as an aside, "if you would like an honorary degree of LSD please see our dean, Bruce Franklin." The hand-written schedule of events for several days in May of 1967 began with "The War in Vietnam—'PACS'," followed by a poetry reading on Black Power, and another event three days later on "The War in Vietnam—'PACS'." Although we do not learn this from Halverson's book, PACS—an obvious play on pax—was the "Paris American Committee to Stopwar," an activist group of American intellectuals in Paris against the Vietnam War, including Maria Jolas, co-founder with her husband of transition in the 1920s, and H. Bruce Franklin. We learn from Bethany S. Keenan's article on PACS, and not in the Shakespeare and Company book, that the group provided guidance on draft resistance, distributed in two places, one of which was Whitman's Shakespeare and Company. Halverson correctly devoted a two-page spread to a photograph with students throwing cobblestones at police and a woman hoisted on someone's shoulders with a steadfast expression holding a flag aloft—a May '68 version of Marianne, [an iconic allegory of Liberty and Reason since the founding of the First French Republic], essentially Delacroix's image set a few blocks from the little store at 37 rule de la Bûcherie. One can imagine the wafts of tear gas floating by the books of Henry Miller and Lawrence Durrell. But Whitman was involved in more than the seminars and the articles—in one of the "Tumbleweed" statements, there is a paragraph: "Vietnam rally. I show up and am surprised to see George marching at the front of the group. Stokely Carmichael, with a woman to translate, sparks a wildly enthusiastic crowd."
Shakespeare and Company would continue in this vein and expand in size, but would remain essentially the same. As the book notes, the store was frequented not only by Ginsberg—who wrote a poem in the guest register with a line "Notre Dame's lit up white as Whitman's beard"—Ferlinghetti, and the like on their visits to Paris, but also by Pablo Neruda, Doris Lessing, and Howard Zinn. In November 1974, Anaïs Nin, a friend of Whitman's since the 1950s, had a book signing in the store for the fifth volume of her journals, with a line that reportedly stretched out the door to Place St. Michel. In the 1970s it served as the location for two feature-length films, one co-written by Borges and the other resulting in a César award for its leading actress, Romy Schneider. The goateed man who cooked soup for his visitors and ran his own counter-culture hostel and his bookshop were both iconic elements of the anglophone avant-garde in postwar Paris. And this book, less for its text than for its innumerable documents and photographs, gives a real sense of Whitman's world. But Halverson, trying to bring the story up to the present, beyond Whitman's death and his daughter's taking over the store, seems to peter out after bringing to light the store's epochal phase at the height of cultural experimentalism by American, English, and Irish writers and artists, mixing with their French counterparts, in Paris in the 1950s and 1960s. It is this energetic and innovative period that is behind the spirit of this second incarnation of Shakespeare and Company. The store is currently run by Whitman's daughter, Sylvia—so that there is again a Shakespeare and Company in Paris run by a Sylvia—and the store has continued to host numerous workshops and lectures, and readings by the likes of Zadie Smith and Don DeLillo. Ultimately, however, George Whitman's appellation, "Kilometer Zero Paris," describes a bright and unforgettable moment in the past.

Carl Landauer is a lawyer, who taught history at Yale, Stanford, and McGill Universities. He has recently written for Beat Scene: "Before the Beat Hotel: The Merlin Magazine Crowd in Fifties Paris," "Gesamtkunstwerk in a Vitrine: Robert Duncan, Jess, and Friends," and "'A Poem Can Snap the Lights On': Revisiting David Meltzer's San Francisco Poets," and for Confrontation: "Open Eye, Open Palette: The Art of Lawrence Ferlinghetti," with Susan Landauer.
— posted August 2018