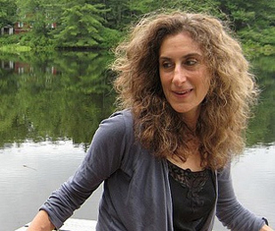 February 23, 2012
Stacy Doris (1962-2012)
Cancer claimed the life of poet and translator Stacy Doris last January 31, 2012; she was not yet fifty. The Poetry Center at San Francisco State University is planning events in mid-April to celebrate her life and her work.
She had moved to San Francisco with her husband Chet Wiener in fall 2002 to begin teaching in the Department of Creative Writing at SFSU. A fine, much-loved teacher, she will be deeply missed there and in the wider poetry community.
Her books of poetry, including some she wrote in French, are The Cake Part (Publication Studio, 2011, released with a set of video adaptations by friends, available on Vimeo); Knot (University of Georgia Press, 2006); Cheerleader's Guide to the World: Council Book (Roof Books, 2006); Conference (Potes and Poets, 2001); Une Année à New York avec Chester (P.O.L., 2000); Paramour (Krupskaya, 2000); La vie de Chester Steven Wiener écrite par sa femme (P.O.L., 1998); and Kildare (Segue Foundation, 1995).
As the reader can perhaps tell from some of the presses who published her, she was an innovative poet, and her work was included in the influential 2009 anthology American Hybrid, A Norton Anthology of New Poetry.
An experienced translator, concentrating on the work of contemporary French poets, she co-edited two anthologies, Twenty One New (to North America) French Writers (Raddle Moon, 1997) and Violence of the White Page, with Emmanuel Hocquard (Tyuonyi, 1991).
She can be heard reading her work in a number of recordings online at PennSound. Her sound piece, "Water Oracle," can also be found there.
Here is the last stanza from her poem "Entrance," published in Knot.
Form means we keep changing our minds, at every velocity, due to life; poetry

is that fact's lucidity. This book's actual shape is a meander that articulates its

construct by showing all of its vantages at once, including the movement which

creates them. Each path encodes the evidence that light or clarity is flawed,

and proceeds relationally. Or, the thread is the way the words lead, at their best, to

betrayals in all domains (epistemology and the other –ologies, the social sci-

ences, metaphysics and the quotidian) while remaining indentured to the hoax of

inquiry itself. Everywhere tethered, language is the vehicle of all our discoveries,

each one myopic. And in its interplay lies our hope.
—Poetry Flash staff
— posted by Amy Wong