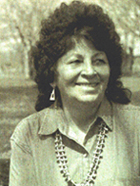 May 24, 2011
Message Bringer Woman: carol lee sanchez 1934-2011
a rememberance by Bill Vartnaw
Carol Lee Sanchez-Allen passed away on April 6, 2011 in Sedalia, Missouri. Native American (Laguna Pueblo)-Lebanese-American poet/painter/teacher Carol Lee Sanchez lived in the Bay Area in the 1960s, 1970s and through the mid-'80s. She was the oldest sister of writer/poets Paula Gunn Allen and Lee Francis, also deceased, who also lived in the Bay Area for many years, and the mother of Paul and Suecarol Bartolucci and Miguel Sanchez. Carol Lee arrived in Berkeley from New Mexico on the day Mario Savio began the Free Speech Movement. She came to San Francisco to be a painter, but San Francisco convinced her she was a poet too. She ran the open mic poetry readings at the Coffee Gallery in North Beach in the late 1960s to mid-1970s. In 1973, she co-created the Bay Area Poets Coalition with Barbara Gravelle, who coordinated the women's poetry readings at Intersection for the Arts at that time [when Intersection was based in North Beach].
I first met Carol Lee Sanchez in 1973. She was running the Coffee Gallery Open Reading in North Beach in San Francisco, living with the poet Paul Vane, and raising two of her three children. The Coffee Gallery was home to Jack Micheline, A.D. Winans, ruth weiss, Eugene Ruggles, and H. D. Moe among a host of others, who read there almost every Wednesday night. Bob Kaufman, at this time, was not reading poetry as a protest to the war, but was a regular at the bar and often went into the back room to listen.
When I walked into the Coffee Gallery for the first time, carol lee (she preferred lower case) was reading one of her "crystals from dialogues," "i read somewhere / that kindness / was the beginning / of cruelty…" She ended her five-minute set with "tribal chant," "yo soy india / pero no soy…" As we said then, I was blown away. She spoke a rich language (in the case of "tribal chant," two) that I had never heard before. (I was able to understand quite a bit with my elementary Spanish and she, in the "pocho" tradition, usually repeated an English translation on the line after the Spanish as part of the poem.) She also uses Keres (her Laguna tongue) and, later, German in her poems. Though her poems sometimes included using two languages, it was her thought forms that enchanted me, and that experience did not wear off. She was also the first person I heard use the term multi-cultural to describe her work.
carol lee was a dynamo. At the time we met, she was planning the Bay Area Poets Coalition. In 1974, the BAPC hosted three solstice and equinox festivals, where more than two hundred poets would read in a week all over San Francisco at unlikely places such as buses, cable cars, ferries, hotel lobbies, in every park as well as the usual cafes, bars, street corners and libraries. (The BAPC is still a poetry nonprofit organization in Berkeley.) Also in 1974, she joined California Poets in the Schools. By 1976, she was Statewide Coordinator of the program. During her tenure, she restructured the program to work toward making it less dependent on grants (foreseeing the Reagan-Bush years) and to make it more local and community-oriented, encouraging schools to employ their own resident poets as poet/teachers. The program still functions today much as she envisioned it over thirty years ago.
carol lee was born on the Laguna Pueblo reservation in New Mexico, near Albuquerque. At birth, she was given a tribal name that means "message bringer woman." This name became the title of her first book with my Taurean Horn Press. (She authored six books and one poemphlet in all). Taurean Horn Press published three books by carol lee sanchez (of the fourteen that I have published), message bringer woman (1977), excerpts from a mountain climber's handbook (1985), which was a continuation of the message bringer woman story, and from spirit to matter, new and selected poems (1997), which included many of the poems from the first two books, both of which sold out, and also her other books, Conversations from the Nightmare (Casa Editorial), she) poems (Chicory Blue Press) and the poemphlet, time warps, which she designed and Taurean Horn published on a Gestetner mimeograph/stencil press in 1976. Regenbogenvisionen und Erdwege (Rainbow Visions and Earth Ways) was published in Germany by Universitätsverlag Rasch as the sixteenth book in their series, Osnäbruck Bilingual Editions of Marginalized Authors, taking their selection of carol lee's poems from our from spirit to matter. During all this time carol lee was also a visual artist. That was her first love and something she continued to do until her death.
After her CPITS directorship, she was invited to teach at San Francisco State University, first, in the Native American Studies Department and later, in the Women Studies Department. carol lee began a new adventure when she left San Francisco in 1985 and ended up in central Missouri in 1989. A bit more media trivia about carol lee sanchez: sometime after the publication of message bringer woman, KQED, PBS TV San Francisco, filmed carol lee reading her work. It got such a great response that they flew her down to New Mexico to film her reading at the sites mentioned in some of her poems. San Francisco Arts Commission chose an excerpt from her poem, "wind song," to bronze and embed at one of their Muni bus stops on the Embarcadero. Sharon Welch, in her After Empire, the art and ethos of enduring peace (Fortress Press, 2004), uses carol lee's poems and ideas as one of her models for seeing a peaceable world. Since she has joined the ancestors, her family has put up a website for her: www.message-bringer-woman.com
What a few other writers have said over the years about her writing:
I've never been to New Mexico or Arizona, but you make me feel I have. The very first poem (in message bringer woman) is an example of what I mean….It's strange to feel so acquainted! —Josephine Miles

Carol Lee Sanchez writes fully about life, death, love, loneliness, betrayal and the sheer joy of being in the world. Like a memorable repast, message bringer woman nourishes us with language that longs to be tasted. These are living poems, deep and bittersweet; salted with one woman's raw and seasoned experiences, and peppered with welcomed exuberance.

—Al Young
About Excerpts from a mountain climber's handbook:
These poems build life on the page, burn with it. They are each honest, clear, strong. Their shape is wit and candor and savvy. Carol Lee Sanchez is a woman of many tongues, a mingling of languages and heritage. She listens to her life and its living environment and marks it down. She re-carves time, unifies the experiences that are seen, felt, inherited, intuited, thought. She knows how to read signs, even if those signs are the tiny breathings spiders leave on lamp posts. Discovering Carol Lee's work is the act of discovering how moments and acts of life fit together. She is visionary and realist. Her pages vibrate with the common and the extraordinary.

—Faye Kicknosway
About From Spirit to Matter:
Carol Lee's poetry combines satiric wit, irony and sheer fun with profound humanistic reflection and insight. It arises from a complex context of Native and European cultures, interweaving physical dimensions of matter, mind, heart and spirit. Her wise words—inspired by the love of peoples and lands as well as the Trickster—carry messages of a deep-souled woman who artistically blends humor and truth with beauty and delight. She is a mezclada/mixed blood in the way she mixes the aliveness and potency of diverse cultural heritages. It is a great pleasure to enjoy this lifetime of experiences so finely crafted.

—Mara Lynn Keller




These poems allow us a glimpse of a wise woman's passage through her years, the deepening journey of a playful sage.

—Charlene Spretnak




Probably the best book of poetry by a Native American woman that I have ever read.

—Lawrence Ferlinghetti
Bill Vartnaw is a poet and publisher of Taurean Horn Press. He lives in Petaluma, California.
— posted by Joyce Jenkins