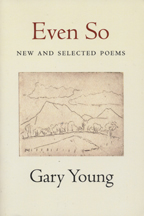 Small Miracles
by Richard Silberg
Even So: New and Selected Poems, by Gary Young, White Pine Press, Buffalo, New York, 2012, 232 pages, $18.00 paperback. Available at Small Press Distribution, www.spdbooks.org.
The Orchard in Oils




Leaves and spent limbs of the apricot

retreat in planes, one to the other

in the geography of heaven.

The sky, a shy blue, bleached and dim,

adjusts this perspective and falls away.

Color perpetuates the caliber of being.

Burning through the leaves

at the furthest reaches of the tree,

the sun leans forward, as do the apricots

propelled toward us in gold silhouette,

lustrous, ripe, the correspondence

of hunger and vision, our own desire

to repel depth, to come forward

into the rich, unfailing light.
That's from Gary Young's second book of poems , The Dream of a Moral Life, 1990. It's a perfectly acceptable poem, a little twitchy and high-flown, perhaps, somewhat abstract and esthetic, but gathering to leap in its last couple of lines, as poems traditionally do, the prepare-to-sigh cadence of the compound adjective "rich, unfailing," then the uplift of "light," which, indeed, never does totally fail, at poem's end.
But now look at this short prose poem—it's untitled—from Young's breakthrough third book, Days, 1997. Somewhere between his second and third books he seems to have discovered the prose poem, and he starts breathing, starts to speak freely.
The world is made of names; my son is learning to speak. He has

faith. He believes in things. Rock, I tell him, leaf. No, this, he says,

holding the rock. This, he says, holding up the leaf.

(page 59)
To be fair there are stronger lineated poems in his first two books, "Secondhand Suit" from Hands, 1979, "Prayer," "Starfish," or "Burning" from The Dream of a Moral Life, for instance; and this prose poem I've quoted is a classic in his series of poems about his son—it's one he always performs at his readings. s
There's no question, though, that Young's discovery of the prose poem is the great enabler of his poetic career. Lineation, for him, seems to have been a shackling apparatus. In Days and the books that followed, Braver Deeds, 1999, No Other Life, 2005, and Pleasure, 2006, all generously represented in Even So, he's become one of our most piercing, luminous prose poets
Comparing the two quoted poems, we can see a kind of contrarian, anti-poetic streak in the prose poem. No "spent limbs," "geography of heaven," no 'color perpetuating the caliber of being'; everything is elemental, direct. In a way, both poems have the same subject, "light" in the first, "faith" in the second, but the prose poem cuts through all the futile embroidery, has the skill to 'unsay' its radiance. For the record, I don't think the difference between these two poems is based in the poetic modes, themselves—think of the lineated impact of William Carlos Williams, say, or George Oppen. I'd speculate, rather, that the difference is personal, that when Young discovered the prose poem he felt freed from the burden of being 'poetic'.
The power of this poem about his son, though, comes from what he says, not just how he says it. First of all, we've got the device of the adult teaching the child to speak, and the child turning tenaciously back to teach the adult 'belief in things'. In "The world is made of names" Young gives us the bare bones of language's flatness, hollowness, abstraction. When he says the names, though, "Rock," "leaf," they clothe themselves, necessarily, in Adamic light. The clinching brilliance of the poem then goes one better; the son's "this…This…" rolls these names back from their poetic glow to an 'imagined real', to quiddity, to haecceity. In amazingly few, amazingly spare, simple words Young sails between the Scylla of Zen and the Charybdis of Deconstruction on through into that first sphere.
As exemplified here, Days is a book of small miracles. Braver Deeds changes key; the poems get longer, and they delve deeply, dizzyingly, into the subject of pain:
Kitty smiled, pressed my hand against the fleshy knot in her belly,

and said, it's the child we always wanted, or as close as we'll ever

get now. A malignancy, not a pregnancy, was swelling inside her.

She'd caress it with her palms, and as the tumor grew, she mothered

it; she brought it to term. One night she woke with a fever, and

I carried her into the hospital. Her wasted arms and legs made her

belly seem even larger than it was. A woman asked, are you in labor?

And she said, no. Then the woman asked, but are you expecting?

And she said, yes.

(page 73)
That's almost too much, almost too bizarre and painful. Only its cutback anti-poetry, its resolute insistence on fact, speech, action, its absolute denial of schmaltz, let it stand. Those and the irony of its ending. But I think it does stand, expressing tenderness—"as close as we'll ever get now" "I carried her…"—loss, courage, perversity—a miracle, a pregnancy, in reverse.
Some of these poems, all untitled, seem, in fact, to be expressing astonishment at their own improbability:
Still bandaged, and barely on my feet, I drove into the woods, to

a little bar called the Boots and Saddle. I ordered a beer, and the

bartender said, this one's on me. A woman in the corner looked up,

and whispered, you've been hurt. Then she said, no, you're sick. My

baby has been sick like you, she said. She said, you made my baby

sick. She shouted, you want to kill my baby, kill my baby, and for a

moment, I felt I was flying.

(page 89)
That last line, following on the woman's sliding rant, suggests¬—along with astonishment—hellish retinues, smoke, flames, airborne devils, does it not? And yet it only says its bare few words.
Another of the poems in Braver Deeds delivers what may be my favorite of all Young's many exploding last lines. In contrast to the two above, this poem delivers a much softer catastrophe, but key because primal, a kind of personal version of the Fall.
When I was five, I knew God had made the world and everything

in it. I knew God loved me, and I knew the dead were in heaven

with God always. I had a sweater. I draped it on a fence, and when

I turned to pick it up a minute later, it was gone. That was the

first time I had lost anything I really loved. I walked in circles, too

frightened to cry, searching for it until dark. I knew my sweater

was not in heaven, but if it could disappear, just vanish without

reason, then I could disappear, and God might lose me, no matter

how good I was, no matter how much I was loved. The buttons

on my sweater were translucent, a shimmering pale opalescence.

It was yellow.

(page 103)
That last line takes us back to the "this…This…" of our first poem from Days: it's so expressive of the particularity of the loved sweater. But the sound of the color also 'yelps', 'bellows'; the bare four-beat rhythm of the sentence, coming after the delicacies and Latinate multi-syllabics of the sentence just before, so perfectly suggests the speaker's dejection, his longing.
Young's 2006 book Pleasure offers a welcome contrast to these poems of loss and almost surreal pain. As its title implies, Pleasure treats of making love, cooking and eating, and other of life's sundry hillocks of contentment. Here's a poem about cigars that reveals a facet of Young's writing we haven't touched on: he can be very funny:
When I step in from the deck after smoking a cigar, my wife glares

at me and says, you stink—but I can't resist. They punctuate the

routine drudgery of a day, and not with a comma, but an exclamation

point, a smoky ellipsis of desire.…Robusto, torpedo, maduro: we need

a Romance language to talk about cigars. Buckley once handed me

a fat Cubano, a Romeo y Julieta made in a factory where a worker

reads poetry aloud while the others roll. I could taste the difference.

A cigar is never just a cigar; it's a wet kiss, a tongue in your mouth,

and both of you burning.

(page 163)
There's humor, of a grimmer sort, in this next short one as well, but it speaks to me more of Young's attentiveness, his empathy, the soulfulness he configures from seemingly casual everyday moments:
I took the children to pick berries, and their fingers and their faces

were soon stained red with warm, sweet juice. There were mice

running ahead of the children in the furrows, and overhead there

were hawks, waiting for them.

(page 172)
As throughout, the poetry lives in the balance of its unadorned elements—and in all the philosophy, the homilies, the filigree it leaves unsaid.)
On the facing page to this berrypicking there's a longer poem, another 'everyday-er', that catches, as well as any, Young's underlying attitude towards living, the zest, the glinty-eyed energy that gives birth to all of this work, pained and pleasured alike:)
When my wife arrived, I was waving a wooden spoon above my

head, and dancing, wearing nothing but a towel. It was eight o'clock,

warm and still light, even under the redwoods. That morning I'd

set four large stones—the last stones in the last wall—and later,

I finished framing the guesthouse. That afternoon I folded laundry,

cleaned the toilets and caught a gopher in the flower bed; the day

went on and on. Chicken with wild mushrooms was heating in the

oven. Tracy Nelson was on the stereo singing Every Night of the Week.

The boys sat naked on the couch, and at last, I dished out dinner,

still in my towel.

(page 173)
Clearly there's deep spirituality in Young's take on life. Probably we could say the same for any fine poet, but in Young's work the miraculous feels highlighted, foregrounded. There's glow, wonder, in all his writing, even the poems of terrible pain, where wonder bathes the strangeness of the circumstances themselves, bathes the strength of spirit that allows those circumstances to be survived. The 'anti-poetic' approach I've been writing about, that freed him from preciosity, opened his path, his vision, feels bound up with this same spirituality, a 'faith in things'—to paraphrase the quoted poem on 'teaching his son to speak'. That faith teaches him, himself, to speak, barely, elementally, to speak in 'prose', because the things and actions when directly delivered—paraphrasing Pound now—must be their own adequate miracle.
Even So ends with two sections of new poems, some forty pages worth. But I'd like to end here with a short poem from Pleasure, a poem that, for me, touches on the omnipotence of childhood, and in its sweetness seems to sum up all the rest:
The world is at home in my mind. I can spell Detroit. I know where

my cats are buried in the orchard. I know the quadratic equation,

my mother's maiden name and the suicide squeeze. I know all the

words to A Good Woman's Love and I can hear them in my head at will.

Every thought is like a sweet rolled over the tongue. Even my bad

ideas are good.

(page 179)
Richard Silberg is associate editor of Poetry Flash. His most recent poetry collections are The Horses: New & Selected Poems and Deconstruction of the Blues. He received the Northern California Book Award in Translation for his co-translation of Korean poet Ko Un's The Three Way Tavern; his most recent co-translation is Ko Un's This Side of Time. He teaches The Dialogue of Poetry workshop at Poetry Flash.
— posted May 2014