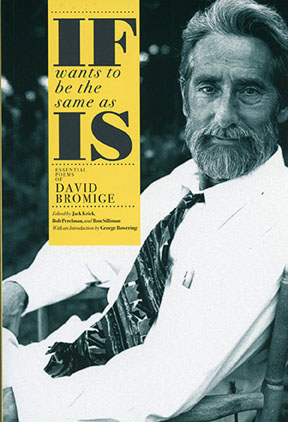 Always Better Than You Thought
by Pat Nolan
If Wants To Be The Same As Is: Essential Poems of David Bromige, edited by Bob Perelman, Ron Silliman, and Jack Krick, with an introduction by George Bowering, New Star Books, Vancouver, British Columbia, Canada and Point Roberts, Washington, 2018, 624 pages, $35.00 USD paperback, www.newstarbooks.com. Distributed by Small Press Distribution.
RARELY DO COLLECTED poems have titles that capture the fundamental nature of the poet whose work is gathered between two covers. The reader has to be content with a generic The Collected Poems of (insert name here). Not so with David Bromige's collected poems. The title, If Wants To Be The Same As Is; Essential Poems of David Bromige, highlights the poet's sly subversive humor and hypersensitivity to the potential of a playfully creative grammar. As Bob Perelman, one of the editors of this volume along with Ron Silliman and Jack Krick, states, "the title is an eloquent bit of rueful stoicism." The cover photo depicts a younger David Bromige as a better looking D.H. Lawrence. The title also sidesteps the question of "When is a collected poems not a collected poems?" The answer being "When it is a collected selected." In David Bromige's case, that this representative six-hundred-plus pages contains only the "essential poems" is unavoidable. To have included all the poems from his more than two dozen books of poetry would have most likely entailed two volumes, at minimum.
As Jack Krick, whose editorial expertise shaped this impressive volume, explains, the poems are selected from twenty-two of Bromige's books, chapbooks, manuscripts, and assorted ephemera. Two of the books, My Poetry (1980) and Red Hats (1986), are complete versions. Also the texts of chapbooks Please Like Me (1968), P-E-A-C-E (1981), and The Melancholy Owed Categories (1984) are reproduced in full. And a chapbook dating from 2003, Indictable Suborners, is also included in full but minus a forward by David's alter ego, Bouvard Pecuchet (a nod of the lyre to Flaubert) and the afterword by Stephen Ratcliffe. The difficult choices, and possibly why it took nearly ten years for this collection of poems to reach publication, were in selecting poems that exemplified Bromige's particular genius. For the editors, this was undoubtedly a task devoted to assuring that a significant lifetime's work received the attention it deserved.
Introducing the essential poems, George Bowering, Canada's first Parliamentary Poet Laureate, provides a biographical thread that charts the progress of his old University of British Columbia chum from conservative columnist for the campus magazine to avant-garde subversive rubbing elbows with the likes of Ron Loewinsohn, having lunch with Robert Duncan, declaiming Olson, and asserting "Call me Bromige!" all the while maintaining the cover of mild mannered college professor.
"So, in the next four decades," as Bowering relates, "Bromige became an important part of west coast poetry. He finished up in Berkeley [grad school], became a straw hat academic [Sonoma State University] in California wine country, and wrote book after book of curious phrasing.…Sometimes he was grouped with the west coast contingent of the Language poets, and he certainly took language as his particular job, but he was too restless to stop poking his formidable nose in elsewhere.…"
For editor Bob Perelman, Bromige's work is "beautiful, deeply amusing, and continually surprising." One of a younger generation of poets attracted early on to Bromige's poetry, he finds it "endlessly interesting to grapple with David's writing. The self-awareness of his mind choosing the words and experiencing their sound, his wonderful ability to play with (and be played by) syntax; the lightness with which he wore his considerable erudition; his perpetual mixing of high and low, dead serious and silly…happily, it remains impossible to pin down the multiple effects he produces."
In the late sixties on through the early nineties, Bromige published with an impressive regularity. Desire: Selected Poems 1963-1987 from Black Sparrow Press (in whose catalog Bromige titles were regularly featured), was merely a sampler of his productivity in the twenty-odd years previous. There was much more to come in the succeeding two decades, not with the same frequency perhaps but nonetheless tirelessly prolific. As Ron Silliman points out, late Bromige has "different needs than a younger writer seeking to find…[a] place in the world." In those later years Bromige was the Bay Area's best-kept poetry secret, living a quiet unassuming life as a retired college professor in a quiet and unassuming community.
Some of his early poems display a creative spelling that perhaps owes something to the influence of Canada's great avant-garde poet, bp Nichol, an affectation that disappears after the first selection of poems published in 1964. Yet even then stealth wit underlies every presumption.
Not the cracking of the ashtray on my skull

was the indicator but her

repeated scream, What do I want with a

husband—never once my name.




The ashtray was calld Niagara

Falls & on our honeymoon, not spent

there, I was calld

David in different accents

& responded differently.

("At Last," from The Gathering, 1964)
What can be observed across the range of poetry selected for this volume is not so much an evolution of style as a willingness to engage with language. Bromige was an opportunist who was receptive to the various isms, inclinations, and coteries as a playground for his own originality. Rarely did Bromige come across a form he didn't like or appropriate for his own purposes. He referenced a personal anthology of poetry and poets as indicators, as ignition points. And he practiced the poet's intentionality of amusing one's self with the play of words, all with the precision of a Creeley, the correctness of an Auden, and the effortlessness of a savant. His points of departure are legion in a knowing and knowledgeable engagement with language as easy going turns of mind skillfully put. In this respect he can be compared to Ashbery for the density of his poetic weave. His is a tone of quiet authority that gives even the surprising and whimsical weight. Couched in syntax classical in its formalism, these poems are informed by an impish ironic wit of someone fully cognizant of the power of language.
In My Poetry (1980) Bromige walks a postmodern tightrope of the self-directed gaze. It is, by his own assessment, the most representative of his esthetics and candor. With a title archly ironic and not a little mocking tongue in cheek, dedicated to Bob Perelman, it begins:
My poetry does seem to have a cumulative, haunting effect—one or two poems may not touch you, but a small bookful begins to etch a response, poems rising in blisters that itch for weeks, poems like ball-bearings turning on each other, over & over, digging down far enough to find substance, a hard core to fill up the hand. It's through this small square that my poems project themselves, flickering across the consciousness, finally polarizing in the pure plasma of life. The reader grows impatient, irritated with my distancing style, coming at him the rare book format, written under not one but two different kinds of dirty money, & knowing me to be an english teacher.
Placing Bromige in an esthetic and historical context, Ron Silliman's afterword points out that his "relationship to Language Writing proved as ambivalent as his previous allegiances to Canadian & Black Mountain poetics, his rep as a langpo resting primarily on three collections, Tight Corners & What's Around Them, My Poetry, and P-E-A-C-E." Silliman goes on to praise My Poetry as "the most complex and satisfying collection to appear under the rubric of Language, demonstrating not just the layering and nuance integral to the project, but the deep historical consciousness at its heart. Nobody could out-polyseme Bromige."
In her 2008 essay, "Irony's Eye" (Golden Handcuffs Review, 1:10) Meredith Quartermain uses Schlegel's definition of romantic irony, "playful and serious, guilelessly open and deeply hidden," to get at what exactly is happening in Bromige's poetry. "Who could be more playful and serious, more guilelessly open and deeply hidden than David Bromige? One of the most enjoyable things about his writing is his keen sense of paradox in language, its hinging of the 'real' to a multitude of fictions, starting with the real fiction of Bromige himself. [His] artistic practice refracts humanity in the prisoning/freeing mirrorland of language. Yes, there is plenty of philosophy in these poems…equally a meditation on human relationships with cars, love relationships in general, and the relationship of reader to writer of the poem…[and] invokes notions of history from the personal to the mythical."
For Quartermain, Bromige relishes "puncturing linguistic illusions" to detach the world from the "manufactures of language" and "escape the fiction of a unified self presented in the word I…because talking about himself in the third person makes it impossible to take either third-person or first-person speech in the pieces at face value. But also because the language in the prose commentaries has been thoroughly loosened up and allowed to play." Citing a passage from Threads (1970), she shows Bromige well advanced into the terrain later claimed for Language Writing:
This is the first book where I use 'I' to declare experiences which I did not 'have', to question assumptions of (non) identity.…I'd also note that the shifting sense of I raises the issue of language and its mediations, and that henceforth this awareness comes increasingly to the aid of the subject in the attempt to constitute the object.
"Bromige discovered," she concludes, [the] "play with multiple personae via pronoun shifts early in his career, and it was a discovery that inspired many who later became known as Language poets." The pervasive edge of irony throughout Bromige's poetry leads the reader on a merry ride in the thrall of language where ambiguity and refraction undercuts any anticipation. As he says in Red Hats, "Poetry mocks the spirit of sober objectivity."
The attention given to Tight Corners (1974), that is, according to Silliman, "important in the evolution of the prose poem," confirms the emerging popularity of the form as a counterbalance to the minimalist trend of the early 1970s. Also of importance were the prose poems of Max Jacob, the colloquial cast of Blaise Cendrars's poetry, and the zany wit of adjunct professor and colleague Karen Elizabeth Gordon's grammatical illustrations later collected and published as The Well-Tempered Sentence (1983). Serge Gavronsky's Poems & Texts (1969), an anthology of contemporary French poetry that featured two masters of the prose poem, Jean Follain and Francis Ponge, were an informing factor as well. Though mostly forgotten now, those notions and vectors were the subject of much discussion among some of Bromige's close contemporaries.
Playing with the expected trope, A Cast Of Tens (1994), a series of poems whose combined lines or groups of stanzas add up to ten and are perhaps determined by a cast of the die, real or imagined, Bromige offers an oblique homage to Mallarmé's Un coup de dés. As well, flaunting mordant aphorisms in "Lines" (The Harbormaster of Hong Kong, 1993) he displays an off-the-cuff whiplash wit that hovers in the realm of the koan:
keep it to yourself

_______________

write it down

***

weird and repulsive at first

______________________

later, reality

And:




division of labor

_____________

i write it

i admire it
In the same collection, Bromige's steel-trap intelligence blitzes the syllogism:
LOGIC




He was carried into the garden

Therefore he was infirm

The block was lined with bars

Therefore the town was friendly

She was just like one of the family

Therefore we neglected to disarm her

The night was about to be buried

Therefore we hired lovers of sleep
As the anti-logic of this lyric and many other examples too numerous to cite reveal, Bromige approaches in spirit the surrealism of surrealism's most surreal, Benjamin Peret. Nor does his flow of inspired logorrhea ever falter, even when he is stacking checkers as in the centered lists of As in T As In Tether (2002):
A mattress factory explodes

Then the ticking is noticed




(from "Poem Beginning with a Line by Pindear (1)")
Or:
Hand me that thorazine

I want to read something

(from "Defeat's Deafears (2)")
Bromige's poetry has a wry elegance that finds its source in the sheer joy of composition, of setting the products of language down on the page. Despite the myriad paths to its realization, there is always some assumption of an underlying coherence if not semantic progression, of resolution that will render the poem an artifact, done. His constant search for definition, any kind of definition no matter how momentary, is rife with a dense irony spun by precise usage. He has a keen ear for the colloquial, as much in its lexical aspect, viz; "Zounds Loik Zumthin Oi Wud Mayake," as in its patterns and phrasing. And he was a master of the sarcastic interrogative retort, which he employed as a counterpoint. David Bromige's greatest appeal, however, was his singular intelligence.
As an overview of taxonomic categorization, Bromige and his poetry could be bracketed as "Post-Modern Anglo-American Pacific Rim proto-Language school neo-formalism," which is a fleeting and insufficient description at best. As to the question, "If you're so good why ain't you famous?" Silliman's contention that Bromige was "ambivalent to being the next generation of anything" rings true. There is a certain "lotus land" side to Sonoma County where he lived the majority of his life, what Luther Burbank called, "the chosen spot of all this earth." It is the impression of the banalization that occurs in the equanimity of living in paradise. But as Bromige counters, "I didn't care. Banal or brilliant, it made no difference in the world I was living in. Besides, sometimes the banal turned brilliant as I listened."
In his later years, retired from teaching, with the local honors of the Sonoma County "Living Treasure" award in 1994 and Sonoma County Poet Laureate (2002-2004) bestowed on him, Bromige was occasionally addressed as "Don David," the godfather of poetry. Yet the social component of his recognition as an important poet after almost ten years has faded some. Even at the time of his death in 2009, some of those memorializing him were more familiar with his reputation than his work.
Bromige was generous with himself as poet and mentor as evidenced by his attentiveness to the community of working poets. He favored creativity over any particular cant or affiliation. And he was fortunate to find among some of those writers a determination to make available instances of his authentic genius to a more inclusive readership. That in the gathering of these essential poems greater emphasis was given to selections aligned with the Language school agenda is not a fault, merely an accentuated perspective. Students of poetry, the obsessed and the merely curious, are indebted to that particular bond for once again focusing attention on the savant virtuosity and chameleonic versatility of David Bromige. In George Bowering's words: "…he was always better than you thought he was."

Pat Nolan's poems, prose, and translations have appeared in literary magazines and anthologies in the U.S. and Canada as well as in Europe and Asia. He is the author of over a dozen books of poetry and two novels. His most recent books of poetry are Exile In Paradise (2017) and So Much, Selected Poems Volume I 1969-1989 (2018), both from Nualláin House, Publishers. He also maintains Parole, the blog of the New Black Bart Poetry Society. His serial fiction, Ode To Sunset, A Year In The Life Of American Genius, is available for perusal at odetosunset.com. He lives among the redwood wilds along the Russian River in northern California.
— posted November 2018