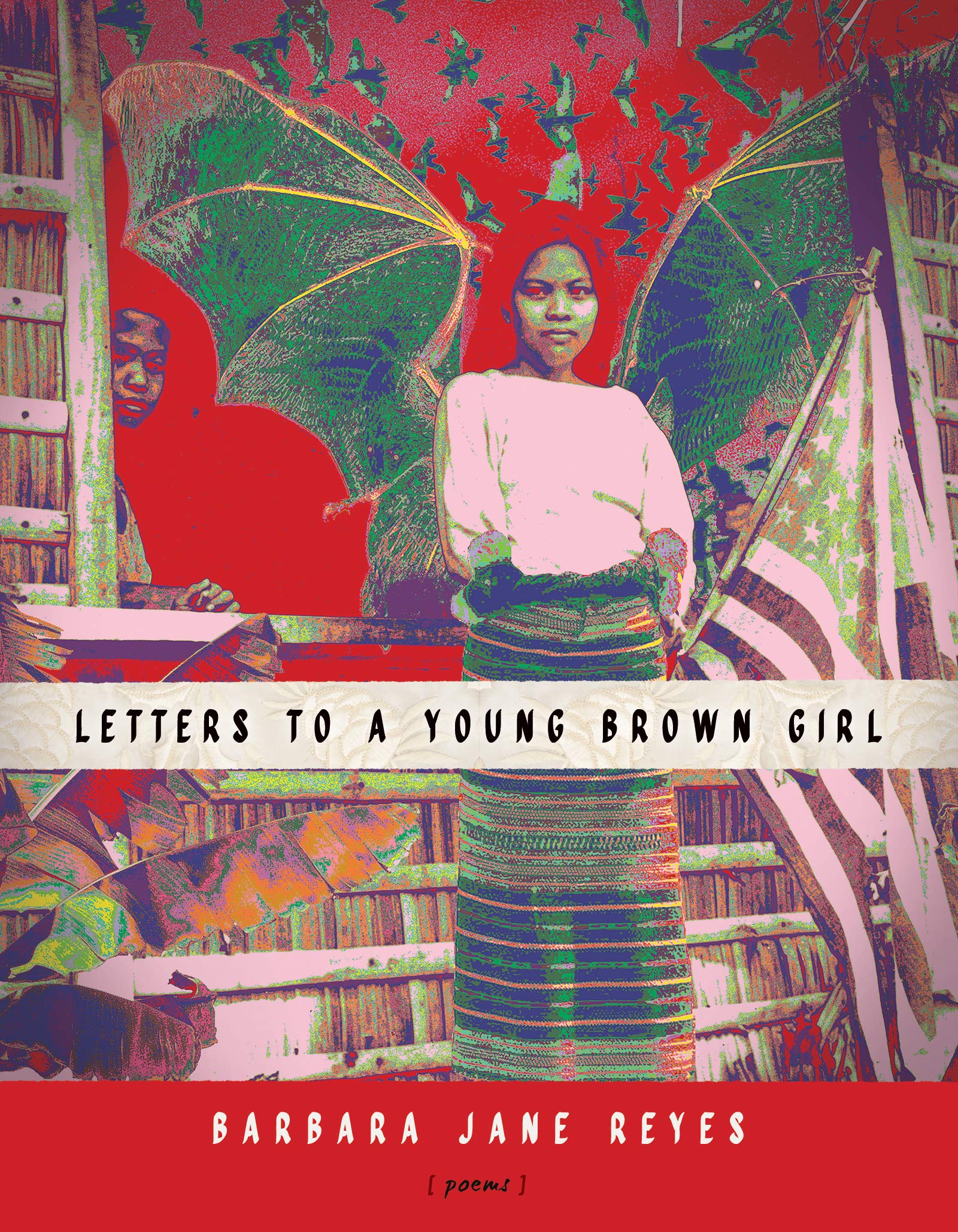 Owning the Brownness
by Catalina Cariaga
Letters To A Young Brown Girl, Barbara Jane Reyes, BOA Editions LTD, Rochester, New York, 2020, 72 pages, $17.00 paperback, www.boaeditions.org.
"THAT LITTLE GIRL WAS ME," quipped now Vice President Kamala Harris in an early 2020 primary debate with Joe Biden, when she blasted him for his previously held opinions on busing in schools during the mid-1970s. That moment reminded all listening how race directly affects people of color in some of the most basic aspects of life in their communities. This is the sixth book of poetry by poet, writer, blogger, activist, and cultural worker Barbara Jane Reyes. Her book is addressed to brown women and people of color who, for better or worse, are artists in their own right. It is a road map of poetics sent from a millennial poet to the XYZ generation of writers, so applicable in this time of pandemic, capped by a failed coup of the Capitol in Washington, D.C. on January 6, 2021. I started to write this review while gazing over the Agno River in Pangasinan, Philippines, on a day in which journalist Maria Ressa of Rappler News was arrested for cyber-libel. President Duterte, who denies being involved with her arrest, has often threatened that journalists of the free press "are not exempted from assassination." Is it a coincidence I am completing this review while watching the unfolding of the siege of the U.S. Capitol—insurrection and sedition in real time on TV and social media?
First, I love the cover. I could stare at it for hours; I have actually. And it is a peek into the mind of the poet. The bold colors of the digitized background surrounding a brown woman (not a girl) wrapped in tribal indigenous skirt and white blouse with banana leaves flourishing from behind her like angelic wings—or are those bat wings? There are birds flying above her head—or are those crazy bats in the night sky nocturnal? The woman is standing in front of a nipa hut framed with bamboo and nail—a simple house you may find in the provinces of the Philippines made of whatever local organic or commercial refuse materials that can be had for shelter. A black face is poised at the window with an arm leaning out to demand notice. Then, only if you look for a long time, the United States American flag is draped from a bamboo pole to the right of center. Her arms are slightly hidden; I fantasize she is holding a machete behind her back. Her face has a wry smile saying, "deal with this." Why should I belabor what we see on the cover? These images directly implicate Reyes as an American poet in the twenty-first century. Democracy in the United States and in the Philippines presents complicated multi-layered issues set against the current authoritarian administrations of Trump and Duterte. So, we must not merely read this book of poetry as a feminist primer. These poems encompass a couple decades of Reyes's deep reading, writing, adjunct university teaching, community and cultural organizing, and living as a poet in the world with the pressure of the gig economy and the amplification of social media, which, ironically, threatens to eradicate the free expression of art and poetry.
The book is divided into three sections, addressed to the metaphorical Brown Girl poet— 1) Designation, 2) Mixtape, and 3) Letters. The first section ends with a manifesto. In the poem, "Brown Girl Manifesto: #allpinayeverything," Reyes addresses the urgency of writing in the time of unrest and political upheaval. Reyes, also a professor of poetry, invokes the often taught opening iambic line of William Carlos Williams's "The Red Wheelbarrow" as a foray into the oppressive deep:
Because so much depends upon the suppression of us, the erasure of us…
But the manifesto flies under the hashtag culture of #allpinayeverything—pinay, a term of endearment for Pilipina woman and women. The full hashtag is an occasional blog, one of many that Reyes edits, featuring Pinxy writers, artists, thinkers, creators—and the work of anti-racism and decolonization and Asians for Black Lives Matter. Reyes breaks the elements down as the manifesto enumerates the many micro aggressions and systemic obstacles of racism and the double-edged sword of an assertive voice. But, the ultimate purpose is to recover and restore the word as "we remember the water's lullaby" and to "offer words, verses to warm, a balm":
Because we are razor-tongued (this, of course, you've heard before); because we've been told since the beginning of time to hold the tongue lest we lose it; because we still recoil at tendered words; because we remember the water's lullaby;

Because we are a nation of the wretched and the occupied; we reclaim our elders' taken tongues, cut, and burned; because our foremothers were taken, cut, and burned too; and so we offer words, verses to warm, a balm;
The "balm" is the restorative lyric, in most of Reyes's lines, "balm" like restorative yoga. Each stanza in this poem points to a cultural restoration. This manifesto is an epiphany of battles; battles lost "cut, and burned," battles won "reclaim," and battles to be won "we offer words."
I also like the "Brown Girl Glossary of Terms" in this first section. The poem is not really a glossary—or the expected 'explanation' or 'dictionary' that poets of color are supposed to provide (audience and industry publishers) to translate 'foreign' words into standard English. Reyes has a lot of languages from English, Tagalog, Visayan, Cebuano, Spanish, etc. Why bother to italicize and explain? Reyes just inserts you, the reader, into the actual images of the scene like in the "Pakikipagkapwa-tao" section:
Hella indigenous, which does not mean gone native. Kakayahan umunawa sa damdamin ng iba, for real.…like those syndicated, full-color photographs, of boys and men in LeBron James and Steph Curry jerseys, thinned flip-flops on their feet, one body together, shouldering a nation. One bamboo hut at a time. One set of lungs breathing. One heart. Isang mahal. Isang bagsak.
One love. (NOTE: most players in a barangay are barefoot—only the best players have flip-flops.) I find myself in these "full-color photographs," in how I remember my time in the Ilocandia provinces of Luzon on a Friday night waiting for the street vendors to fire up the grills, and everyone waiting in line to buy a load for their cell phones, watching whatever barangay basketball game is on the town square court. The scene is what is sent to me on WhatsApp from my cousins, nieces and nephews. You can Google what words are foreign to you—but you cannot translate the affection and love dripping from the pores of brown skin. Just see it and be in it, the poetry.
The second section, "Brown Girl Mixtape," marks different years with specific tracks of music. Reyes reaches back to 1971 ("You're The One," by Fanny—the all-girl band with Filipina guitarist June Millington) up to 2012 ("How to Destroy Angels," by Ice Age accompanied by a fixed piano koto-like synthesizer instrument). All of these tracks should be played while you are reading the corresponding poem at home—or in public. That synchronicity is the beauty of these parings of text and music. I particularly like the repeat button on my device for these moments. If I were to pick my favorite track from Reyes's selections, this boomer picks the track: "My Life," Mary J. Blige (1994). I remember that year very well, finishing my MFA program and wanting to get motherhood going. When I revealed I liked Mary J. Blige's new album to one of my Black university colleagues, she teased me and said, "Yeah, you're her cross-over audience!"
The refrain of this song is incessant. Over and over and over, the chords of F minor9 and D minor11 to the Db major 7th/Eb progression:
…if you looked in my life

And see what I've seen…




…if you looked in my life

And see what I've seen…




…if you looked in my life

And see what I've seen…




…Life can be only what you make it

When you're feelin' down

You should never fake it

Say what's on your mind…
The poem reflects on the doldrums of a young writer's life:
Back in the day, we burned white sage, we filled our small spaces with lavender and sunlight. We were such love thirsty brown girls, aching, unslaked. How do you fill a vessel of want.

Back in the day, always on the edges, looking into others' tidy white lives. When we subsisted on cheap tea and nicotine, when our belongings, mostly poem-filled notebooks, fit neat into milk crates.

Back in the day, we wished to be so beautiful in our darkness. We occupied nowhere, stared into spaces we didn't think we'd belong. We walked if we didn't have bus fare. If you look at our lives back in the day, you will see such sad girls, so much unmet grace.

("Track:" "My Life," Mary. J. Blige (1994)," page 30)
The poet remembers the longing and self-consciousness of wishing to be "beautiful in our darkness," but not yet owning the brownness. There is no Woolf-ian Room of One's Own when the collective "we" is "occupied nowhere." The demeanor of discouragement is an economic fact, "We walked if we didn't have bus fare." But the "unmet grace" is buttressed by the bridge of M. J Bliges's song. Reyes brings you to the dilemma, and beckons (with Blige's musical help) to make the leap—to own the brownness; write what's on your mind. You can't fake it. It's real. That's the "grace" of a poet.
The third section, "Letters to a Young Brown Girl," opens with a quote from poet Diane di Prima. I almost cried when I read this tribute, especially since we lost di Prima in 2020. I like the intersectionality of lineage:
…nothing to break or barter but my life / my spirit measured out, in bits…

—Diane di Prima, "Revolutionary Letter #1"
Reyes, like de Prima, chooses her battles wisely in "the war against the imagination." How does a writer recover from the addiction to whiteness or colorism? There comes a time when a poet must reckon with multiple forms of prejudice and the modes of transmission of racist ideas and behaviors. Some modes of racism are external, some internal. Much racism is institutionally systemic. Some is handed down in small micro doses, and some even from reactionary parents or family members in survival mode. This dilemma requires a deep examination of conscience, institutions, enclaves, customs, family pressure, the gaze of other people. The dilemma requires that the poet always be digging deep into the fissures of racism in America, working for justice and peace:
D

EAR

B

ROWN

G

IRL

,

Do you ever get sick of trying to be a miscast space filler in someone else's self-absorbed narrative, that has nothing to do with you. That whether you are in their room or not, it makes no difference to their outcome, though you add color and spice. Do you ever get so fed up, you just want to flip a table, or throw a chair, say this some bullshit, storm out of the room, and slam the door behind you.

A couple of things about that room. They don't want you in it. It's true. But it's also true that it's a pretty whack ass room.…

When they try to convince you that they are "not racist but," you can tell them to shut their dirty lying mouths. You can tell them where they can refill their own glasses. See their eyes well up, see how small they become. See them now, disrobed, see them whimper and mewl. You can tell them their fragility is coming unhemmed, peeking out from their yellowed drapes. Their fabric must have been cheaply manufactured. Gaze at them for a short while. You don't even have to say anything mean. Say nothing at all. Just gawk, and occasionally, smile.…


(from "Dear Brown Girl," page 56)
Reyes is a cultural worker in a never-ending mission to connect with women's lives as intersectional, demonstrating how race, ethnicity, class, religion, gender, and nationality are significant to the creation of art and literature. Three summers ago (2018) Reyes worked with curators (like P.J. Policarpio and Mark Meyer) who brought a one-of-a-kind, mobile, non-circulating, pop-up library known as the Pilipinx American Library (PAL) to the Asian Art Museum in San Francisco. PAL "celebrates and collects print histories and narratives by writers, pioets, artists, and scholars across the diaspora." PAL migrated from Queens, New York and has popped up in exhibits in Brooklyn, Washington, D.C. and Los Angeles. On opening night in San Francisco, I was invited to read with Reyes and poet Shirley Ancheta to kick off a full month-long schedule of literary symposiums, workshops, labs, films and art forums at the museum. The PAL space was dedicated to poet, activist and oral historian Al Robles (1930–2009). The opening was festive with wine tasting, grooving to music by DJ Jon Reyes, selfies, and videos, and a multi-generational audience of color, mingling in the art gallery and the PAL room filled with Pilipino American books of memoir, non-fiction, prose and poetry. Reyes commented in her blog the next day that these kinds of events, "reaffirmed for me why I do what I do."
The last epistolary poem in the book is what amounts to a listing of one hundred FAQs (frequently asked questions) from writers. But Reyes's response is not in one-to-one correspondence with the implied writerly questions.
I am not sorry if the things I am saying here are not the things you wished to hear.
You may unfriend me on social media; you may block me on social media, and I will be OK with this.
Maybe loób translates as "heart"; I think the heart is only part of that.
I don't think that we should stop making art from our loób.
Do you?
There are no short cuts. Writing goes beyond the comfort zone. I translate "loób" as the inner will, psychological and spiritual wholeness that comes from within; that which makes the heart beat. The work of the writer begins again and again.
You may ask, why should I read this book of poetry if I am white? Reyes raises this very question in her book. The answer, quite simply, is so you will know how the other half lives, so to speak. What you do with that reading is the challenge. If you are white and seeking absolution for the sins of white fragility—go in peace and here is your penance: Say three Hail Mary's and read Barbara Jane Reyes's new book. Ego te absolvo, for now. That's a start. You have opened the door to the poetry of possibilities and power of poets of color in the world. When Kamala Harris made her Vice Presidential acceptance speech she said, "I might be the first, but I certainly will not be the last."

Catalina Cariaga is a poet and the author of Cultural Evidence. She has an MFA from San Francisco State University; her work appeared in the recent issue of Tripwire #17, A Journal of Poetics. A Poetry Flash contributing editor, she lives in Oakland, California.
— posted SEPTEMBER 2021