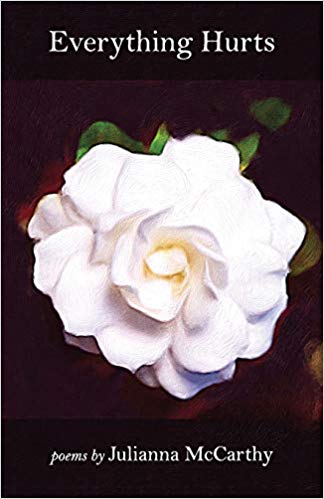 The Roles She's Played
by Peggy Dobreer
Everything Hurts, by Juliana McCarthy, Latitude 34 Press, Los Angeles, California, 2018, 28 pages, $10.00 paperback, available on Amazon.com.
Photoplay, by Juliana McCarthy, Finishing Line Press, Georgetown, Kentucky, 2009, 29 pages, $12.00 paperback, www.finishinglinepress.com.
JULIANA MCCARTHY (who once played the matriarch on an iconic soap opera and had a recurring role on Star Trek) is known for saying that her son, poet Brendan Constantine, mentored her into her autumnal poetry career. She began writing poems in his workshops and later followed his footsteps through an MFA in Poetry at the age of seventy-six.
Constantine gives similar homage to his parents, having been brought up in a home where poetry was part of the social and spiritual fabric of their daily lives. Both parents began acting careers on the stage and, in fact, met at a poetry reading. It is said that sonnets were rampant, along with rhyming bedtime lyrics and household favorites, so perhaps this family's trajectory was written in verse. Constantine (Letters to Guns, Birthday Girl with Possum, and Dementia, My Darling) and his sister Thea Constantine (whose first novel, Stumptown, was released in 2017) founded Latitude 34 Press to publish McCarthy's second book as their first project.
In reflection, McCarthy's first book, Photoplay, gives us a bull's-eye view into the 'Hollywood Industry' of the seventies, eighties, and perhaps further, as McCarthy was still working on small projects when the book came out. These stories are close-up, unsentimental, and filled with details the reader wants to dissect and savor. McCarthy says each one is true. Just as it happened. I believe her.
Having always been a bit suspect of Hollywood and television, what floored me about Photoplay is how unimpressed McCarthy was with it all. What grabbed me over and again, along with extraordinary realism and éclat, is McCarthy's unequivocal voice, and painstakingly unapologetic delivery, full of the veracity and velocity of intention I suspect is needed to make it on the set of a daily soap or TV series. McCarthy translates these tales from the world of scenes, takes, and dramatic sequence, into the verse, meter, and compression of poetic form with a deft, dry, and skilled sensibility:
FADE IN




Agent: You can't expect my client to be Garbo her

first time out!

Critic: Garbo was.

(from Photoplay)
If McCarthy's first book is business-at-hand, so-to-speak; lists of dos and don'ts, successes and pretenses, lies well-told, and marks verily-missed—her latest book, Everything Hurts, is as varied from it as the roles she has played.
I would say Everything Hurts revs up where Hollywood leaves off for McCarthy: in the body, the heart, below the storyline, in the human experience that gives it meaning. In scope and sequence the book addresses before, during and after. It is fully encompassing, so that the arc and interplay of these two books whirls the reader into a circular, web-like view of history reminiscent of the Eastern view of retro-causation, which Maxine Hong Kingston explores in her work.
In this second collection, we are invited to look both ahead and behind through the eye of the moment at hand, to revel and dervish in the threads of this double narrative, and to ultimately find oneself deep in the clarity and wisdom that comes from a life fearlessly explored and expressed in language that nips, bites, chews, and spits the reader out feeling more reverent, committed, and more informed about the nature of nature itself. It's messy and mercurial, but under Julianna McCarthy's pen it coalesces, becomes stabilizing and revelatory. Magic ensues.
Everything Hurts begins with an Ars Poetica that outlines a single childhood indiscretion that gave wheels to her writing. The poem ends with:
…leading to my missing my bus home,

leading to my mother having to come get me, leading

to my banishment to my bedroom where, limbs intact, I was free to write

all the filth I could imagine.

(from "Ars Poetica")
The book closes with an Ars Longa:
…Sperdudo

says only the future knows art. We'll see.

(from "Ars Longa")
…which I find on-the-money in keeping with McCarthy's longevity of creative spirit. It eliminates the original Latin's ominous end to the phrase, Vita Brevis. Fitting, yes.
In the pages between these two poems are memories crystallizing like ice on the surface of a lake that McCarthy pulls the reader into, before he/she can safely get away from the water and back to the status quo. These poems cause tears, laughter and squeaky epiphanies that somehow change us, make our lives seem less tragic than the current world crises would have us believe.
Julianna McCarthy's poetry leaves me craving more. I could not read one book without reflecting on the other—they are braided in spirit, though quite distinct in velocity and content. I must recommend ordering these gorgeous bijou volumes together, and settling in for some of the most efficient, surprising, and profound poems out there. The read will only take a short time, but the effect will invite frequent visitation to these succinct and luminous examples of poetic craft, for the pure enjoyment of great storytelling. Bravo. This is my standing ovation for Everything Hurts.

Peggy Dobreer's poetry collections are Drop and Dazzle and In the Lake of Your Bones. A former dancer and movement artist, she won the 2017 Downey Symphony Orchestra Poetry Matters Prize, and her poems have appeared in numerous journals and anthologies. She is also co-author of 64 Ways to Practice Nonviolence: A Curriculum and Resource Guide. She lives in Los Angeles. For more information see www.peggydobreer.com.
— posted August 2019