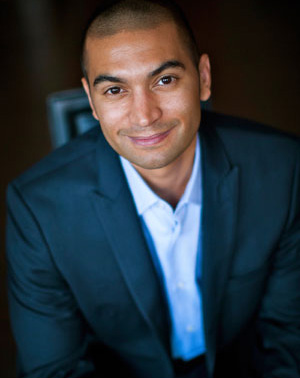 Complex Coding
A Conversation with Adrian Matejka
by Lee Rossi
AFRICAN-AMERICAN POET ADRIAN MATEJKA was born in Nuremberg, Germany, and raised in Indiana and California. The Devil's Garden, his first book, won the 2002 New York/New England Award from Alice James Books. His second, Mixology, was a winner of the 2008 National Poetry Series and a finalist for an NAACP Image Award. His most recent book, The Big Smoke, a series of poems about the black heavyweight champion, Jack Johnson, was a finalist for the National Book Award and the Pulitzer Prize. He teaches at the University of Indiana in Bloomington and is currently at work on a collection of poems as well as a graphic novel. His new book of poems, Map to the Stars, is forthcoming from Penguin Random House in April 2017.
Lee Rossi: I want to start by asking about difficulty in poetry. Reading your third book The Big Smoke, I was carried along by character and incident. The voices of the various characters, Jack Johnson, his shadow, his women, were clear and distinct. But my experience of your second book, Mixology, was totally different. It reminded me of the first time I tried to read "The Waste Land," when I was eighteen. In both cases I thought to myself, here's somebody making poetry out of something he knows vast amounts about and about which I know almost nothing. Except, instead of piecing together bits of mainly European literature, you splice and sample from rap, hip hop and jazz, in fact from the whole smorgasbord of contemporary media.
I have three questions: Who is your ideal reader for Mixology? Why did you decide to write it that way?
Adrian Matejka: First off, thanks for taking the time to read Mixology. I appreciate it! I'm glad that you mentioned Eliot because he was one of the first poets I actively read. "The Love Song of J. Alfred Prufrock" is still one of my favorite poems. "Do I dare/ Disturb the universe?" is a question every poet should ask before writing a poem.
"The Waste Land" is a different kind of machine, though, and I'm empathetic to the reading experience you describe. Mixology is an allusion-heavy collection, one that is situated in—but not limited to, I hope—hip hop and pop culture in the late 1980s through the late 1990s. I started writing the poems in 2005 out of frustration with the poetry I was reading at the time. A good deal of what I read in literary journals back then fit a particular rhetorical or intellectual script, and I wasn't its intended audience.
Which kept bringing me back to the same question: If American poets have permission—are encouraged, in fact—to write with the expectation that we'll know Auden or Eliot or Whitman, why can't I write with a similar expectation for my literary sphere? Why not write with the expectation that readers will know Etheridge Knight, Bob Kaufman, and Lucille Clifton? Or Fela Kuti, David Alfaro Siqueiros, and Rakim?
We know the answer to this question and it has to do with many different layers of cultural literacy and sometimes, indifference. I decided to try to write a kind of poem that had these expectations anyway, one that a person from my particular cultural and socioeconomic background would be the target audience for. Just as importantly, I wanted to write something that would entertain me.
It might have been a rhetorically-selfish approach, but I think I needed to be a selfish writer at that time. In fact, I wrote most of the poems in Mixology with the idea that no one other than my friends would ever read them. That narrow sense of audience and purpose allowed me to investigate some linguistic and cultural spaces I probably would not have explored if I was imagining a more general readership.
LR: There's a lot to talk about in Mixology, and we probably can't talk about it all, but I was especially puzzled by the elegies for black and mixed race artists and poets in the "Graveyard Attire" section of the book. Unlike more traditional elegies, these poems are not always celebratory or sorrowful so much as taunting.
Let me give you an example—"Beneath the Bass Line" is dedicated to Charles Mingus. Unlike Bill Matthews's powerful, commanding Mingus, however, you give us a braggart, who "watered up/ like a baby because the Man asked// you to play 'The Stars and Stripes/ Forever.'" Is your poem an answer to whites who sentimentalize a certain kind of black performer?
AM: That's a great question. In order to answer this, it's important to start by acknowledging that not all of the figures elegized in the section are minorities. My grandmother and Roy Buchanan, for example, are white. It's an important distinction because the agenda of "Graveyard Attire" isn't dictated by race as much as the idea-range of elegiac possibility.
What's happening in "Beneath the Bass Line" isn't taunting as much as it is taking a position in keeping with the longer tradition of elegiac writing. Elegy is ostensibly about the deceased, but it's truly more selfish than that. It's really about the writer and the audience. No one—not even the artist him- or herself—owns the posthumous conversation. When we memorialize, we memorialize through our interests and particular hang ups, and those hang ups lead us to see different nuances of the elegiac object. Variations on a theme, if you see what I mean.
A seminal artist like Mingus has many different angles, and they all depend on where the viewer/listener is coming from. There's the semi-benevolent "There's a lot of that going around" version of Mingus we encounter in William Matthews's "Mingus at the Showplace," for example. Or the twenty-three women in one night, womanizing version Mingus himself put out into the world in Beneath The Underdog. Or the one in my poem who tries to pass for Mexican when it suits him and is brought to tears by the honor of being invited to play the "Star Spangled Banner."
The version I put forward of Mingus is based on his autobiography, which means it may or may not be plausible. But we all have our own constructed versions of these heroes because we only acknowledge bits of their story at any given time. We create our truths according to what we need.
LR: One of the sections in your poem "Ode to Fela" is entitled "Fela's Guitar Player Acknowledges the Alpha Male." I think all artists undergo some sort of apprenticeship. I could name two or three poets who I've studied with or learned from, whose work thrills me and frightens me because I'm afraid I will never write anything as good. Who is your Fela, your Alpha Male poet?
AM: I like that. Alpha Male poet. Definitely, Yusef Komunyakaa. He was a teacher of mine and one of the primary reasons I started writing poetry instead of rap verses. Rodney Jones is another. Most of what I pretend to know poetically can be traced back to him. Cornelius Eady, Richard Cecil, Tim Seibles. Does an Alpha Male have to be male? There are quite a few women poets who fit this conversation for me—Toi Derricotte, Allison Joseph, Nikky Finney, Allison Hedge Coke, Marilyn Nelson, Melba Joyce Boyd, and Lucia Perillo, just to namedrop a few.
LR: On the evidence of your poems, you've experienced a lot of pain, not to mention discrimination and hatred, because of your mixed heritage. Are you primarily interested in race as a social construction, as a biological fact or as a confusion of the two?
AM: I'm coming from the angle that race is a social construct, but it is a central one in our relationships with each other. I know this intimately because every time the out-of-favor race changes, I get transmogrified into that new, unfavorable race. In the 1970s, I was recognized as black. Once the conflicts with Iran became part of American discourse in the late 1970s, I was coded as Iranian, even though I had a huge afro and a black father. There was a while in the 1980s when xenophobes thought I was Mexican. After 9/11, I was magically from the Middle East again and got pulled out of the security line at the airport on every trip. I think my coding has swung back to black now, but who can keep up?
What I'm saying is, unlike biology or astronomy or chemistry, race begins with visual coding. So it is always going to be informed by personal and social pressures and will remain aggressively flawed. Of course, the person being coded is going to take the weight of it, and that makes it even more complicated because the coding becomes overtly about power dynamics then.
LR: Jack Johnson sets the template for a lot of later black celebrities. He was a man of great accomplishment and taste, not just a great fighter but clever and well spoken, a lover of opera, fluent in Italian. He is in many ways an admirable figure. Yet he was also arrogant and cruel, especially to the women in his life, not unlike Ray Rice and Adrian Peterson. He flouted not only the conventions of white society but of social convention per se. I'd characterize him as a man whose only moral compass is his own whim. Is that how you see him?
AM: Well, Johnson definitely went after the things he wanted in a way no African American up to that point had attempted. His parents were slaves, but he managed to become one of the most famous people in the world. That said I'm not sure he's a template, even if we can see many correlations in retrospect. Up until the 1960s, Johnson was a mostly forgotten and generally reviled figure, even in his own family. One of his great nieces in an interview once confessed that she didn't even know she was related to Johnson until high school. He was a kind of family secret. It was only after boxing fans and historians began to reconsider what Jack Johnson accomplished and endured in the context of his time that his legacy has been revisited.
Johnson is a lot like Muhammad Ali in that way. Today, Ali gets a great deal of praise (justifiably) for his resistance to the Vietnam War and for his outspoken beliefs. But at the time, he was branded a traitor to the United States for refusing to enlist. It didn't matter that Ali was drafted when he was eight years older than the average draft age or that no other professional athletes of his stature were drafted. The whole thing was political, much like Johnson's Mann Act conviction in 1913.
I also think it is a difficult proposition to take a historical figure out of his or her time for social comparison. There is no question that the violent actions of Ray Rice, Adrian Peterson, and Jack Johnson are reprehensible. The difference—and it's about American history, but important to this question—is Jack Johnson existed in a time when domestic violence wasn't necessarily considered violence in the eyes of the law. The term "domestic violence" as we know it wasn't even in the public discourse. So rather than going directly against social conventions like Ray Rice, Johnson was acting in keeping with some of the unsavory conventions of his time.
I'm not suggesting in any way that Johnson's behavior was acceptable. Just because there wasn't a legal penalty attached to domestic violence back then doesn't make it any less heinous. What I'm saying is there was a lot of knuckle dragging going on at the turn of the century, and Johnson was a part of that pervasive masculine misbehavior, rather than some kind of anathema.
To take it even further, one of the primary reasons anyone took notice of Johnson's violence toward his wife and mistresses was because his wife and mistresses were white. Had they been African American, no one would have paid attention. I still have a hard time getting my head around that. The various inequities that permitted this kind of behavior from men during Johnson's time—and in ours—should be a much more significant part of the discussion than they have been up to this point.
LR: You write in your first book, The Devil's Garden, that: "I once believed nothing/ was more singular/ for a human than to turn/ belly twists into song./ …I have/ to revise: man's invention/ is romance and without that,/ he has jack." On the surface that seems to suggest that a life lived solely in service to art leads inevitably to disappointment, that in addition to loving art, one must also love something else. What do you want to tell us about the relationship of art and life?
AM: Man, I was much more imaginative about things back then. I loved the idea of being in service to art and to romance and to everything else. But what I've come to realize is art and life—as in "paying the mortgage, walking the dog, going to the grocery 'life'"—don't like each other at all. In fact, each is competing for our attention all of the time.
The best artists cut things right down the middle, and so they find Walt Whitman in the produce aisle, like Allen Ginsberg, or the beauty of slicing onions like William Matthews, or the profound loss of boys skipping school to play pool, like Gwendolyn Brooks. The best of us find a way to make our pieces of life into art somehow.
LR: The three women in The Big Smoke are presented very differently: Belle in excerpts from a prose deposition; Hattie in prose letters; and Etta, the love of his life, in curtailed or truncated sonnets. Can you talk about why you present them so differently?
AM: One of the things that hung me up while I was doing the research for The Big Smoke was the gender construction of the documents. The way the women who were part of Johnson's life are treated like ornaments. Even though Belle, Etta, and Hattie had their own gorgeous and surprising lives, we only know them historically because of their connection to Jack Johnson. That kind of patriarchal reconstruction of history is nothing new; I just hadn't thought about my relationship or complicity with it before this project.
When I decided to get into the ethically complicated territory of writing in the voices of these three women, I wanted each of them to have a personal universe inside the book. I used the broken sonnet, epistolary, and interview forms to try to give them a more robust uniqueness and ownership of their respective narratives.
The choices of form were also dictated in part by the textual archives of the women. Because Belle was the primary witness in the government's Mann Act case against Johnson, there was a huge textual archive available—including the testimony from the trial itself. Hattie and Etta had substantially thinner textual records. In fact, the only text I could find from Etta was a letter written to her parents. So the formal choices were also based on the available historical material.
LR: Let's return to Mixology for a moment since it bears on the issue of celebrity. You have a poem about an encounter you had with Spike Lee called, ironically, "Do the Right Thing." One thing I especially like about it, besides the fact that your Spike Lee seems incapable of doing the right thing, is the note of disappointment and resignation with which it ends. "Spike's shamed scribble/ on my t-shirt didn't change the missed/ free throw feeling in my chest." There's a moral weight here that's missing in most rap, and in celebrity culture generally. Is that the thing that distinguishes rap from poetry?
AM: Thanks for the kind words about the poem. The ending of that poem is about as emotionally honest as I got in Mixology, and maybe that honesty is where some of that weight you mention came from.
Honestly, I'm not sure morality is all that common in contemporary poetry. I'm thinking of morality here as some kind of overt pronunciation of right and wrong. As an art, poetry has gone pretty far from the kind of demonstrative work Adrienne Rich, Muriel Rukeyser, or the Black Arts poets were doing. Morality seems to be out of fashion somehow.
At the same time, there are many contemporary emcees who interrogate morality in rap—Kendrick Lamar, Mos Def, or The Roots, for example. They follow in the footsteps of Public Enemy, A Tribe Called Quest, KRS One—conscious, thoughtful rappers who imagine emceeing to be an opportunity for protest and critique.
So I would say morality isn't the primary difference between rap and poetry. I think it has more to do with the shape and occasion of the respective text. Adam Bradley's insightful Book of Rhymes is an interrogation of rap through the lens of poetry, and he addresses some of the similarities and differences in detail in his book. He also said—and I'm summarizing—that all rappers are poets. It's just that many rappers are bad poets.
LR: Let's slide on over for a few formal considerations. The importance of music is a theme that runs through all three of your books, from "Coltrane's squealing right before I was born" in The Devil's Garden to Jack Johnson's fascination with Il Trovatore in The Big Smoke. Can you tell us about the relationship of the two arts—the ways in which poetry incorporates, extends or undercuts music—and the importance of music to YOUR art.
AM: I think all good poetry has some kind of fascination with music. So much of what we do with language is an attempt at creating recognizable music through the patterns and sounds inside of words. I started out as a musician (a terrible one, but still) and moved to poetry afterward. I can't write unless I'm listening to music, and I hear music in my head when I'm reading. The two art forms are intertwined for me.
There's a symbiotic relationship between the act of writing and the act of hearing in my poems. Sometimes—"Language Mixology" in Mixology or "Vedi! Le fosche notturne" in The Big Smoke, for example—there's an overt imitations of the rhythms and cadences of the source music. But mainly, music serves an atmosphere for the poems. Everything inside of the poem has a soundtrack.
LR: You make frequent reference in your poems to rap artists and songs, but besides providing grist for your mill, what do you see as the take away from rap for a serious poet, what has rap bequeathed to you, what have you learned from it that you couldn't find elsewhere?
AM: Rap is the most pervasive form of poetry out there. At any given moment, more people are experiencing rhyme, metaphor, allusion, simile, anaphora and the rest via Ghostface Killah or Jean Grae than all of the poets in the U.S. combined. There is a great deal poets can learn from emcees about the elasticity of language, wordplay, and presentation.
On the flip side, there is quite a bit emcees can learn about nuance, form, and rhetoric from poets, and some emcees are aware of that. Tupac used to write poetry in addition to his lyrics. Jay Z said he wanted to be "the best poet on the block." Kendrick Lamar said, "I write poems in these songs" as part of his song "Poetic Justice." Nas said, "Poetry, that's a part of me." I could go on, but my point is there is an awareness among emcees that rap is part of the longer oral tradition of poetry.
Of course, rap is significantly more lucrative and less inhibited by occasion than poetry. A DJ playing Wallace Stevens at a party probably won't bring people to the dance floor, but any track off of ScHoolboy Q's Oxymoron will get things moving, if you see what I mean. The musical accompaniment, the codependence of language and music—the dual rhythmic relationship as Adam Bradley names it—allows rap to exist in different contexts than poetry is able to right now. It has a broad set of occasions while poetry's occasions are more constrained.
LR: Mixology more than your other books espouses what I'd call a maximalist aesthetic: ideas / themes / motifs are repeated and reframed until every ounce of nuance has been wrung from them: "the grackles are posse-d up. They toupee rooftops and wires. They ornament trees and anything else with room and resilience for beak and claw. Anything that doesn't move too much." Did you borrow this technique from music, is it some sort of tribute to the blues?
AM: I'm just going to put this out there: I'm not a big fan of repetition in the tradition of villanelles or pantoums. As a reader, yes! But as a writer, I'm horrible with refrain. Fortunately, there are other angles of repetition we can use to get at rhythmic possibility.
While I was writing Mixology, I got caught up in the idea of recycling and repurposing—images, words, allusions. Most contemporary music—most contemporary culture, really—recycles ideas from other parts of culture. It's still repetition, but the shape of the thing changes slightly every time it appears. Beck's seminal album Odelay mashes up and repurposes musical genre in this way. Akira Kurosawa's Rashomon presents this perceptual repetition in a different context, but with similar success. The trick is finding a way to make that repetition or repurposing interesting for the reader, viewer, or listener.
It's interesting that you picked "Flight Reflex" as an example of this. It's one of the most stylistically overt poems in the book, mainly because its source text—Pound's Canto II—is familiar to contemporary American poets. The poem turns these images of grackles over in various ways as you've described, but the images themselves are turning over the gull imagery in Pound's poem. Repetition on top of allusion on top or repetition. All of the poems in the "Lip Syncing in Texas" section riff on The Cantos in one way or another.
LR: Another interesting stylistic feature of Mixology is the way it samples other work and creates verbal collages. "Wheels of Steel," for instance, features quotes from five different songs, five different artists; where did you learn to sample; a lot of us learned sampling from Eliot and Pound, how about you; you're the deejay, is there a metaphysical or epistemological point to be made?
AM: I actually used to be a DJ, so I learned to sample music before I wrote poetry or thought about using allusions or metaphors in a sample-like fashion. So in some ways, "Wheels of Steel" is an ars poetica, or at least it's the closest I've gotten to writing one. DJ's are aural collagists, and I think that aspect of piecing images, ideas, or sounds together runs through all three of my books in different ways. I think it's both an aesthetic value and a part of process.
LR: The Big Smoke has a colloquial, conversational style. Do you feel it's any less "poetic" than your earlier work? Here's an example of Jack's direct and humorous style (from the poem "Hurt Business"): "Thirteen & I was already strong/ enough to toss a cotton bale out// of the way like it was a bad idea."
AM: The question of linguistic register has been raised about this book before, but the question suggests that there is only one narrative style in the collection, and that's not altogether accurate. Etta's poems are lyrically dense and "poetic" in the traditional poetry sense. They're all broken sonnets. The Shadow uses a completely different linguistic register and rhetoric than the other voices in the book. Each speaker fulfills a different narrative obligation which required different types of language and approach.
If we're just talking about the poems in Jack Johnson's voice, the style is a function of the research. While I was researching, I encountered three distinct voices for Jack Johnson. There are these "autobiographies" that were ghostwritten in French then translated into English. He sounds like a Classics professor in them. Then there are newspaper interviews in which his voice is rendered more directly. In those, he is elegant with language and a little bit fantastic—like a great storyteller embellishing to make a better story. Finally, there were these newspaper "interviews' in which his language is reduced to a kind of minstrel dialogue. There was some linguistic truth in both of the first two source texts, so I tried to negotiate the voice through those two lenses.
After spending those years in Johnson's archives and biography, it was clear restraint (with language, not storytelling) was going to be a big part of things. Any other kind of language seemed disingenuous. When more lyric language would show up in one of Johnson's monologues, it read unnaturally. It read like I was grandstanding and getting in the way of the material.
That was one of the biggest challenges for me—to stay out of the way of Jack Johnson's voice. I don't know if degree of difficulty is in any way connected to how "poetic" something reads, but writing these poems was more difficult in almost every way than anything I attempted to write previously.
LR: Now we come to the celebrity poet portion of the interview. How has your life changed since the nominations for the National Book Award and the Pulitzer? Does Spike answer your phone calls now?
AM: Seeing "celebrity" and "poet" next to each other just cracked me up! The attention The Big Smoke has gotten has been amazing and in many ways overwhelming. I'm grateful for it, and I think it speaks to the complexity of Jack Johnson's story. These accolades really belong to him rather than to me.
I don't know that things have changed all that much. I have been doing more readings and talks, but mostly I'm the same nobody I was before the book came out. Which is probably best for my writing anyway, since I often write from an aggrieved position.
LR: Tell us what you're working on? Is it a mixed bag (like The Devil's Garden) or a narratively or thematically unified whole?
AM: I'm finishing up a book of poems in which almost all of the poems are connected to radio astronomy in some way. The project has required some significant research, but nothing as deep as the work I did for The Big Smoke.
The challenge has been breaking out of the mode of book-length narrative. I keep trying to find some kind of larger structure for these new poems. It's the hangover from spending so many years trying to shape of the various narrative arcs in The Big Smoke.
LR: Your website says you're also working on a graphic novel. What's it about? Does it extend the concerns of your earlier work or head off in new directions?
AM: I'm working on two graphic projects—one that finishes Jack Johnson's story and another that is about hip hop culture in Indianapolis back in the 1980s. I'm still navigating the themes I've always been curious about—race, music, economics, history, masculinity. The big thing is that I'm operating in an entirely different genre than I've ever worked in.
It has been a real pleasure working on these graphics, even though the shift in medium has been tough. I draw like a third grader, and I've had to approximate the illustrations in order to script the text. The conversations between text and image have caused me to rethink the way narrative in poetry works, too. What actually constitutes the moment of the poem? What is necessary imagistically, and what can be implied to reify the narrative?
I guess I've been thinking about these things all along, but having actual images at play (as opposed to images made of words) has pushed me to look at writing from a different slant. So these new projects are a boon, both because I get to nourish my inner comic book geek and because the projects are pushing me into different poetic sensibilities.
LR: Thanks so much for the opportunity to chat with you. I know that the readers of Poetry Flash will find your comments about poetry and race especially illuminating. I hope more of them will read your books and discover for themselves how they navigate some of America's most difficult cultural terrain. I suspect that, like myself, they will take inspiration from your work.

Lee Rossi's most recent poetry book is Wheelchair Samurai. Among his previous collections is Ghost Diary. A staff reviewer and interviewer for the online magazine Pedestal, his poetry, reviews, and interviews have appeared in Poetry Flash, The Beloit Poetry Journal, Poetry East, Chelsea, and elsewhere. A member of the Northern California Book Reviewers, he lives in San Carlos, California.
Photo by Taylor Cincotta.

— posted July 2016