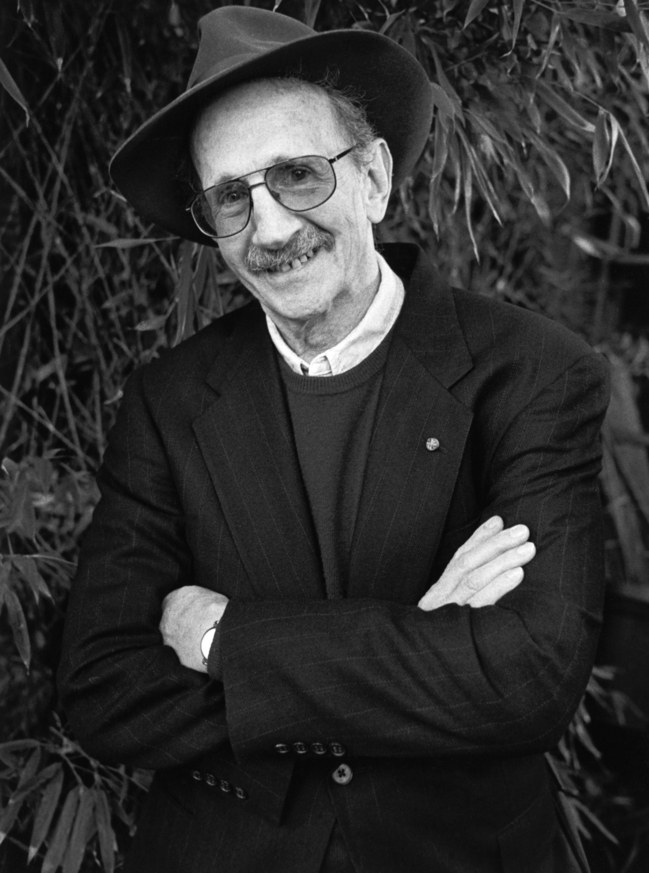 Philip Levine: "I am a Poet of Memory…"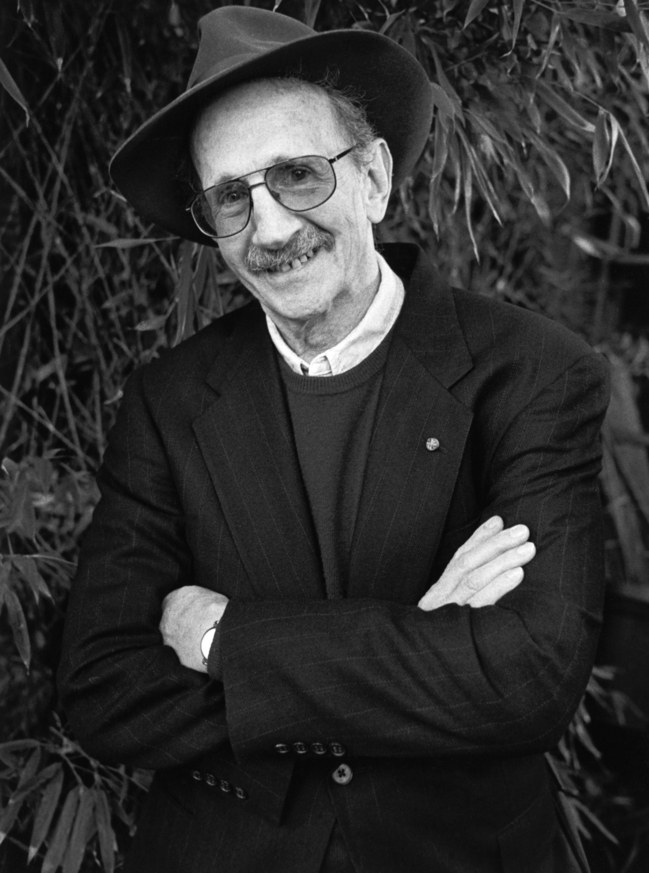 Photo by Christopher Felver.
by Mari L'Esperance
…I am a poet of memory…I once thought of myself as the poet who would save the ordinary from oblivion. Now I think poetry will save nothing from oblivion, but I keep writing about the ordinary because for me it's the home of the extraordinary, the only home.

—Philip Levine, from a 2001 interview with Edward Hirsch at the Academy of American Poets
MUCH HAS ALREADY BEEN written about Philip Levine, a major American poet from Detroit and beloved teacher who published nearly twenty collections of poetry, alongside volumes of essays and translation (his posthumous works are The Last Shift, poems, and My Lost Poets: A Life in Poetry, essays, both from Knopf). Perhaps best known as a poet of elegy who wrote about the lives of working-class people, Levine taught at Fresno State University in California's Central Valley for more than thirty years—then, following his retirement in 1992, at Tufts, New York University, Brown, Houston, and elsewhere as a visiting poet. He taught and mentored countless poets over the decades, many of them outside the classroom, through friendship and correspondence. Awarded the Pulitzer Prize in 1995 for The Simple Truth, the National Book Award for Poetry (twice), and the Ruth Lilly Poetry Prize, among other honors, Levine was appointed United States Poet Laureate for the year 2011-2012. Born January 10, 1928, he died at his home in Fresno on Valentine's Day of 2015 at the age of eighty-seven, of pancreatic cancer.
***
PHIL WAS MY poetry teacher at NYU in the fall of 1995, and I still think of him nearly every day. I have been fortunate to study with some wonderful poets, but Phil was especially significant to me. As with many important things in life, timing had much to do with it. Phil arrived in my life at a crucial juncture: the prior semester my mother had gone missing (an unresolved disappearance) half a world away, and I was reeling from this sudden loss, and feeling unmoored. Signing up for Phil's class, then, turned out to be one of the best decisions of my life. His toughness (that masked tenderness), humor, directness, and warm presence provided essential grounding and meaning for me at a particularly difficult time. As a teacher and a human being, Phil left a lasting mark, one that came to matter to me even more in the ensuing years, although we would not see one another again for sixteen years (when he came to a reading I gave, with other poets, at Fresno State in 2011).
My earliest poems were a way of talking to somebody. I suppose to myself.

—Phil Levine, from a 1988 interview with Mona Simpson in The Paris Review.
I first encountered Phil's poems in anthologies in the years before I went off to graduate school (along with work by poets such as Galway Kinnell, Sharon Olds—both of whom would later become my teachers—Charles Wright, and Stanley Kunitz) and they immediately felt like worlds I could enter, via images and feeling, opening doors onto forgotten parts of myself. Phil's poems in particular gave back to me my father's working-class New England childhood during the Great Depression—the deprivation, industrial bleakness, and the pervading sense that another kind of life seemed remote and unattainable.
Phil was a tremendous storyteller, in his poems and in person, and he was no different in the classroom. Looking back on my brief time as his student, I often think I benefitted more from his stories than I did from any specific feedback I received from him about my poems. As his students we were all becoming poets via osmosis, and I eagerly took in and absorbed the poetry lore Phil shared with us. Workshop with Phil was not about who was cleverest or most technically brilliant—in fact, such displays were almost immediately shot down. In his essay for Coming Close: Forty Essays on Philip Levine (Prairie Lights Books, 2013), which I co-edited with poet Tomás Q. Morín, Mark Levine recalled his experience in Phil's class at Brown in 1985:
Did some students find him cruel? Perhaps. His commitment was ferocious. He read aloud a poem by one of the literary stars of the campus. In Levine's voice, the poem, full of wordplay, ironic jabs, and references to literary theory, sounded spectacular. "Our friend Mr. D. has a flair for language," Levine said. "He's written something very smart, very knowing. It's charismatic and very appealing. It takes pains to show what a wit the poet is. And if he continues this way, there's a good chance Mr. D. will never write a poem."
Not long after I graduated from NYU I heard Phil say in a radio interview that in a poetry workshop there are a dozen people in a room and one of them is getting paid to tell the truth. Phil's "truth" didn't land well with everyone, but to me it was gold. In Michael Collier's essay for Coming Close, he recalled Phil (who had come to the Bread Loaf Writers' Conference to teach in 1986) giving a lecture in which he told the audience how his working class students at his alma mater Wayne State in Detroit differed from his students at Princeton. While his Princeton students were prone to becoming "emotionally undone" when Phil critiqued their poems, Phil said his Wayne State students were more likely to come back with "Fuck you, Levine!" According to Collier, the story "offered a parable about the importance of character and temperament."
Many of Phil's former students and mentees have shared how much Phil's genuine caring meant, and means, to them. The late Larry Levis, whose posthumous collection Elegy Phil edited in 1996, had this to say about his great friend and early teacher:
Why in the world did he care so much about what we did? Because we mattered so much to him, we began to matter to ourselves. And to matter in this way, to feel that what one did and how one wrote actually might make a difference, was a crucial gift Levine gave to each of us.

(from Larry Levis's essay "Philip Levine," reproduced by permission in Coming Close)
***
PHIL'S LETTERS TO ME DATE from 1996 to 2013, and then switch to email. Re-reading them for this essay, I was reminded how incredibly funny he was and laughed aloud at each anecdote, several of which I still recount for others. I was reminded, too, how much poetry, the poetry workshop, and the poetry world—not to mention the world at large—have changed since I was Phil's student, and I don't need to list the ways here. Of course poetic trends come and go. But I do wonder about the future of poetry in an ever more unsettled, fractious, and distracted world. If he were still with us I doubt Phil would have let such concerns interfere with the work of putting down words, and as regularly as possible. "If it's bad, no harm done—just throw it away!" I can hear him say in that unmistakable voice that was half lilt, half laugh, casually waving his hand in the air.
Despite early losses (his father died when he was five), Phil's was mostly a good life—a long, rich, and fully lived life. Up until cancer caught up with him, he was writing and publishing new poems, giving readings and talks, recording poems to jazz accompaniment, traveling with his wife Franny. Phil and Franny (who, in essential ways, made possible Phil's life in poetry) nourished and supported legions of poets, helped us to feel that we (and what we make) deserve to be in the world. These are lasting gifts that we carry and continue to pay forward, each in our own way. Jane Mead summed it up well in her introduction to Coming Close:
Had Phil had other talents or settled into other jobs, surely he would have touched lives. It is our good fortune, however, that he came to poetry and to teaching—and in so doing touched so many lives. Thank you, Phil, from us all.

Mari L'Esperance was born in Kobe, Japan to a Japanese mother and a French Canadian-American father. With poet Tomás Q. Morín, she co-edited Coming Close: Forty Essays on Philip Levine (Prairie Lights Books/University of Iowa Press, 2013). Her full-length poetry collection The Darkened Temple (University of Nebraska Press, 2008) was awarded a Prairie Schooner Book Prize. An earlier collection, Begin Here, was awarded a Sarasota Poetry Theatre Press Chapbook Prize. She lives in the San Francisco Bay Area.

Links to further tributes to Philip Levine can be found here: fresnostatemfa.wordpress.com/phil-levine-tributes.
— posted August 2019