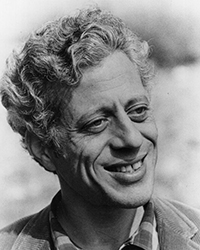 Bert Meyers (1928-1979): An Archival Memory
by Marianne Goldsmith
On February 20, 1975, the poet Bert Meyers gave a reading at San Francisco State University. I remember the reading, because I helped make it happen. I was a graduate student at the time, slogging through my first novel. When I spotted posters for the Poetry Center series, I decided Bert deserved to be on the list. We corresponded, working on his application together. The invitation arrived, and I was overjoyed that Bert brought his whole family along for the event.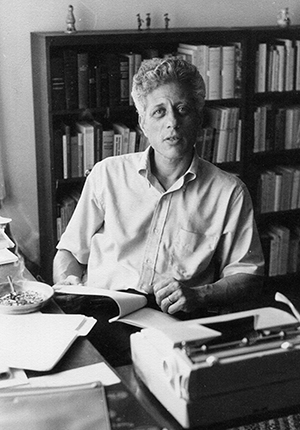 Bert had been my academic advisor at Pitzer College (near Los Angeles). I never had the chance to take a class with him, but I did go to many wonderful readings he organized on campus. I heard him read, along with his contemporaries, mostly poets published in George Hitchcock's kayak magazine. Hearing poetry live was new to me. The work was exhilarating—wild, satirical, discordant. Somewhere between California, France and Massachusetts, it occurred to me that poetry was a necessity for creative life. I still go to readings, when I can snag a fellow addict to come along. My library is always within reach. I have my favorite volumes, among them, a slightly worn paperback of Bert Meyer's Sunlight on the Wall, published in 1976 by Kayak in Santa Cruz, with surreal collages by John Digby. Most of the poems are slender and compact, encompassing daily breath and forceful metaphor. And several were part of Bert's San Francisco State reading, which I have reconstructed, thanks to a videotape recording preserved by the Poetry Center Digital Archive at the Poetry Center, San Francisco State University: diva.sfsu.edu/collections/poetrycenter.
The tape begins with introductions by Kathleen Fraser, who was Poetry Center Director at the time:
"Bert Meyers will read. Bert teaches usually at Pitzer College. He's taking a semester off, sabbatical, and living up in the Santa Cruz Mountains with his family. His wife (Odette) is teaching at UC Santa Cruz right now.…You can read a selection of his new poems in a recent issue of APR (The American Poetry Review). Also he has translated, along with his wife, the poems of Francois Dodat in a collection called Lord of the Village."
Because the tape is damaged, the focus, color values and sound quality are unbalanced, with frames vibrating and crackling at times. Yet even through this blurred mirror, Bert Meyers has a careful, distinctive presence, wearing an open collar blue shirt and grey sport coat, his heavy-lidded, deep-set grey eyes gazing out at the invisible audience. As a viewer, my initial response to the tape is bittersweet, for now I have surpassed Bert in age. I recognize the silver cloud of hair, his narrow, sensitive face, high cheekbones, the heavy-lidded, deep-set grey eyes—self-described "melancholy eyes." His poetry is lyrical, imagist, modernist. He goes after the essence of what stirs the heart, pricks the spleen. He reads, in his low, melodious voice, slowly, calmly:
Stars climb girders of light.

They arrange themselves

in the usual place,

they quit before dawn,

and nothing's been done.




Then men come out.

Their helmets fill the sky;

their cities rise and fall

and men descend,

proud carpenters of dew.




Man brief as the storm,

more than five feet of lightning,

twisted and beautiful.

Man made like his roads,

with somewhere to go.




("Stars Climb Girders of Light," In a Dybbuk's Raincoat: Collected Poems, Bert Meyers, University of New Mexico Press, 2007)
At Pitzer, Bert found it amusing that I called him "Mr. Meyers," a habit I dropped by my senior year. He was so informal that, when he ran out of office hours, he invited me to his home to discuss my plans. There, I was welcomed by his wife, Odette, a writer with whom I was to form a strong friendship. I met the Meyers children, Daniel, and Anat, who were always included at the table, where, after my course list was approved, everyone sat around, talking literature and politics. Bert could be sly, affectionate, blunt, and mischievous, tossing a question or an idea into the air for anyone to grab. Only later did I learn he was a newcomer to academia; he seemed such a natural teacher.
On tape, Bert introduces his next piece:
"This poem is about being evicted…and having to move to a neighborhood where people hung out the American flag every day, including Easter…," laughter from the audience, he glances up, grinning, "where someone called me a dirty communist schoolteacher and put a rifle in my face, telling me that I should get off the block.…"

Where could he go

from a house hidden by trees,

whose days were pebbles

in a stream of birds…




To a neighborhood

of crypts with windows,

high-rise transistors,

cars brighter than people…




He stood in the yard.

A rose opened its wound,

a spider repaired its net,

an old leaf touched him

like his father's hand…




(from "Eviction," In a Dybbuk's Raincoat: Collected Poems, Bert Meyers, University of New Mexico Press, 2007)
Bert's dark side is engraved in many of his poems. Caustic, cynical—he refers to Los Angeles as "the world's largest ash-tray." He was bitter about the times; he grieved the war in Vietnam. He attacked the banality of modern life, under the sun's "aluminum glare." He cherished his family, and delighted in playfully transforming objects into metaphors of the everyday. His landscapes are animated by an inner tension between cycles of the natural world and struggles of the heart, emerging from despair to wonderment.
Three years after the reading, Bert Meyers died. I was living in Boston, and had been sending copies of short stories to him and his wife. Soon afterward, I moved back to San Francisco. Through a friend, I was able to reconnect with Odette and the children, who had relocated to Berkeley.
I remember, more than once, Bert asking me in amazement: "Are you sure you want to be a writer?" He could never quite figure out what I was up to. I was excruciatingly self-conscious about sharing my work, so he didn't have much to go on. He could be a wicked tease. I defied his assumptions—mainly that Jews and writers don't come from Waco, Texas. If I had known then that he was a high school drop out, I would have given him plenty of trouble in return.
It took over thirty years for a complete collection of Bert Meyer's work to be published. In a Dybbuk's Raincoat includes the poetry mentioned here, as well as other work that exhibits the full scope of Bert's spare, modernist verse and selections from his prose on poetry. Edited by the late Santa Cruz poet Morton Marcus and Bert Meyer's son Daniel Meyers, the substantial volume carries an introduction by Denise Levertov and articles on Bert Meyers and his poetry by Garrett Hongo and Jack Miles. These collected poems form a dense, delicate web, woven by one enamored and exasperated by life in the twentieth century, by one who cherishes the simplicity and elegance of nature, while mourning and satirizing what Grace Paley termed "the little disturbances of man" (in her short story collection by the same name). Here's what Bert once wrote:
"…I'd say poetry's the right combination of music, rhythm, beauty, ambiguity and truth in words; and that great poetry is something people can read or listen to for hundreds of years, because it tells them how it feels to be alive in a way they never grow tired of."
The video I'm watching concludes with Bert reading "And Still," a poem that lifts the spirit away from crass, maniacal routines of survival:
Mozart arrives

in an ice-cream truck

a long war ends

I feel like a streetlight

tall and radiant

my face was made

to shine among the others




(from "And Still," In a Dybbuk's Raincoat: Collected Poems, Bert Meyers, University of New Mexico Press, 2007)
Bert nods, smiles, as the audience applauds. I watch him collect his books and papers, turn, and walk out of the frame.

Marianne Goldsmith's work is included in the new anthology, Times They Were A-Changing: Women Remember the '60s & '70s, (She Writes Press, 2013). Her work has appeared in The San Francisco Bay Guardian, The Jewish Bulletin, Persimmontree Magazine, and The Jewish Writing Project. She lives in Oakland, California.
The Meyers Estate is in the process of donating the Bert and Odette Meyers papers to UCLA Library Special Collections: www.library.ucla.edu/specialcollections/researchlibrary/charles-e-young-research-library-department-special-collections.
— posted June 2013
---
Bert Meyers
Gently, Gently
We, too, began with joy.
Then, sickness came;
then, poverty.
We were poor, so poor,
our children were our only friends.
Gently, gently,
through anger and pain,
love justified itself,
like the nails in the house
during a storm.
Somehow, we created hope,
reliable drum
in the shadow's wrist;
a tuning fork
on the sidewalk of dreams.
At night, I was the one
who became a cello,
strung with all our roads,
where memory hums
to itself like a tire.
And you, mad as a clarinet
where the street divides;
a city of raindrops in a bush;
the slow honey that drips
from the sky's old ladle…
the reason I'm frightened of death.
I swear by the wings
love spreads at my waist,
that I'll carry your tune
until my tired strings break.
Pencil Sharpener
It has no arms or legs, this tiny nude; yet grip
it by the waist, then stir its hips: a dry leaf multiplies,
a cold motor starts in the wood.
Revived, still shivering, the pencil sheds itself—
and there's a butterfly, teeth, the fragments of a
crown.
Sunflowers
No one spoke to the sunflowers,
those antique microphones
in the vacant lot.
So, they hung their heads
and, slowly, fell apart.
To My Enemies
I'm still here, in a skin
thinner than a dybbuk's raincoat;
strange as the birds who scrounge,
those stubborn pumps
that bring up nothing…
Maddened by you
for whom the cash register,
with its clerical bells,
is a national church;
you, whose instant smile
cracks the earth at my feet…
May your wife go to paradise
with the garbage man,
your prick hang like a shoelace,
your balls become raisins,
hair grow on the whites of your eyes
and your eyelashes turn
into lawn mowers
that cut from nine to five…
Man is a skin disease
that covers the earth.
The stars are antibodies
approaching, your president
is a tsetse-fly…
The Gilder
The Shop, weakened by dust, was closing its eyes.
The saw stopped like an ambulance. A breeze made of
turpentine still hung around his hands.
Outside, the walls in the alley were gold leaf
fluttering on their frames; clouds, retired housepainters,
relaxed in the sky.
A little cello began to throb in his throat.
Suddenly, he saw the sun overturn like a truckload
of oranges at the end of a street—its light scatter and
roll through the windows on a hill.
What's that got to do with Wittgenstein, or how we
live? voices shouted in his head.
Nothing…nothing at all.
Poems from In a Dybbuk's Raincoat: Collected Poems, Bert Meyers, University of New Mexico Press, 2007; published by permission of the Estate of Bert Meyers.
— posted June 2013