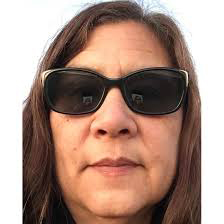 Kimi Sugioka
Wendy Taylor Carlisle and Kimi Sugioka
14 NOVEMBER 2019 — thursday
Poetry Flash presents a poetry reading by Wendy Taylor Carlisle, The Mercy of Traffic, and Kimi Sugioka, Wile & Wing, Moe's Books, 2476 Telegraph Avenue, Berkeley, wheelchair accessible, 7:30 (510/849-2087, www.moesbooks.com)


MORE ABOUT THE READERS
Wendy Taylor Carlisle's new book is The Mercy of Traffic. Tony Hoagland said, "Wendy Carlisle's poems come out wearing their red shoes and ready to dance. The lives she sketches flame underfoot so the soles of your feet are 'burned like little suns' and when we read this book of grace and empathy 'we are assured there will be sparks, then blasts and blowups, offerings of flame and dust.…'"Her publications include the full-length books Reading Berryman to the Dog and Discount Fireworks, plus five chapbooks, most recently They Went Down to the Beach to Play. Her work is in anthologies such as In Plein Air, Untold Arkansas, and 50/50: Poems and Translations by Womxn Over Fifty. She has an MFA from Vermont College of Fine Arts and lives in the Arkansas Ozarks.
Kimi Sugioka's brand new Manic D Press poetry book is Wile & Wing. Anne Waldman said, "Kimi Sugioka is a poet with a lot of guises: maternal, witchy, passionate, detached observer…She moves through the female cycle confidently, poised, strong in her observance and power." Born in Chapel Hill, North Carolina and raised in Berkeley, California, Kimi Sugioka is a poet, songwriter, and educator. She performs her work frequently throughout the Bay Area. She has worked in public education for decades, and earned her BA from San Francisco State University and MFA from the Naropa Institute in Boulder, Colorado.