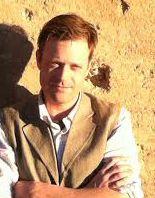 Austin Smith
Susan Millar DuMars and Austin Smith
4 APRIL 2019 — thursday
Poetry Flash presents a rare U.S. poetry reading by Irish-American poet Susan Millar DuMars, Naked: New and Selected, and Austin Smith, Flyover Country, Moe's Books, 2476 Telegraph Avenue, Berkeley, wheelchair accessible, 7:30 (510/849-2087, www.moesbooks.com)


MORE ABOUT THE READERS
Irish-American poet Susan Millar DuMars is visiting from Ireland for this reading. Her new book of poems is Naked: New and Selected. Poetry Ireland Review says, "Her poetry, influenced by the directness of the American tradition, comes as a breath of fresh air…." She's published four previous collections, which have been nominated for her country's most prestigious awards and featured on Irish radio. She's also the author of the book of short stories Lights in the Distance. Born in Philadelphia, she lives in Galway, Ireland where she lives with her husband, blogs, and directs "Over the Edge," an acclaimed reading series. She also teaches creative writing classes at the Galway Arts Centre and for the Brothers of Charity's Away With Words project. In 2009, the couple was the subject of a documentary by Des Kilbane called Rhyming Couplet, which was screened at the Galway Film Fleadh.

Austin Smith's new book of poems is Flyover Country. Jane Hirshfield says, "Austin Smith's Flyover Country is a book of vital and generative reckoning, one that finds both the intimate knowledge held in large landscapes and the larger knowledges found within intimate places and acts." Author of the previous collection Almanac, he grew up on a family dairy farm in northwestern Illinois, lives now in Pescadero, California, and teaches at Stanford University.

Daily Listings
< previous month | show all JANUARY | next month >
24 JANUARY 2021 — sunday
25 JANUARY 2021 — monday
26 JANUARY 2021 — tuesday
27 JANUARY 2021 — wednesday
28 JANUARY 2021 — thursday
29 JANUARY 2021 — friday
30 JANUARY 2021 — saturday
31 JANUARY 2021 — sunday