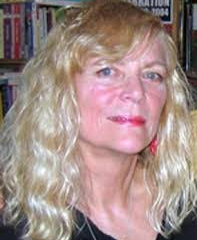 Sharon Doubiago
Sharon Doubiago and Doreen Stock
15 OCTOBER 2017 — sunday
Poetry Flash presents a reading by Sharon Doubiago, An Algebra, and Doreen Stock, In Place of Me, wheelchair accessible, East Bay Booksellers (formerly Diesel), 5433 College Avenue, Oakland, 3:00 (510/653-9965, ebbooksellers.com)

MORE ABOUT THE READERS
Doreen Stock's new book is prose, Talking With Marcelo, a bio-sketch of Argentine journalist Marcelo Holot, a chapbook-length interview in which he answers her questions about his early years, his life as a student protester during the Dirty Wars, and his later career as a journalist in Buenos Aires during which he met and wrote about some of the key figures of his time, including Juan Peron. Her latest poetry collection is In Place of Me, a collected works, edited with an introduction by Jack Hirschman. Her first book of poems is The Politics of Splendor, which also includes her translations of Marina Tsvetaeva and Anna Akhmatova. She is a founding member of the Marin Poetry Center.
Sharon Doubiago's new book of poems is Naked to the Earth. Dorianne Laux says, "Doubiago's poems leave no stone unturned. Wild and expansive, brimming with exactness and texture, they make new worlds and dare to cross the borders between myth and reality and hold a steady gaze toward the unknown. There is terror in this collection, and despair, but also joy, love, and the gift of resilience in a broken world." Her previous publications are numerous and include the two-volume memoir, My Father's Love, Body and Soul, and Psyche Drives the Coast. In order to be a poet, her main home for many years has been her vehicles. Her publisher, Wild Ocean Press, describes her as: "A vagabond poet in the ancient tradition," who has "lived, written, taught, and performed mainly on the West Coast, from Baja to British Columbia—most significantly the artist/poet towns of Mendocino, Ashland, Newport, Portland, and Port Townsend." Living on the road has given her numerous experiences which are reflected in her many books and writings.