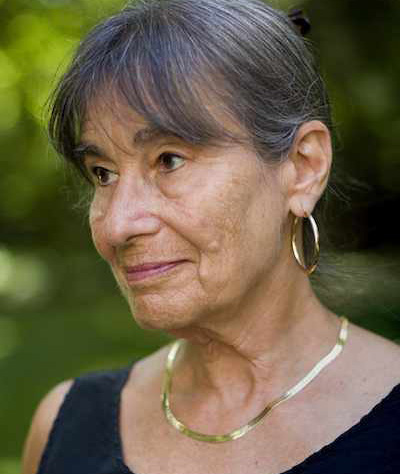 Alicia Ostriker
Alicia Ostriker and Anita Barrows
23 FEBRUARY 2017 — thursday
Poetry Flash presents a poetry reading by Alicia Suskin Ostriker, Small Change, and Anita Barrows, We are the Hunger, request ASL interpreters one week in advance at editor@poetryflash.org, wheelchair accessible, Moe's Books, 2476 Telegraph Avenue, Berkeley, 7:30 (510/849-2087, www.moesbooks.com)


MORE ABOUT THE READERS
Alicia Suskin Ostriker's new book of poems is Waiting for the Light. Daisy Fried says of it, "Ostriker so loves the world, its griefs, traumas, praises, mysteries, and joys, that she teaches us to love the world with her—sometimes desperately, heartbrokenly, never despairingly." She is a key American poet and critic; her recent poetry collections include The Old Woman, the Tulip, and the Dog; The Book of Life: Selected Jewish Poems, 1979-2011, and The Book of Seventy. Currently a chancellor of the Academy of American Poets, her honors include the Paterson Poetry Prize, San Francisco State Poetry Center Award, and William Carlos Williams Award. She is also a two-time finalist for the National Book Award.
Anita Barrows's new book of poems is We are the Hunger. Susan Griffin says, "An extraordinary collection. Truth telling, and truly pitched, resonant poems telling intimate and necessary stories set in the harshest landscapes of our times, with insight and compassion." She is the author of Exile and a number of other books of poetry. She's also a translator of poetry, plays, fiction, and nonfiction from French, Italian, and German, most recently three volumes of Rilke's work co-translated with Joanna Macy. She's a practicing psychotherapist and lives in Berkeley.