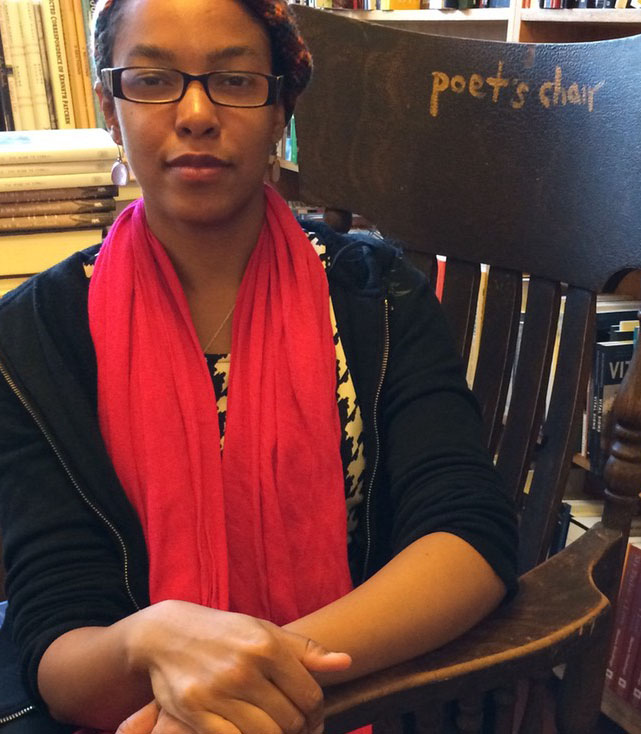 Raina J. León
Raina J. León and Michael McLaughlin
19 FEBRUARY 2017 — sunday
Poetry Flash presents a poetry reading by Raina J. León, sombra: (dis)locate, and Michael McLaughlin, Countless Cinemas, request ASL interpreters one week in advance from editor@poetryflash.org, wheelchair accessible, Diesel, A Bookstore, 5433 College Avenue, Oakland, 3:00 (510/653-9965, dieselbookstore.com)


MORE ABOUT THE READERS
Raina J. León's new book of poems is sombra: (dis)locate. Tara Betts says, "…León's new collection…hints at the shadows within history, languages, sexuality, loss, grief, and violence unveiled in poems that span countries, the enigmatic specter of Josephine Baker flouting conventions of respectability and race, and the brutalities that split peoples emotional cares like simple apples." Her previous collections include Canticle of Idols and Boogeyman Dawn. She also has a 2016 chapbook, profeta without refuge. She is a Cave Canem graduate fellow, CantoMundo fellow, and a member of the Carolina African American Writers Collective. She is a founding editor of The Acentos Review, an online quarterly promoting and publishing LatinX arts. She teaches at St. Mary's College in Moraga, California.
Michael McLaughlin's debut book of poems is Countless Cinemas. Connie Post says, "These poems are honest and hard-hitting, sensual and erotic.…Find a quiet seat in the theatre of your mind and absorb the carefully created cinematography of each script." Also the author of two novels and two poetry chapbooks, he is, along with much else, artist-in-residence at Atascadero State Hospital, a maximum security forensic facility, and San Luis Obispo County Coordinator for California Poets in the Schools. A former Poet Laureate of San Obispo County, he runs the Central Coast's Live from the Core poetry/performance series and is the founding editor of USC's The Southern California Poetry Anthology.