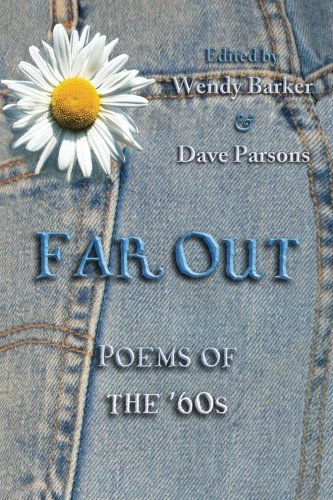 Chana Bloch, Lucille Lang Day, Sandra Gilbert, more
29 JANUARY 2017 — sunday
Poetry Flash presents a reading and celebration for the anthology Far Out: Poems of the '60s, with contributing poets Chana Bloch, Lucille Lang Day, Sandra Gilbert, and Kathleen Winter, request ASL interpreters one week in advance from editor@poetryflash.org, wheelchair accessible, Diesel, A Bookstore, 5433 College Avenue, Oakland, 3:00 (510/653-9965, dieselbookstore.com)


MORE ABOUT THE READERS
Far Out: Poems of the '60s includes poems by over eighty poets remembering that seminal decade from all their unique angles. Not just vamping on sex, drugs, and rock'n'roll, the anthology, edited by Wendy Barker and Dave Parsons, reflects on the history and politics of the time as well: the Vietnam War and its protesters, the emergence of Black and Chicano power, Second-Wave feminism, the assassinations of JFK, MLK, Malcolm X, and Medgar Evers, the Civil Rights movement, the Apollo 11 moon landing, and much more.
The readers will be:
Chana Bloch, poet and translator, whose new Swimming in the Rain: New and Selected Poems, 1980-2015 includes poems from her four previous books, The Secrets of the Tribe, The Past Keeps Changing, Mrs. Dumpty, and Blood Honey. She is co-translator of the biblical Song of Songs and of the Israeli poets Yehuda Amichai and Dalia Ravikovitch.
Lucille Lang Day, whose ten books of poems include Becoming an Ancestor, Dreaming of Sunflowers: Museum Poems, The Curvature of Blue, Infinities, Wild One, and Self-Portrait with Hand Microscope. She's also the author of two children's books, The Rainbow Zoo and Chain Letter, and a memoir, Married at Fourteen. She is co-editor of Red Indian Road West: Native American Poetry from California.
Sandra Gilbert, poet and critic, who co-authored the acclaimed book of feminist criticism The Madwoman in the Attic and other critical volumes. Most recent of her eight poetry collections is Aftermath. Her prose books include Wrongful Death, Death's Door, Rereading Women, The Culinary Imagination: From Myth to Modernity, and she is co-editor of Eating Words: A Norton Anthology of Food Writing.
Kathleen Winter, author of the poetry collection Nostalgia for the Criminal Past.