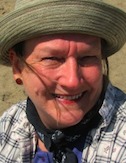 Jannie Dresser
Jannie Dresser and Lester Graves Lennon
18 SEPTEMBER 2014 — thursday
Poetry Flash presents a poetry reading by Jannie Dresser and Lester Graves Lennon, request ASL interpreters one week in advance from editor@poetryflash.org, wheelchair accessible, Moe's Books, 2476 Telegraph Avenue, Berkeley, 7:30 (510/849-2087, www.moesbooks.com)


MORE ABOUT THE READERS
Jannie M. Dresser's new book is Worker's Compensation: Poems of Labor & the Working Life. She says of it, "…these are gut-level, rather direct language narratives attesting to the daily grind. I offer them in the spirit of poets who feel the need to testify to hard truths and uncomfortable feelings.…" She is the founder of Sugartown Publishing and the Bay Area Seasonal Review; she is also the editor of Between the Fault Lines: Eight East Bay Poets.
Lester Graves Lennon's new book of poems is My Father Was a Poet. Dana Gioia says, "In Lester Graves Lennon's new book personal history and national history become interwoven to remarkable effect. This is a collection of startling contradictions in which love and hate, peace and violence, light and dark not only clash but intermingle." His first poetry collection is The Upward Curve of Earth and Heavens; an investment banker as well as a poet, he lives in Los Angeles where he serves on the Los Angeles Poet Laureate Task Force.