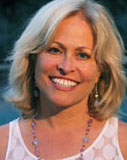 Julia B. Levine
Julia B. Levine and Alison Luterman
3 AUGUST 2014 — sunday
Poetry Flash presents a poetry reading by Julia B. Levine and Alison Luterman, request ASL interpreters one week in advance from editor@poetryflash.org, wheelchair accessible, Diesel, A Bookstore, 5433 College Avenue, Oakland, 3:00 (510/653-9965, dieselbookstore.com)


MORE ABOUT THE READERS
Julia B. Levine's new book of poems is Small Disasters Seen in Sunlight. Library Journal says of it, "A polished poet of extraordinary skill…Levine is caught between wholehearted love of the world's beauty and sorrow at its unavoidable misery and suffering." She is the author of three previous books of poems, including Ask, winner of the Tampa Review Prize for Poetry and Practicing for Heaven, winner of the Anhinga Prize for Poetry. Among her other honors are a Discovery/The Nation award and the Pablo Neruda Prize for Poetry from Nimrod.
Alison Luterman's new book of poems is Desire Zoo. Bruce Weigl says of her work, "Out of the corner of her eye, Alison Luterman is a keen watcher of the tangled business of our lives, and in her heart, she is a storyteller whose power resides, as in all good storytellers' hearts, in her faith in the listener." Her previous collections are The Largest Possible Life, winner of the 2000 Cleveland State University Poetry Center Prize, and See How We Almost Fly. Also a playwright, Alison Luterman performs improvisational spoken word and dance with the Oakland-based performance ensemble Wing It!