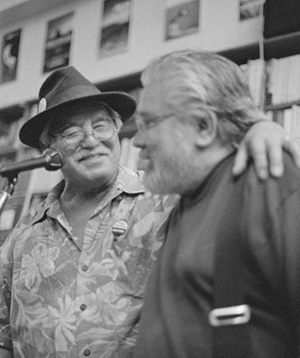 Bill Sorro, with his arm around Peter Yamamoto.
Photo by Steven C. Wilson.
Rick Wilson
20 JANUARY 2020 — monday
Rick Wilson, New York Times best-selling author of Everything Trump Touches Dies, discusses and signs his new book Running Against the Devil: A Plot to Save America from Trump—and Democrats from Themselves, Book Soup, 8818 Sunset Blvd., West Hollywood, free, purchase of Running Against the Devil from Book Soup is required to join the signing line, 7:00 (www.booksoup.com)
Daily Listings
Live events are probably postponed or canceled. Please check back for updates or contact the organizers.
< previous month | show all JULY | next month >
3 JULY 2020 — friday
4 JULY 2020 — saturday
5 JULY 2020 — sunday
6 JULY 2020 — monday
7 JULY 2020 — tuesday
8 JULY 2020 — wednesday
9 JULY 2020 — thursday
10 JULY 2020 — friday
11 JULY 2020 — saturday
12 JULY 2020 — sunday
13 JULY 2020 — monday
14 JULY 2020 — tuesday
15 JULY 2020 — wednesday
16 JULY 2020 — thursday
17 JULY 2020 — friday
18 JULY 2020 — saturday
19 JULY 2020 — sunday
20 JULY 2020 — monday
21 JULY 2020 — tuesday
22 JULY 2020 — wednesday
23 JULY 2020 — thursday
24 JULY 2020 — friday
25 JULY 2020 — saturday
26 JULY 2020 — sunday
27 JULY 2020 — monday
28 JULY 2020 — tuesday
29 JULY 2020 — wednesday
30 JULY 2020 — thursday
31 JULY 2020 — friday