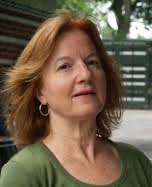 Gail Rudd Entrekin
Gail Rudd Entrekin and Elizabeth C. Herron
25 JUNE 2023 — sunday
Poetry Flash presents a reading by Gail Rudd Entrekin, Walking Each Other Home, and Elizabeth C. Herron, In the Cities of Sleep, in person, Art House Gallery & Cultural Center, 2905 Shattuck Avenue, Berkeley, two blocks north of Ashby BART, free, 3:00 pm PDT (poetryflash.org).

Thank you for continuing to support Poetry Flash and our reading series. Featured books for this reading will be available at the event. Elizabeth C. Herron's are also available at bookshop.org/shop/poetryflash.

MORE ABOUT THE READERS
Gail Rudd Entrekin's new poetry book is Walking Each Other Home. Ellen Bass says, "At times spare and lyrical, at times rich with sensory detail, Entrekin invites readers into the intimacy of Walking Each Other Home." The publisher, Longship Press writes, "These poems sing the long and loving song shared by two people now facing a decline, and it is a song of love and devotion, a song of truth." Entrekin's previous books include Rearrangement of the Invisible, You Notice the Body, Change (will do you good), and The Art of Healing with Charles Entrekin. She co-edited Sierra Songs & Descant, an anthology of poetry and prose, and the poetry anthology Yuba Flows, and edits Canary, an online environmental literary magazine. Her poems have been widely published and were finalists for the Pablo Neruda Prize from Nimrod International Journal. She lives in the hills of San Francisco's East Bay.

Elizabeth C. Herron's new book is In the Cities of Sleep. Greg Mahrer says, "In this haunting and passionate collection, Herron reminds us that we are 'out of season,' caught as we are in this fateful sweep of time where everything from the minute to the galactic speaks of our temporality." Herron's previous books are Insistent Grace, Desire Being Full of Distances, and The Stones, the Dark Earth. Her writing has appeared in Comstock Review, Canary, North American Review, West Marin Review, and elsewhere. She also writes articles about the importance of natural systems for the well-being of all life. A Fellow of the International League of Conservation Writers, her writing has been supported by the National Endowment for the Arts, and the Foundation for Deep Ecology. Elizabeth Herron is the current Poet Laureate of Sonoma County, northern California.