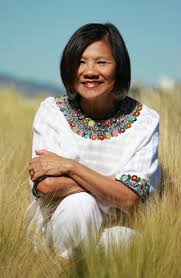 Genny Lim
Genny Lim, Maya Khosla, Chris Olander, John Curl
26 FEBRUARY 2023 — sunday
Poetry Flash presents a reading by Genny Lim Kra!, Maya Khosla All the Fires of Wind and Light, Chris Olander, River Light, John Curl, Rainbow Weather, online, via Zoom, free, 3:00 pm PST (Register to attend: please click here; you will receive an email with a link to join the reading)

This eco-poetry reading is co-sponsored by the Berkeley Historical Society & Museum, in conjunction with their current exhibition, "Eco-Berkeley: A Legacy of Environmental Activism." The California Institute for Community, Art & Nature (California I CAN) is also a co-sponsor.

Featured books for this event will be available at: bookshop.org/shop/poetryflash. Genny Lim's recent collection is available at www.asiabookcenter.com/store/p1403/KRA!.html.

MORE ABOUT THE READERS
These four dynamic poets were all featured readers at last fall's in-person Watershed Environmental Poetry Festival in Berkeley, California.

Genny Lim's recent book is Kra!. Her previous collections are Paper Gods and Rebels, Child of War, and Winter Place, among others. Her work appears in The Politics of Life: Four Plays by Asian American Women, Unbroken Thread: Anthology of Plays by Asian American Women, Oxford Book of Women's Writings in the United States, and Island: Poetry and the History of Chinese Immigrants on Angel Island. Genny Lim is a recipient of the 1981 American Book Award from the Before Columbus Foundation, and a Bay Guardian Goldie for Local Discovery 1991. She is currently the San Francisco Jazz Poet Laureate (2017-present).

Maya Khosla's new collection is All the Fires of Wind and Light. Lucille Lang Days says, "Khosla presents climate change and endangered species with precise images and biological accuracy. Fire ecology, a widely misunderstood field, is a central theme. In this collection there is anticipation of catastrophe, but there is also hope: 'The living are awake / to the profusion soon to follow. / They will grow with the diligence / of all known colors / unfolding….'" Also a wildlife biologist and filmmaker, Maya Khosla's previous collections are Keel Bone, and Heart of the Tearing. Her work appears in the Chicago Quarterly Review, Canary: A Literary Journal of the Environmental Crisis, Munyori Literary Journal, and World Literature Today. She was Sonoma County Poet Laureate 2018–2020.

Chris Olander's poetry collection is River Light. Kirk Lumpkin says, "What has always impressed me about Chris Olander's poetry is how present, how kinetically alive the energies of Nature (birds, oaks, rivers, etc.) are in it and of how the words dance in the breath and sinew of it." Olander has published in many anthologies and magazines. He is a founding director of Poet's Playhouse in Nevada City (1988-89) and of the Nevada City Poetry Series of Grass Valley. He served as Poet Laureate of Nevada County, 2019-21. He leads the annual Strawberry Creek Walk for the Watershed Environmental Poetry Festival.

John Curl's new poetry book is Rainbow Weather: Poems for Environmental Healing. Kim Shuck says, "The poems in Rainbow Weather challenge the reader to release expectation and received hierarchies and in exchange, to retrieve wonder. Current circumstances being what they are, the treatment for collective malaise is probably complicated, a combination of things with many moving parts, but somewhere in that combination there is certainly space for the calm, understanding observations in this poetry collection." His previous collections include Yoga Sutras of Fidel Castro, Revolutionary Alchemy, and Scorched Birth. His historical writings include Indigenous Peoples Day, and For All the People. He is co-editor of the recent anthology, Storm Warning: Poets for the Planet Building Socialism.