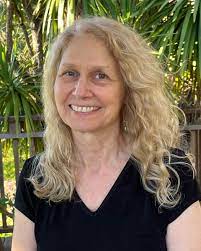 Joan Baranow
Joan Baranow and Tayve Neese
22 JANUARY 2023 — sunday
Poetry Flash presents a reading by Joan Baranow, A Slight Thing, Happiness, and Tayve Neese, evolution psalms, online via Zoom, free, 3:00 pm PST (Register to attend: please click here; you will receive an email with a link to join the reading)

Please join us for a virtual reading on Sunday, January 22, at 3:00 pm PST. We are excited to bring you this event via Zoom. To register for this reading, please click on the link in the calendar listing above. After registering, you will receive a confirmation email containing information about joining the meeting. Thank you for continuing to support Poetry Flash and our reading series.

Featured books for this event are available at bookshop.org/shop/poetryflash

MORE ABOUT THE READERS
Joan Baranow's new book is A Slight Thing, Happiness. Erin Rodoni says, "From the intricate intimacies of laparoscopic surgery to the strangely sensual seascape of a petri dish, Baranow's lush, incisive imagery reveals a scarred yet serene internal garden of organs and cells. From hospital beds to IVs and incubators, from the underdeveloped lungs of a preemie to the bruising love of early motherhood, these poems soothe and croon and bloom toward the messier, wilder garden that is the family and the world we live in." Baranow's previous books are Still You: Poems of Illness and Healing, In the Next Life, Living Apart, and Morning: Three Poems. Her poetry has appeared in the Gettysburg Review, The Paris Review, Poetry East, JAMA, Feminist Studies, and other magazines. A fellow of the Virginia Center for the Creative Arts and member of the Community of Writers, she has won individual artists fellowships in poetry from the Marin Arts Council, and the Ohio Arts Council. She founded and teaches in the Low-Residency MFA program in Creative Writing at Dominican University of California.

Tayve Neese's new book is evolution psalms. Irena Mashinski says, "Tayve Neese's laconic, dynamic, rhythmically impeccable poems evolve with the determination of banyan tree roots, bound only by the mesmerizing pulse of metamorphosis—skeletal, igneous, stellar, emotional. Their tapestry is filled with scale-defying wonders—a horseshoe crab, a feather, or a molecule of salt—relying on each other for space to coil around, to fork through, to nest in; representing love itself in its incessant earthly movement." Her previous collections are Blood to Fruit and Hooved (audio chapbook). Locust is forthcoming from Salmon Poetry in Ireland. Her work has appeared in Fourteen Hills, The Paris Review (online edition), and Pedestal Magazine. Her poetry has been nominated for a 2021 Pushcart Prize with Black Lawrence Press. She has edited over twenty-five books, including poetry collections, novels, chapbooks, and memoirs, and is the Executive Editor and co-founder of Trio House Press. She is also the founder and primary editor of The Banyan Review.