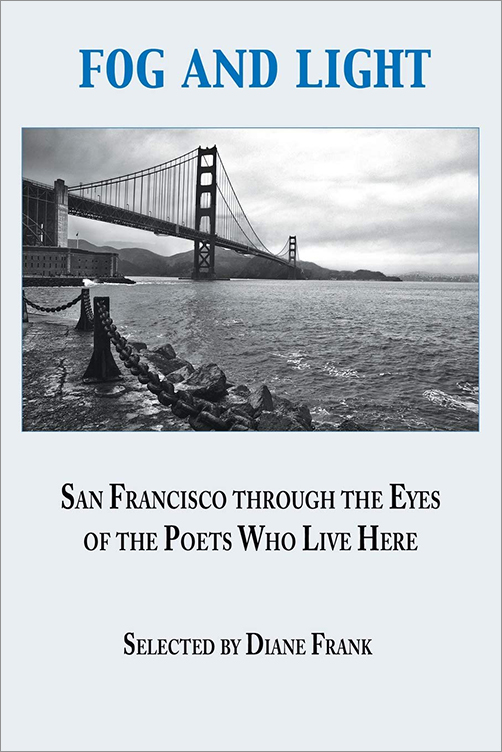 Fog and Light: Vince Gotera, Ken Haas, Kathleen McClung, Diane Frank, more
24 JUNE 2021 — thursday
Poetry Flash presents a virtual poetry reading to celebrate Fog and Light: San Francisco Through the Eyes of the Poets Who Live Here, a new anthology, with contributors Vince Gotera, Ken Haas, Jodi Hottel, Kathleen McClung, Gwynn O'Gara, and editor Diane Frank, online via Zoom, free, 7:00 pm PDT (Register to attend: please click here; you will receive an email with a link to join the reading)


Please join us for a Poetry Flash virtual reading on Thursday, June 24 at 7:00 pm PDT! We are excited to bring you this anthology celebration via Zoom. To register for this reading, please click on the link in the calendar listing above. After registering, you will receive a confirmation email containing information about joining the event. Thank you for continuing to support Poetry Flash and our reading series during these unprecedented times.

This reading is co-sponsored by Moe's Books in Berkeley; Fog and Light is available at bookshop.org/lists/poetry-flash-readings.

MORE ABOUT THE READERS
Many of these bio notes are from the Fog and Light anthology:
Vince Gotera's recent book is The Coolest Month, a collection of poems written everyday throughout April, in response to NaPoWriMo and Poem-a-Day prompts. Maureen Thorson says, "Vince Gotera's The Coolest Month leans into T. S. Eliot's bromide for April while turning it on its head.…An apple a day may keep the doctor away, but as Gotera shows, a poem a day can help chase away the blues." Now a professor in Iowa, Gotera was born and raised in San Francisco. He grew up in the Haight-Ashbury and was a teenager during the Summer of Love. "As a lead guitarist," Vince says, "I was influenced by the rock bands that played around The City: Jefferson Airplane, Big Brother and the Holding Company, The Charlatans, The Grateful Dead, Quicksilver, Santana, and many others. In fact, I fondly remember being an eighth grader at St. Agnes School on Ashbury and hearing The Dead rehearsing in their house across the street." Gotera left for grad school in the Midwest and hasn't lived in The City since. "But I am always excited to visit and enjoy the dazzling diversity, charming neighborhoods, and utter beauty of San Francisco, forever home."

Ken Haas's first full-length collection, Borrowed Light, won the 2020 Red Mountain Press Discovery Award. Ellen Bass said, "…Ken Haas's first collection of poems…is complex, vibrant, capacious and wildly imaginative. With affection and wonderful clarity, Haas describes a childhood of 'taking infield practice and shagging flies,' Atlantic City's 'sunburn and saltwater taffy,' a trip into Manhattan to see the legendary John Coltrane, who 'emptied his arms in a wave that even now speaks to the kind of man I could become.' But it would be a mistake to call this book nostalgic. Haas is keenly aware of the darker forces of history. The same Antisemitism that forced his grandparents to flee Nazi Germany is alive and well today—'we just forgot that shirt-wise brown is brown, words do burn, and we can see the rest from here.'" Haas's work has appeared in over fifty literary magazines, journals, and anthologies. He has been nominated for a Pushcart Prize and received the Betsy Colquitt Poetry Award. He grew up in New York City, but has lived for the past forty-four years in San Francisco.

Jodi Hottel is a sansei, third generation Japanese American. She is author of the chapbooks Out of the Ashes, Voyeur, and Heart Mountain, her collection of poems about the Japanese American incarceration, winner of the 2012 Blue Light Press Poetry Prize. Most of those families were initially taken to a temporary detention site at the Tanforan race track in San Bruno, now the site of a shopping mall.

Kathleen McClung's books include Temporary Kin, Three Soul-Makers, A Juror Must Fold in on Herself, The Typists Play Monopoly, and Almost the Rowboat. Julie Kane wrote of Temporary Kin, " Kathleen McClung is a master of the sonnet crown. In her skilled hands, that venerable form expands to encompass active shooter drills, smartphones, and Lyft drivers, as well as songbirds, the sea, and the moon." She fell in love with San Francisco at age nine when she came with her mother on a Greyhound bus to see Carmen at the War Memorial Opera House. She cried when they had to leave at the intermission to catch the bus back to Sacramento. For over thirty years, Kathleen McClung has lived, taught, and written on the foggy west side of San Francisco.

Gwynn O'Gara's books include Snake Woman Poems, with a foreword by Nanos Valaoritis, and the chapbooks Fixer-Upper, Winter at Green Haven, Fruit of Life, and Sea Cradles. She grew up in San Francisco and left many times, almost always coming back. For twenty-five years she worked as a California Poet in the Schools and served as Sonoma County Poet Laureate 2010-2011.

Diane Frank is author of eight books of poems; her 2021 collection is While Listening to the Enigma Variations: New and Selected Poems. Los P. Jones said this of Frank's 2018 book, Canon for Bears and Ponderosa Pines: "In this new and startling collection, Diane Frank's poems transcend not just genres but entire dimensions. When she speaks to J.S. Bach, she really means it and when Bach speaks back, she listens—entirely—the way certain moths perceive sound via their whole body, even their wings. How is this accomplished? It will seem to come through the poems themselves—their music, tonal qualities and subjects, yet it goes even deeper as it pushes up like duende through the soles of your feet." She is also the author of Blackberries in the Dream House, winner of the Chelson Award for Fiction, two other novels, and a photo memoir of her 400-mile trek in the Himalayas. She teaches at San Francisco State University and Dominican University and lives in the Outer Sunset in San Francisco, where she dances, plays cello, and creates her life as an art form. She selected the poems for the Fog and Light anthology.