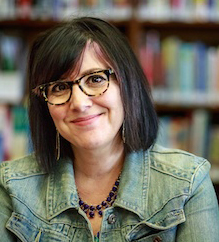 Stella Beratlis
Stella Beratlis and Dane Cervine
23 MAY 2021 — sunday
Poetry Flash presents a Sixteen Rivers Press poetry reading by Stella Beratlis, Dust Bowl Venus, and Dane Cervine, The World is God's Language, online via Zoom, free, 3:00 pm PDT (Register to attend: please click here; you will receive an email with a link to join the reading)


Please join us for a Poetry Flash virtual reading on Sunday, May 23 at 3:00 pm PDT! We are excited to bring you Stella Beratlis and Dane Cervine via Zoom. To register for this reading, please click on the link in the calendar listing above. After registering, you will receive a confirmation email containing information about joining the meeting. Thank you for continuing to support Poetry Flash and our reading series during these unprecedented times.

This reading is co-sponsored by Moe's Books in Berkeley; the featured books are available at bookshop.org/lists/poetry-flash-readings and at Small Press Distribution: www.spdbooks.org.

MORE ABOUT THE READERS
Join us for this celebration for Sixteen Rivers Press's two new collections!

Stella Beratlis's new book of poems is Dust Bowl Venus. Rosa Lane says, "Stella Beratlis's Dust Bowl Venus animates California's Central Valley as a postmodern Prometheus, an eco-sapient Frankenstein with whom we wrangle, wrestle, and fall madly in love." Her first book, Alkali Sink, was nominated for a Northern California Book Reviewers Award in 2016. Widely published in literary journals, her work has also been anthologized in The Place That Inhabits Us: Poems from the San Francisco Bay Watershed and California Fire and Water: A Climate Crisis Anthology. Poet Laureate of Modesto 2016-2020, she is co-editor of More Than Soil, More Than Sky: The Modesto Poets.

Dane Cervine's new book of poems is The World Is God's Language, prose poems. Gary Young says, "Cervine reveals a sanctified world built of memory, history, and grace, where God is evanescent, transient but eternal, and where, Cervine makes clear, we are 'just visiting'" He's published six previous collections, most recently Earth Is a Fickle Dancer. His work has appeared in many journals and been anthologized in Ghost Fishing: An Eco-Justice Poetry Anthology and Fire and Rain: Ecopoetics of California. He lives in Santa Cruz and works there as a therapist, where he's a former head of Children's Mental Health for Santa Cruz County.