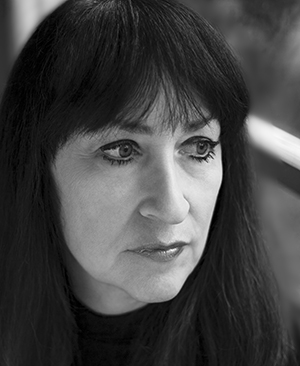 Cathleen Calbert
Cathleen Calbert and Andrena Zawinski
25 JUNE 2017 — sunday
Poetry Flash presents a reading by Andrena Zawinski, Landings, and Cathleen Calbert, The Afflicted Girls, request ASL interpreters one week in advance from editor@poetryflash.org, wheelchair accessible, Diesel, A Bookstore, 5433 College Avenue, Oakland, 3:00 (510/653-9965, dieselbookstore.com)

MORE ABOUT THE READERS
Andrena Zawinski's new book of poems is Landings. Rebecca Foust says, "These poignant, plainspoken poems span lifetimes and continents, chronicling a childhood in Pennsylvania when Coal (or Steel) was King and furnaces glowed the night skies red and an adulthood in California where stunning natural beauty paints a chiaroscuro with the daily news…Part paean and elegy to what was, part lyric and dirge to what is. Landings asks the question of what remains—where we land—after great loss." Her previous full-length collections are Something About, which won a PEN Oakland Josephine Miles Award, and Traveling in Reflected Light, winner of a Kenneth Patchen competition. Features Editor at PoetyMagazine.com and founder of the San Francisco Bay Area Women's Poetry Salon, she edited Turning a Train of Thought Upside Down: An Anthology of Women's Poetry.
Cathleen Calbert's new book is The Afflicted Girls, winner of the Vernice Quebodeaux "Pathways" Prize for Women. Thomas Lux calls it "a book filled with powerful voices. The poems are lush and textured, subtle yet fierce…Cathleen Calbert is a poet who has learned her trade, and her music is sure and original." Her previous collections are Lessons in Space, Bad Judgment, and Sleeping with a Famous Poet. Her poetry and prose have appeared in such publications as The New Republic and The New York Times, and her honors include The Nation Discovery Award, a Pushcart Prize, and Gordon Barber Memorial Award from the Poetry Society of America.