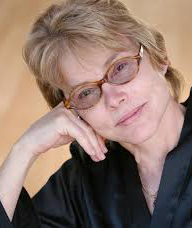 Dawn McGuire
Dawn McGuire and David Watts
18 MAY 2017 — thursday
Poetry Flash presents a poetry reading by Dawn McGuire, American Dream with Exit Wound, and David Watts, Having and Keeping, request ASL interpreters one week in advance at editor@poetryflash.org, wheelchair accessible, Moe's Books, 2476 Telegraph Avenue, Berkeley, 7:30 (510/849-2087, www.moesbooks.com)


MORE ABOUT THE READERS
Dawn McGuire's new book of poems is American Dream with Exit Wound. Carol Muske-Dukes says, "McGuire is inspired by her work with post 9/11 vets, by her brain research as a neurologist and her immersion in myth. You will take your life in your hands as you read these super-charged poems—and you will…'come to' with an exit wound…" Both a neuro-scientist and a poet, she has published three collections, including The Aphasia Café, which won the 2013 Indie Book Award for Poetry. Born in the Appalachian region of Kentucky, her graduate education was in Theology and in Medicine.
David Watts is both a physician and a poet. His new book of poems is Having and Keeping. Al Young says, "…Watts' quiet poems couple with their subjects in an intimacy so strong, you can smell their crackle and spark. When it comes to singing the uncontrollable messiness of family life, growing pain and growth; the stickiness of love life, the clumsiness of loss, the pleasures of cranky togetherness, this little book takes the cake." His literary credits include seven books of poetry, two collections of short stories, a mystery novel, a bestselling western and essays. He has received numerous awards in academics, literature, and television production.