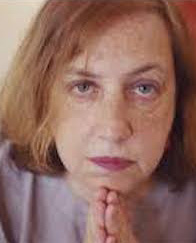 Martha Rhodes
Martha Rhodes and Bruce Willard
9 APRIL 2017 — sunday
Poetry Flash presents a reading by Martha Rhodes, The Thin Wall, and Bruce Willard, Violent Blues, request ASL interpreters one week in advance from editor@poetryflash.org, wheelchair accessible, Diesel, A Bookstore, 5433 College Avenue, Oakland, 3:00 (510/653-9965, dieselbookstore.com)

MORE ABOUT THE READERS
Martha Rhodes's new book of poems is The Thin Wall. Susan Wheeler says, "The Thin Wall—between care and resentment, protectiveness and rage, betrayal and abandonment—marks the furious, vital poems in Martha Rhodes's fifth collection…Martha Rhodes has long been one of our finest poets, and now she has written her best and most moving book." Her previous collections are At the Gate, Perfect Disappearance, Mother Quiet, and The Beds. She directs the summer Conference on Poetry at the Frost Place and is the director of Four Way Books in New York City.
Bruce Willard's new book of poems is Violent Blues. Juan Felipe Herrera says, "Willard plays the notes in-between—the awakenings, loves and losses, the slippages between two blurred bodies of life, of sending and receiving¬ that is the 'ununderstandable,' perhaps like Thelonius Monk's fractured piano, the one that flames in the center of being, meaning, and enlightenment." His earlier collection is Holding Ground. He spends his time in Maine, Colorado, and California and runs several clothing businesses.
Daily Listings
< previous month | show all SEPTEMBER | next month >
19 SEPTEMBER 2021 — sunday
20 SEPTEMBER 2021 — monday
21 SEPTEMBER 2021 — tuesday
22 SEPTEMBER 2021 — wednesday
23 SEPTEMBER 2021 — thursday
24 SEPTEMBER 2021 — friday
25 SEPTEMBER 2021 — saturday
26 SEPTEMBER 2021 — sunday
27 SEPTEMBER 2021 — monday
28 SEPTEMBER 2021 — tuesday
29 SEPTEMBER 2021 — wednesday
30 SEPTEMBER 2021 — thursday