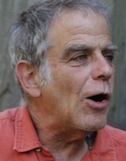 John Oliver Simon
John Oliver Simon and David Shaddock
22 JANUARY 2015 — thursday
Poetry Flash presents a double White Violet Press book launch by poets John Oliver Simon and David Shaddock, request ASL interpreters one week in advance from editor@poetryflash.org, wheelchair accessible, Moe's Books, 2476 Telegraph Avenue, Berkeley, 7:30 (510/849-2087, www.moesbooks.com)


MORE ABOUT THE READERS
David Shaddock's new book of poems is Vernal Pool. Al Young says, "Not only do these poems touch base with crucial human struggles and issues; they bust moves, they take risks. Throughout the tender, mindful pages of Vernal Pool, spring breaks 24/7." A poet and a psychotherapist, David Shaddock studied poetry with Denise Levertov at UC Berkeley. Among his previous books of poetry are This Place Where Something's Missing Lives and Dreams Are Another Set of Muscles. He won the Ruah Magazine Power of Poetry Award and the International Peace Poem prize. His play, In a Company of Seekers, was performed at the Festival of Two Worlds in Spoleto, Italy.
John Oliver Simon's new book of poems is Grandpa's Syllables. Rebecca Foust says of it, "'Some turbulent process related to language' gave birth to this book, at once a paean to and elegy for the life force embodied in the speaker's granddaughter and muse, Isabella. Working in 11-syllable lines, Simon trains his fierce focus on details small as a spider supping on dew and large as 'a cathedral made of salt and bread.'" A poet, critic, and translator, he's a contributing editor to Poetry Flash and a California Poets in the Schools poet-teacher. He's also a National Endowment for the Arts fellow in literary translation and author of Caminante, a narrow road into the far south and Son Caminos, selected poems, published in Spanish.
Daily Listings
< previous month | show all AUGUST | next month >
6 AUGUST 2020 — thursday
7 AUGUST 2020 — friday
8 AUGUST 2020 — saturday
9 AUGUST 2020 — sunday
10 AUGUST 2020 — monday
11 AUGUST 2020 — tuesday
12 AUGUST 2020 — wednesday
13 AUGUST 2020 — thursday
14 AUGUST 2020 — friday
15 AUGUST 2020 — saturday
16 AUGUST 2020 — sunday
17 AUGUST 2020 — monday
18 AUGUST 2020 — tuesday
19 AUGUST 2020 — wednesday
20 AUGUST 2020 — thursday
21 AUGUST 2020 — friday
22 AUGUST 2020 — saturday
23 AUGUST 2020 — sunday
24 AUGUST 2020 — monday
25 AUGUST 2020 — tuesday
26 AUGUST 2020 — wednesday
27 AUGUST 2020 — thursday
28 AUGUST 2020 — friday
29 AUGUST 2020 — saturday
30 AUGUST 2020 — sunday
31 AUGUST 2020 — monday